Simply put, the Mora Banc Skiers Cup is the best contest I've ever been to. Some of the most legendary and stylish skiers from both continents, throwing down on natural and semi-natural terrain to decide which continent takes home the bragging rights, and $2k each, for the year. There were some issues with conditions and weather on both days, true spring conditions prevailing even for January, with rained on slushpack the order of the day. However beautifully featured terrain of the Andorran resort of Grandvalira, which hosted the event for the first time this year, still provided a great spectacle for the viewer. The head to head format, the terrain, and the calibre of skiers involved combined to make this an insane contest to watch. I can only hope it grows and grows. More of you guys who dislike the traditional slopestyle format, should keep an eye on this one, for me it's a big part of the future of legitimately 'free' skiing.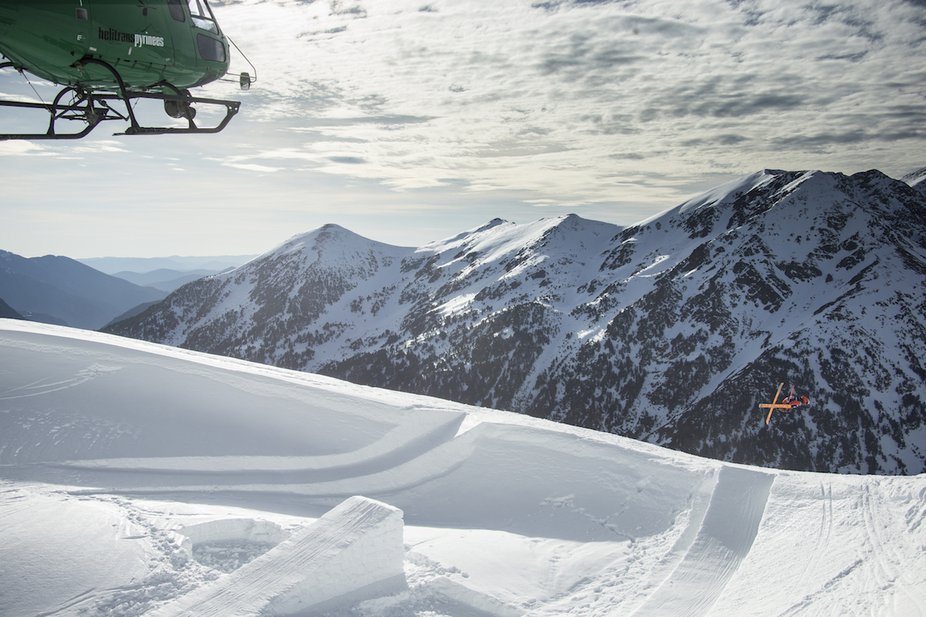 Markus Eder floating one out. Photo: D.Daher
After a defeat (9-7) on the first day of big mountain competition by Loïc Collomb-Patton's Europe, Sage Cattabriga-Alosa's Team Americas had to step up to regain the lead in the two-day event. After several days of shaping massive backcountry kickers, skiers got a chance to express their skills on in the backcountry slopestyle event. Despite initial concerns over the high winds and refrozen slush, to the extent that for much of the day nobody was sure if the event could even run, when the event went off in late afternoon, everyone threw down hard.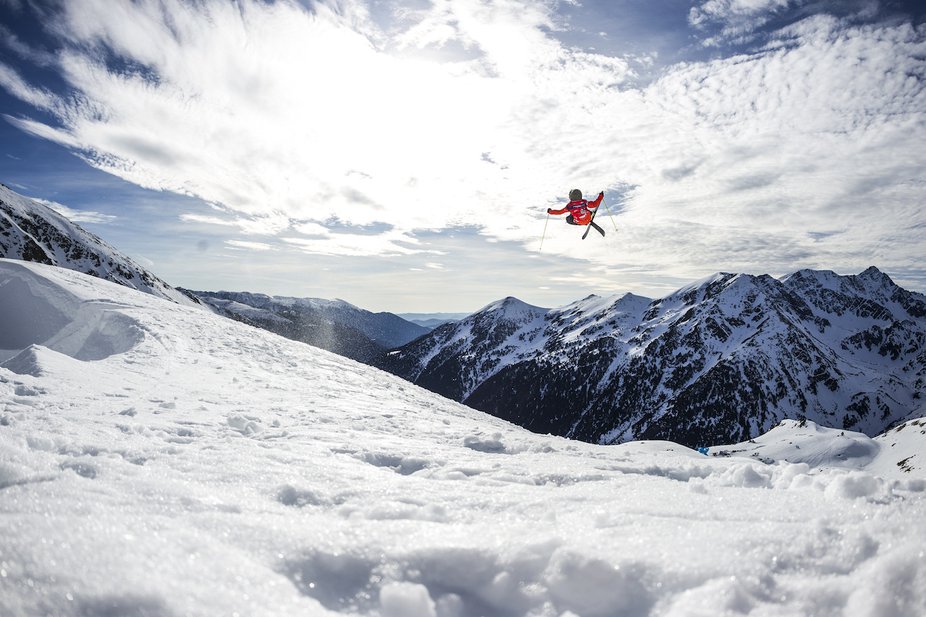 Logan Pehota steezing out a Cork 7. Photo JBernard.
HEAT ONE Highlights
Team captain Cattabriga-Alosa displayed smoothness with his trademark style featuring big 360s and a flat 3, I'm not exactly sure why he lost his point to Loic. Nick McNutt threw down a trademark stylish run to see off Bene Mayer. Seth Morrison and Sam Anthamatten had a backflip-off to see who could throw the most impressive jumps with the seasoned Morrison taking the lead. Parker White really stepped up his game with a 900 tail grab but crashed, much to his visible frustration on a switch 5 and so was unable to beat Sam Favret's Bio 7 to switch cork 5 combo up top. Tim Durtschi took out Fabio Studer, who had the save of the day narrowly avoiding slamming himself in to the windlip step-up on a switch 5. Markus Eder had a super stylish and technical run to see off Grant Howard. And finally, Tanner Rainville managed to take outshine Mathieu Bijasson with the first switch hit on the big jump up top sending a huge switch 540 mute over the step down. All this left the score 4-4 for BC Slope and Europe leading 13-11.
HEAT TWO Highlights
Team Americas' hopes of a comeback were quickly erased after several crashes in heat two as Europe stepped up their game again, lead by Sam Athametten – the man who dominated day one's big mountain – who had a spectacular run with a big cork 7 followed by two 360s and stylish flair off the step down feature nobody else managed to hit all day. Quite seriously, this guy could make a claim for being the best skier on the planet. He's a massively skilled alpinist and steep skier, a decorated and creative big mountain slayer, and apparently he also has a big ol' bag of tricks to back up his massive balls. MVP of the event for sure.


T-Rains steezing it out right in front of the cineflex heli. Photo: J Bernard
Bene Mayr also impressed judges with a big cork 7 and switch 540 which bested Grant Howard. Loic Collombe-Patton did a very un-FWT Handrag Cork 720 to beat Logan Pehota. Marcus Eder upped the game with a huge bio 9 blunt but crashed giving Tim Durtschi a second point for the day. Tanner Rainville stomped the trick of the day with a massive, perfect switch 7 mute, but it wasn't enough to save things for the USA who had already lost the tie at this point. At the end of the day Europe took home the slope by 10-6 and the whole event by 19-13.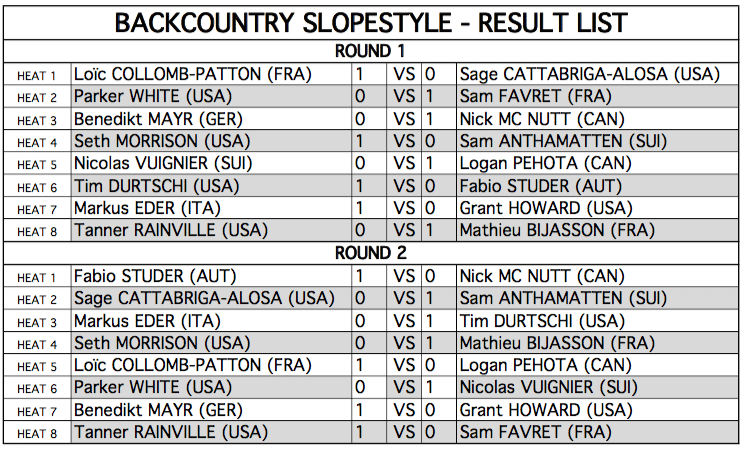 Despite the obvious competition between the continents, the vibes were super positive as many of the guys are clearly good friends and riding partners despite landing on different sides of the Old/New World divide. The legendary showdown was topped off by an amicable barbecue at the alpine venue, and a wild night in the bars of Soldeu to follow. Logan Pehota won the party by falling off a ceiling beam and somehow walking away unscathed. Skiers Cup was an incredible weekend, spent riding around in Helis watching some of the heroes of my youth and some of my favorite skiers right now tear up two amazing venues. Today also revealed the two captains for next year's Skiers Cup: Tanner Rainville will lead the Americas and Richard Permin will be the captain of the European team. Stoked for next year!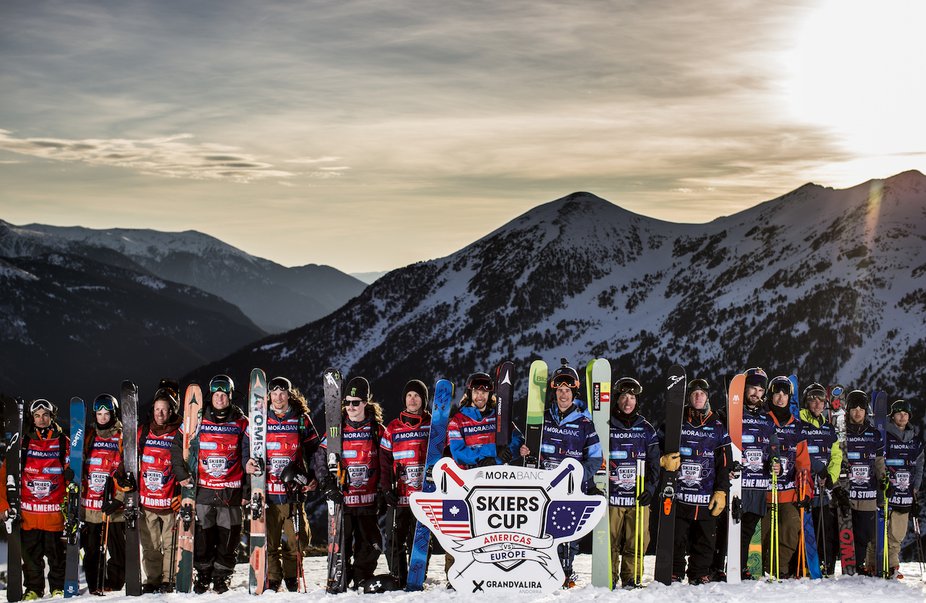 After the event, the Teams. Photo: J.Bernard
Highlights:
https://www.facebook.com/SwatchSkiersCup/videos/1018034688267295/