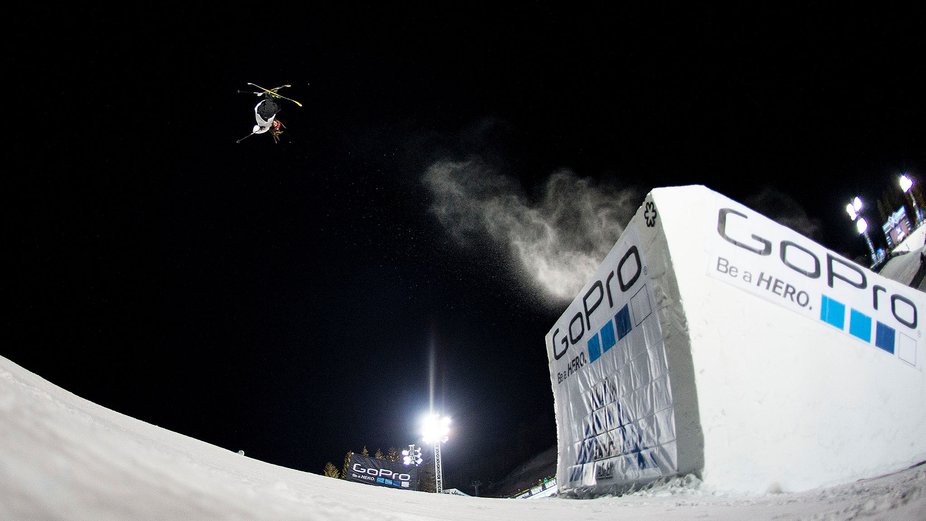 Henrik Harlaut at X Games 2014 Photo: Joshua Duplechian/ESPN
Snowboarders may have won the quadruple flip arms race, with no skier yet to reach four inversions, however Aspen, Colorado native Adam "spin to win" Wilson may just become the first snowsports athlete to quintuple flip this week. The 21 year old skier told the Radical Radish that "triples are played and snowboarders got the quad first, so I decided to just lay low and prepare to go even bigger: the quint. Plus, everyone hated on the quad, so maybe the quint will be cool."
Wilson has grown up in Aspen, but only recently picked up freeskiing after watching Henrik Harluat perform the first ever nosebutter triple. "Growing up as a gymnast gave me the perfect background to really push the bar of progression to the next level." The news of the Swiss Freeski Team's reported quad this fall had Wilson worried, but not discouraged, stating, "I mean it would've sucked if it was real, it would make the quint that much less special." Wilson has been secretly training since that moment, preparing for his time in the spotlight. "The road hasn't been easy, I tried to train with the aerialists, but they didn't like my Saga suit and kicked me of the hill," he continued.
Despite having no previous competition experience, X Games organizers have caught wind of Wilson's intent and issued him a last minute invitation to the big air event next weekend. "We didn't want to pass up an opportunity to showcase the world's first ski or snowboard quintuple flip. We're even going to push the lip back another 10 feet to give him more airtime," a spokesperson said, "X Games is the pinnacle of progression and amplitude."
X Games big air is judged on the combination of an athlete's best 2 tricks, but Wilson, whose bag of tricks is empty aside from the quint, is not worried. He explained, "I don't need any other tricks. I mean come on, how could I not win with a quint?" There has not yet been a response from the snowboard community.