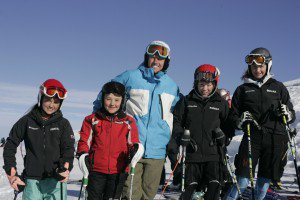 Ted with his ProtegesLooking to up your race game?
Ted Ligety and Andrew Weinbrecht have hauled in Olympic hardware, World Cup globes and World Championship wins and are now offering their skills up in a summer ski camp at Mount Hood.
While Ted's clinic has already begun, Andrew's is still forthcoming. Here are the dates:
Week 1
Dates: June 25 – July 1
Coach: Ted Ligety – GS and SL.
Week 2
Dates: July 1 – July 7
Coach: Andrew Weibrecht – GS and SL
For all the details and registration, check out: http://www.skicampsinc.com/about.php