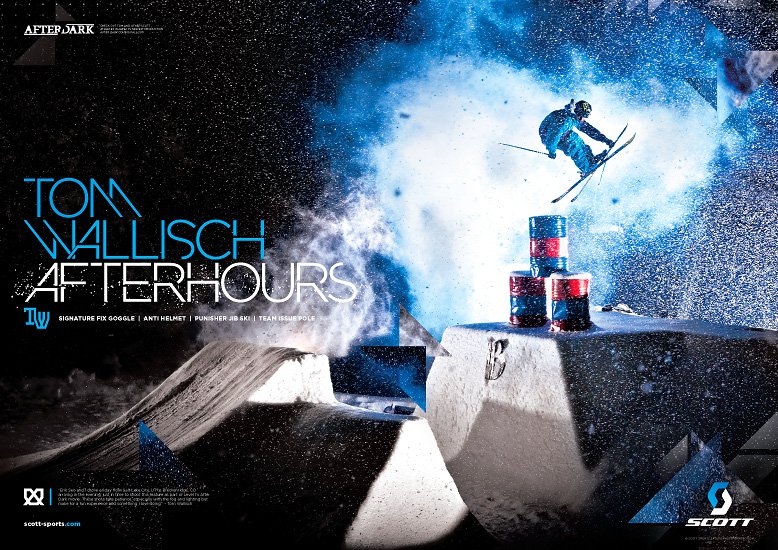 Tom Wallisch at Breckenridge Resort, Colorado during a shoot for Level 1 Productions film After Dark.
Nikon D3 + Tamron 28-75mm f2.8 + Elinchrom Ranger RX AS Speed (2) + Paul Buff Einstein's (2) + Nikon SB80 DX (5) + PocketWizard Plus, Multimax, FlexTT5 transcievers + industrial fog machine
It usually doesn't work out where two of your favorite shots of the year end up being ads for the same company, with the same athlete. Last season I guess it just came together. Myself and Tom drove out from Salt Lake City the day of this shoot going from almost summer weather in Salt Lake to full to being slapped in the face with full on winter when we arrived to Peak 9 at Breckenridge Resort, Colorado. We were late and the crew was about an hour into the shoot. We unloaded our gear, got our gear on in the car and caught a snowmobile ride up to the feature. Level 1 Productions brought up a fog machine and combined with the snowfall, it made the shot for me. If you haven't worked with a fog machine outside before, you're in for one hell of a treat. I mean frustration. If the wind picks up at all, you lose all control of the fog and with wind being unpredictable, it's all the luck of the draw. Fortunately this photo happened about half way into the session since the wind picked up a bit after that and made things difficult to say the least. With the wind being one of the elements of challenge in this shot, the snow became another challenge. None of the skiers were really excited about the heavy snowfall, but of course it's my favorite bit of conditions to work in. Shooting with heavy snowfall brings in some challenges with keeping your lenses clean and dry, but also keeping my strobes dry and working properly too. Something as simple as a large plastic bag going over your strobes can do it. So far the bags that my outerwear comes in have been the best ones for this as they are HUGE and of course, clear. I have heard that a turkey basting bag works very well and is a bit easier to come by, as just about any grocery store is going to carry these. All that being said, I love shooting with the snow falling. There's so many things you can do with depth of field and all the different lighting options, it can add a bit of extra dimension to the shot. As with most times I go out to shoot at night, we finished this night up about midnight and the very long day finally came to a close.
I know this was an ad somewhere, I just don't know where. If anyone has seen it anywhere, please let me know!