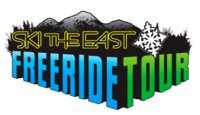 Ski The East, Meathead Films, and Jay Peak Video are proud to present the First Annual Ski The East Freeride Tour (STEFT). The mission of the STEFT is to synchronize the Eastern freeride community by providing a completely unique platform for the collaboration, competition, recognition, and progression of freeride skiing.
Previously, four eastern resorts hosted freeride events that were independent of one another. By establishing the collaborative STEFT, we've created the ability to integrate International Free Skiers Association (IFSA) sanctioning and points system, new sponsorship opportunities, additional awards including $100 cash to each event's winner, and a string of Ski The East-style après parties that celebrate each competition and the tour collectively. The STEFT will also help facilitate event awareness on a larger scale through garnering mainstream print, television, and Internet medias.
Among other prizes and recognition, the STEFT overall point winner will be awarded prequalification status in 2010/2011 IFSA Subaru Freeskiing World Tour. This provides an incredible opportunity to allow the top Eastern talent to compete in a world-class event series at venues in Chile, Canada, and the U.S.
Tour Schedule
1. February 27th - Black Magic Extreme Challenge
- Venue: Magic Mountain; Londonderry, VT
2. March 6th - Castlerock Extreme Challenge
- Venue: Sugarbush; Warren, VT
3. March 20th and 21st – IFSA Extreme Competition
- Venue: Jay Peak Resort; Jay, VT
4. March 27th - Unconventional Terrain Competition – Eastern Final
- Venue: Mad River Glen; Waitsfield, VT
Media Coverage
Ski The East, Meathead Films, and Jay Peak Video are the STEFT's presenting sponsors. The sponsors will provide coverage at each event including news articles, photos, video edits, as well as a feature-length STEFT compilation video slated for web and television distribution. Together, we're offering the Eastern ski community the best possible information and coverage on the best
freeride competitions our region has to offer.
Links
Ski The East Freeride Tour Pages: http://www.skitheeast.net/freeridetour
Ski The East Interview with John Witherspoon, IFSA representative for STEFT:
http://www.skitheeast.net/blogs/bd/2010/02/01/Spoon-Talks-STE-Freeride-Tour/
IFSA Support: http://www.freeskiers.org/modules.php?name=News&file=article&sid=667
ESPN Interview with Kevin Joudrey: http://www.espn.go.com/action/freeskiing/blog?post=4159165
For more company info: http://www.skitheeast.net | http://www.meatheadfilms.com | http://www.jaypeakvideo.com