Going to be adding some new content here. Spending about half of my life working in restaurants from the dish pit, to the bar, to being chef of a restaurant, now private chef/maintenance for a lodge. I am constantly discovering new foods and new ways to cook them. I for a while have wanted to start a cooking show, so I guess it starts here with a TR of sorts. I have recently found a few meals that with the right tools are super easy and very cost effective, and the ability to cook my own food I control exactly what I intake. Our first dish is PULLED PORK. Pulled pork can be used in so many other dishes and is delicious cold (below 44F). The ability to enjoy something cold helps getting through long ski days, duh.
My first tip if you are new to shopping/cooking….COSTCO card. I scored this pork for 1.75 /LB there are literally no other meats this delicious that cost this little. I also enjoy shopping at costco because i can get weeks worth of food and not have to deal with bi-daily or daily trips to the grocery store, gas is expensive, so is my time. Another tip is to start buying kitchen items pretty much as soon as you move out of your parents house, buy some stuff here and there. You can't spend all of your money without grabbing some necessities. Relying on others stuff doesn't always work, and some day you might find yourself with no cereal bowls or spatulas, then when you have to buy alot of stuff at once. Its like buying backcountry ski gear. If you are a avid skier, this may sound shocking but some day you will want to go on a hike with your skis. If you bought beacon, shovel, probe, skins, pack, touring boots and bindings and a beginners avalanche course all at once and new layers (that aren't cotton) …..that's gonna cost like 2-3,000 dollars. So start buying stuff over time!
Lettuce Begin
The amount of pork you can cook depends on your cookware. I have this LARGE, ceramic coated cast iron braising pan with a heavy lid that I got at TJ MAXX for 75 dollars, I can literally cook anything in it. To complete this recipe, you really need a pot or pan with a heavy lid. Ideally one with no plastic you can put in the oven. If you don't have that available, you can do it on the stove.We are also going to be BRAISING the pork, which simply means pan frying the item, and cooking it with liquid. The liquid does not have to cover the meat, infact its better if it doesn't the steam cooks most of the meat in this technique.
Step One. OVEN ~250 degrees
14 # (pound) pork (cost $25)
1 Onion & garlic (cost .75)
2 carrots (cost .50)
3 Jalapenos (cost .75)
1 6oz. can tomato paste (cost .75)
1 quart chicken stock (cost 2.00)
SLOWLY (stove top, medium heat) get your pan hot, add oil. Wait until the oil STARTS smoking then add all of your meat.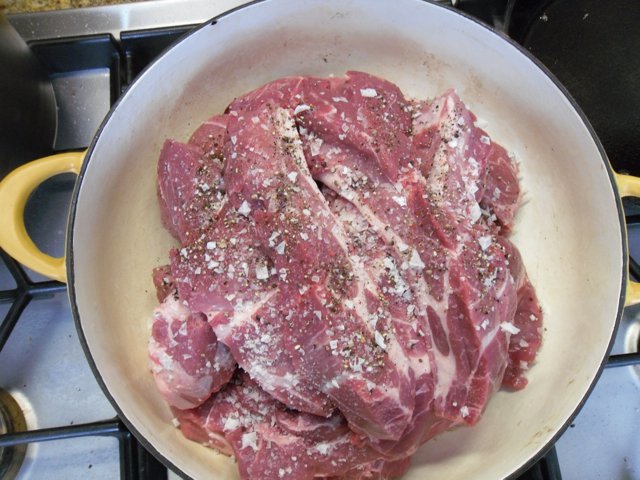 Hot Pan, 14# Raw Pork, Oil, Salt Pepper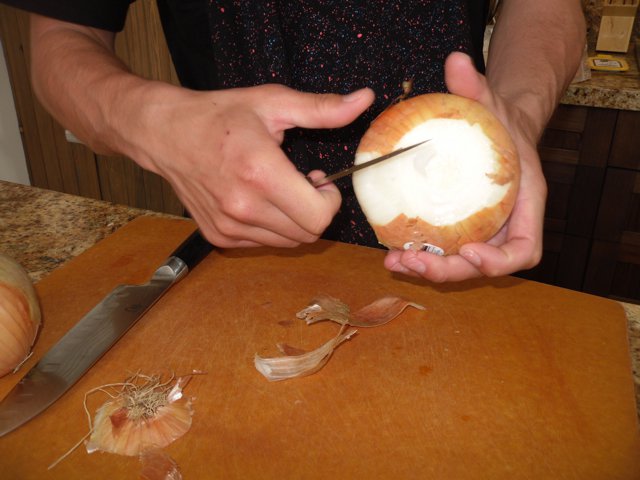 While the Meat is Browning Dice an Onion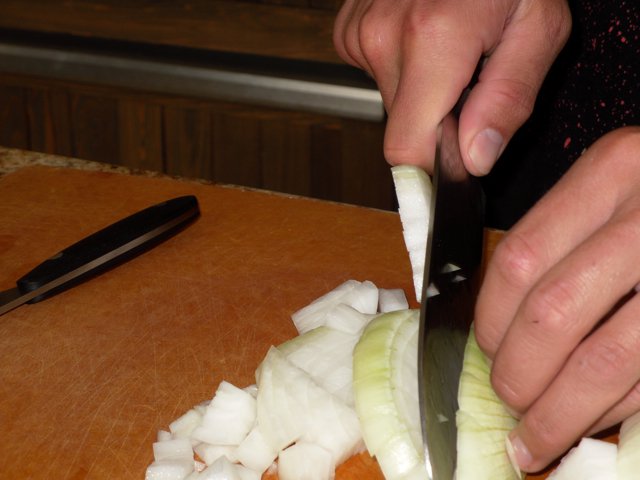 Diced onion
Once your onion is diced, cut up 3 jalapenos. I don't use the seeds(the are really hot!), but you can. I also added a few carrots and about 12 garlic cloves for some extra flavors.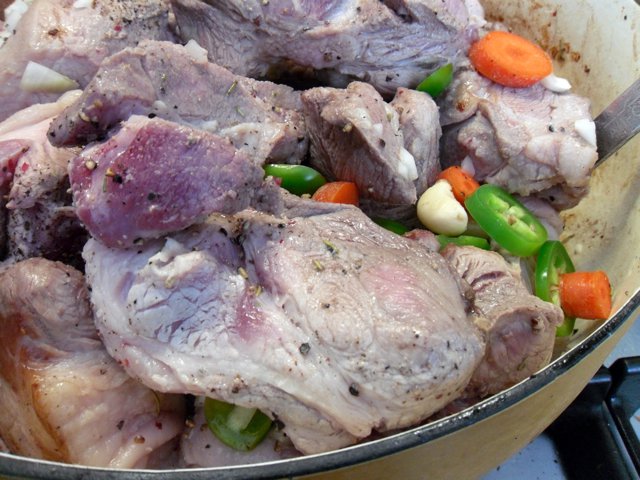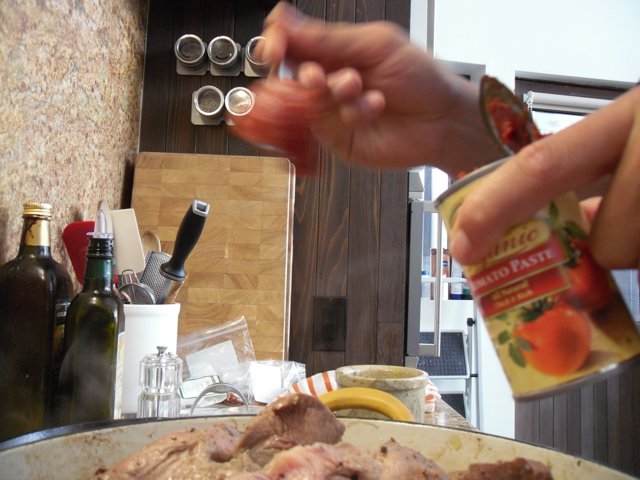 After a few more minutes cooking, Add tomato paste 1 can then cover for a few minutes
Remove Lid add 1 quart of flavored stock, I chose chicken
After I add the chicken stock, I put the cover back on and slide it into the oven (240 degrees) for 4 hours or until the meat falls apart. In the mean time, I made a few other things and cleaned up as to not be overwhelmed with dishes when i pack up for the night. Lately I like to make big batches of things, eat some freeze the rest in small servings.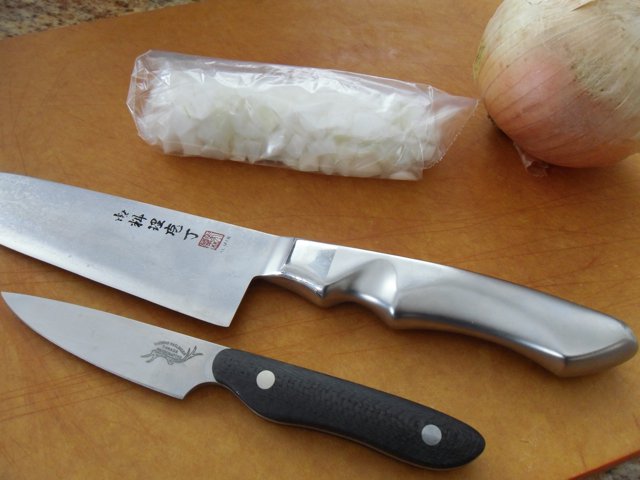 Clean up my workstation, put away any leftover prepared food.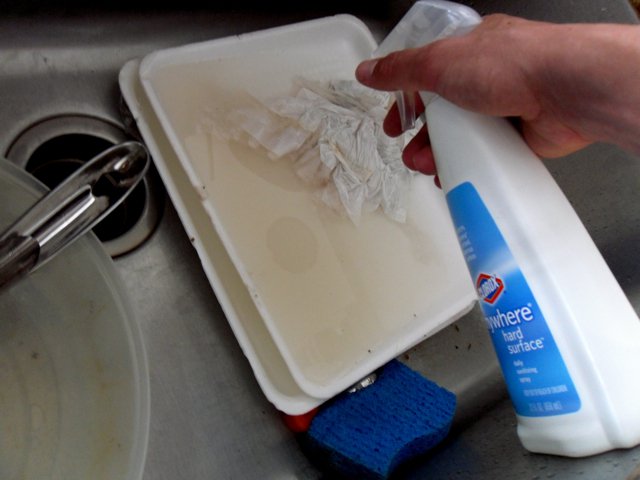 Anytime meat is involved I try to use some bleach on anything the meat touched, I even bleach what the meat came on so it doesn't rot in my garbage can.
After some quality relaxation time, I checked the meat's status about 4 hours after I put it in, I picked at a piece of pork with a pair of tongs and the meat fell apart, thats how I know its done.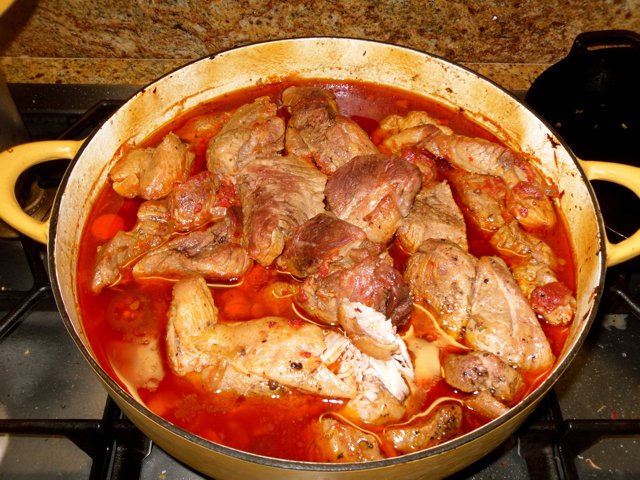 After
I find a proper container to store the pork in and remove it from the braising liquid directly to the container with any tool that works. I used that tool to pull the pork. I continue to stir it around occasionally for about an hour. Then I put it in the fridge. KEEP THE BRAISING LIQUID!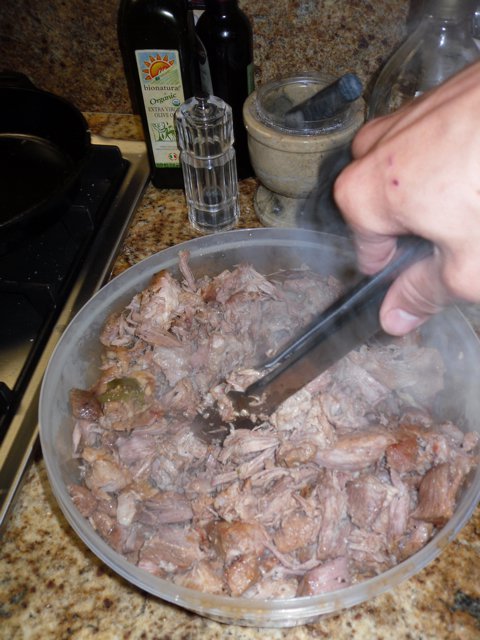 The pork falls apart with a pair of tongs.
Viola, 25 servings of pork waiting for you to add to anything. Keep it out for a few days, eat some, then freeze the rest in ziplocs. I just ran the math and it cost about 1 dollar per serving of pork, lots of filling protein for 1 dollar! Eggs n' meat in the am, add BBQ for sandwiches (wrap in foil and take to the mountain) or burritos, or eat it with potatoes. Use your imagination, that's what cooking is about. And BTW do NOT throw that liquid left over in the pan, next time I will show you how to turn that into your very own ridiculously dank BBQ sauce to really complete this dish. Questions? hit me up!