The ladies World Cup Tour stops in Cortina d'Ampezza, a favorite of most of the speed girls (mine too). There were a bunch of Shred girls who did very will including US Ski Team's Leanne Smith who finished with a great 8th place and Laurenne Ross at 19, and the French insurgence Margot Bailet at spot 29 (started with bib 53!).
Really good stuff.
Leanne was quoted as saying:
"It's been a long time where I thought I could be able to do this. I had a good inspection and a good feeling about today. It was course that was set to my abilities so I just tried to lay it down and put it all on the line and I think I did that. I'm pretty excited about how I ended up."
"I like the Dolomites a lot and the town. The hill is so much fun – it's one of my favorites on the Tour. The weather was fine you could see better today then you could in the last couple of training runs. So I was going to take advantage of it. My last super G in Altenmarkt [Zauchensee, Austria] I was skiing well pretty, but pretty frustrated with how I ended up. I really wanted to go out there today and start the weekend off on a good note."
Here were the official standings: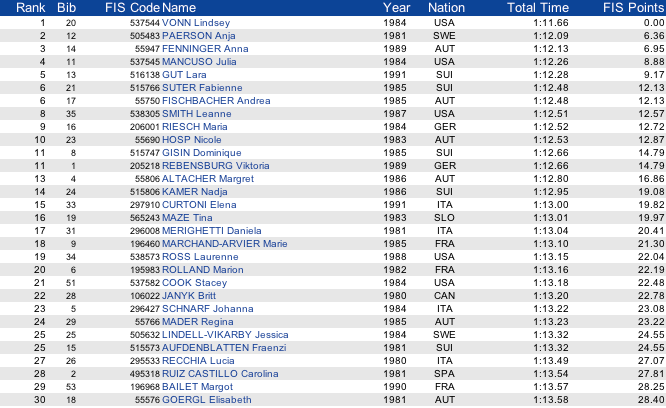 On a more heavy note, Austrian skier Has Grubber appears to be seriously hurt in a Kitzbuehel downhill training run. Our hearts and prayers go out to him at this moment.
Related posts:World Cup Ski Action from Adelboden & Zauchensee I'm sitting over here in Hawaii, checking out the World...
The US Ski Team's Leanne Smith Signs with Shred Optics Hard-charging Leanne Smith joins the Shred team! For those of...
Resi Stiegler Blogs: Gates So its the end of a great camp. I progressed...
Related posts brought to you by Yet Another Related Posts Plugin.