Hello everyone,
My name is Kyle Kliss. I am a cinematographer for a small production company called, Edge Films. I have also skied at Attitash for 15 years. I got to know many of the kids that skied Attitash from attending the seasonal program that Attitash has to offer. That is where I was introduced to David Kluge and brother, Jason Kluge. Although I don't remember many memories of when I was in seasonals, (I did seasonals from age 5 to age 13) I can still remember David Kluge and his brother Jason being the ones who threw down, were always happy, and who other kids in seasonals and out of seasonals looked up to.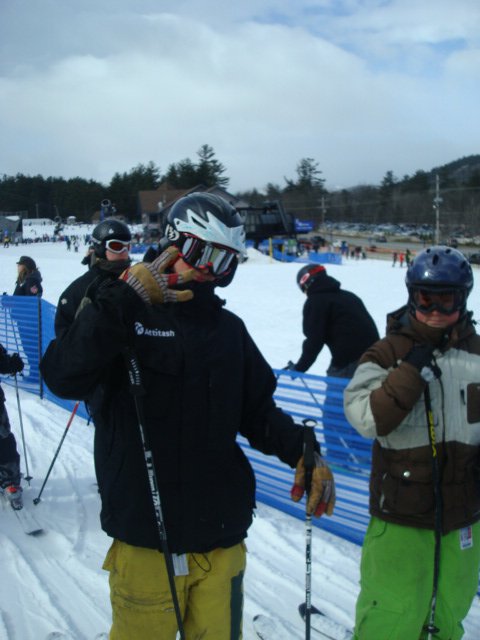 David Kluge (right) waiting in the lift line with Matt Halupowski (left) Credit: Andrew Levin
Fast forward to November 4, 2010. This memory is still very clear in my mind. I am up in North Conway, Nh with my Dad getting ready for the incoming ski year. I was very excited for the incoming ski year and couldn't be happier. in the afternoon, I get a phone call from my Mom. I was faced with the terrible news that David, only 14 years old, passed away the day before from suicide. My heart instantly dropped as I was told this. Right after the phone call I broke out in tears and didn't know what to do. Many questions come into my mind but only one still sticks in my mind; why would David do this? He was always happy! Unfortunately I will never be told why he did it, all I know is that Attitash and everyone lost a great skier and friend on November 3, 2010.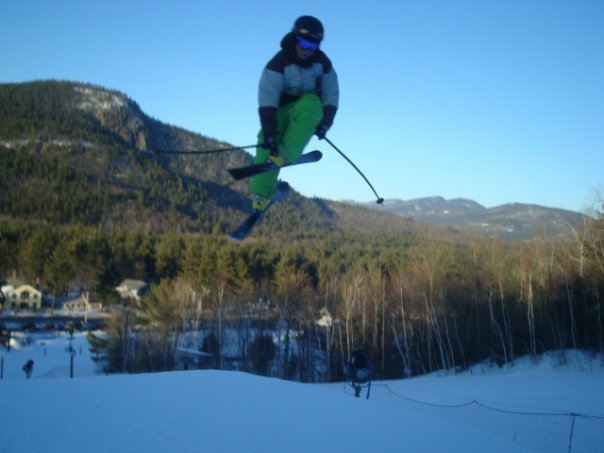 David mid-air spinning credit: Andrew Levin
Fast forward to today. Now I am one of Jason's good friends and I film with him every season. He is still as happy as can be even with all of the events that tragically happened to him. Also, he still shreds hard. So, One day Jason and I were thinking and thought, what better way to pay tribute to Davids life than have a relaxing day shredding in the park for him. So this is our plan. On March 22, 2014 everyone arrives at the Yurt at Bear Peak (weird shaped white building right next to the Bear Peak Lodge) around 9:00am. When everyone gets there, we will all go to the Mythmaker Park to shred/film. Music will be blasting and the park conditions will hopefully be excellent. During the later part of the morning we will also go over to Attitash to take one tribute run at the Grandstand Mogul Jam because David also was a mogul skier. Around noon everyone will go in for lunch. Were you go for lunch doesn't matter, as long as you eat. When everyone is done with lunch, we will meet back in the park and keep on shredding and filming until 3:00pm. After 3:00pm we will be packing up and heading home. I will be releasing a video the next week recapping the whole event. If you can please make it to Attitash March 22, 2014 please do because it will be for a great cause, and show that we care if we lose someone in the skiing community, whoever it is. Special thanks to Corey Madden who is helping put everything together, and the whole Abanaki Park Crew for making and maintaining the big park during the event!
If you would like to come and have a Facebook please RSVP at the event page: https://www.facebook.com/events/137005343163207/
Thank you,
Kyle Kliss
I do not own any rights to the David Kluge pictures posted. All rights go to the photographer that took them.