Campers: you were able to try a number of our Full Tilt's at Dex's Demo, this past summer, now here is your chance to win a pair of your own. Details Below: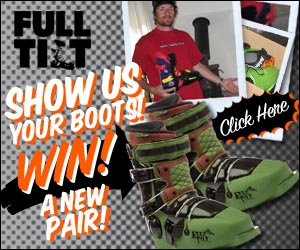 SHOW US YOUR BOOTS!
Full Tilt Ski Boot Giveaway
?I thought once I ran out of these boots I would have to retire from skiing.?- Seth Morrison
Full Tilt?s commitment to keeping the Original 3-Piece design alive has been inspired by the passionate people skiing them for all these years. With over 30,000 views of the already 200+ submissions in two weeks, the ?Show us Your Boots!? online contest is an opportunity for these skiers to virally share their real-life inspiring stories & pics about keeping their own pair of original 3-piece boots alive, just like pro skier Seth Morrison. Seth has been riding the same boot design for over 21 years and they seem to work well for him. For everyone else that doesn?t own a pair, they can just explain why their current boots aren?t working and why they deserve a new pair of Full Tilts.
Each month?s most inspiring, convincing & more often than not hilarious submission wins a new pair of Full Tilt Ski Boots of their choice & also appears in web ads re-promoting the contest. September?s winner was Stephan ?Chai? Chaikovsky of Denver who was so desperate for some new boots he created one on his foot with some markers! The question remains, who will win the next pair? Will it be the guy with the Full Tilt logo tattooed on his shoulder or the kid who?s dog pooped in his boots, or someone else?
No related posts.