Spring time is here!  Finally!  Yes, it's still snowing in most of the mountains, but we've moved on to other sports… Spring and Fall are the perfect times to head to Moab, UT and shoot all kinds of awesome summer sports.  The heat hasn't hit yet, and the terrain is perfect! (And NO, we weren't commissioned by Moab Tourism to write this post.)Amazing locations make for amazing images.  This is a fact that most people seem to forget.  Take a great shot with great lighting in a lackluster environment, and the shot may be technically awesome, but the overall image won't have much appeal.  Do the same thing in Moab, or any place that's even half as scenic as Moab, and prepare for an absolutely incredible image!  Even shots that aren't technically perfect seem to turn out well there because there is so much otherworldly scenery.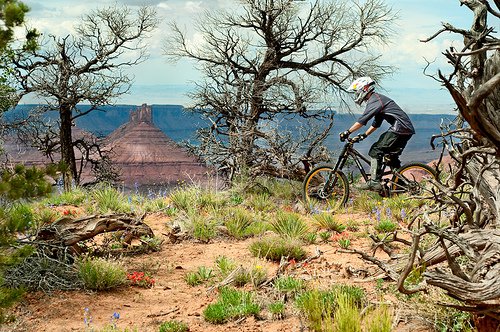 Moab is a desert area with famous red arches, canyons in every direction, and more active people than you could ever imagine.  It's located in South-East Utah and is easy to get to from Denver, CO, or Salt Lake City, UT.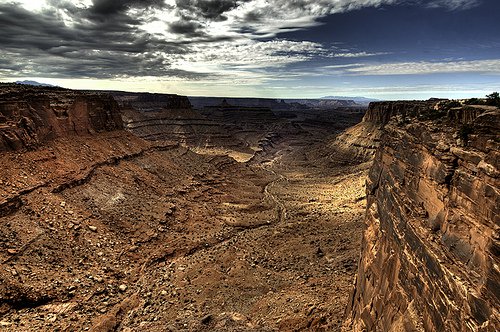 If you're stuck sitting in a town still covered in snow (like us – Vail, CO) then it's time to get in the car with some of your best friends and take a trip out to Moab.  It will help you fall in love with photography all over again.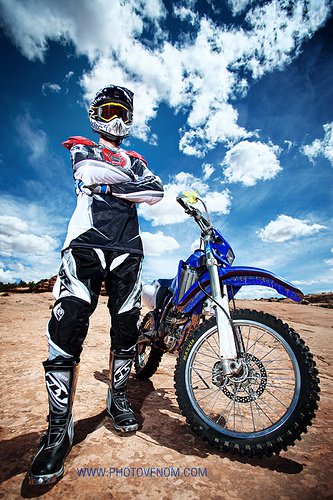 There are TONS of options for sports to shoot, mountain biking, dirt biking, ATV's, Jeeping, road biking, hiking, stunning vistas, rafting, rock climbing, slack-lining…the list goes on and on!Before you go to Moab, there are a few things you'll want to know.  It can get HOT out there, even this time of year.  Be prepared with tons of water, and carry plenty of food.  The campsites can get full, so call ahead (if permitted) or ask your friends about their "secret" campsites.  We have one that's always open but we can't share it here or that would defeat the purpose!Bring spare tires if biking (slick rock can TEAR UP your tires)Bring those flashes along!  They will make your shots 100x better.Ask the local shops for some of the best spots to shoot.  People love to share areas with photographers and may even be willing to go shoot with you.  There's an abundance of athletic talent that you can find.If it's going to be extra HOT and you'll be camping (there are hotels too..), don't bring your laptop or risk having it fried.Bring plenty of memory cards.A good backpack is a MUST.  Checkout F:Stop Bags for awesome adventure backpacks.There are shuttle services for some of the best trails.  This is a great and easy way to get to some awesome shooting spots (Porcupine Rim Trail has stunning vistas)A few of the bike shops have public showers that cost about $10 to use.  Well worth it when you're camping for days on end.Good luck and have fun.  If you do head to Moab, we'd love to see your images in the Photo Share forum at APS, and even if you don't we'd still love to see your work there.  If you miss out this Spring, there's alway's fall….