Words & Photos: Kristie GilesMayhem broke out in Ogden, Utah, Friday night at DNA's pre-world premier screening of the new Level 1 Productions film Shanghai Six. The evening's highlights included strange weather patterns, a sketchy big air hit, a streaker, a case of severe bleeding...and, as expected, a really good ski movie.Attendees were contentedly absorbing Josh Berman's latest cinematic tribute to crazy park features, big backcountry booters and oh-so-technical handrails when a distracting thunderstorm broke out. As rain drenched the amphitheater and the not-so-big screen rippled in intense winds, a few kids scrambled to the stage for cover–and the remaining crowd followed.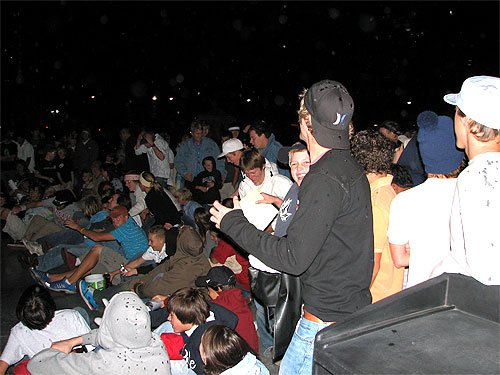 The crowd scatters as the rains begin.But Shanghai Six was well worth the wetness. The eclectic, techno-charged soundtrack stood out as a deliberate step away from the industry's long-held hip-hop-and-classic rock standard, and the lifestyle antics were creative but naturally flowing (no random murder scenes). Veterans Dave Crichton and Steele Spence laid down solid segments, and a lot of talk revolved around the feats of Corey Vanular and Tanner Rainville. But if Liam Downey's part hadn't been interrupted by the storm, it, perhaps, would have been the most memorable. The Level 1 crew found creative features for classic tricks (the Keystone cube, a burly 8-kink in Duluth, Minn.), and creative tricks for classic features (butter spins in the backcountry, Corey's manual line). "Progressive" is getting to be a bit cliché, but it's the only word that rightly describes Berman's mix of phenomenal ski footage and mind-blowing cinematography.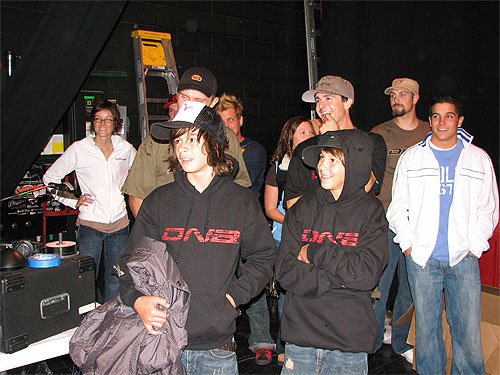 Everybody seems entertained.Much to the delight of nearly everyone in attendance, fat snowflakes replaced the pounding rain for a short time during the post-film product toss. An impress-DNA-and-win-a-sweet-jacket contest ensued, starting with some interesting dance moves and evolving quickly into a backflip showdown, with some male nipple showings and a freestyle rapping attempt along the way. Later, weather conditions improved, and the chaos resumed with a big air show on 25th Street. It's September, of course, so snow wasn't part of the setup. The original drop-in ramp plan didn't work out (to no surprise), but DNA was persistent and brought in an ATV for speed. Andrew Woods "forgot [his] boots." John Symms, Max Kuzaj, and Rob Holmes were also on hand--but opted not to risk ending their seasons in September. Three DNA am riders, however, braved the vinyl and astroturf. Brad Geiger guinea pigged the questionable structure, proving that it was not, in fact, a death sentence. J.T. Robinson took some impressive slams on teles, a streaker made an appearance with a light blue bandanna tied over his face, and Mike White later stepped it up with a sick cork 7. The show was cut short, though, when the tow-in line wrapped around a bystander's legs and drug him, at a high speed, behind the ATV. The bystander, bleeding profusely, was taken to the hospital.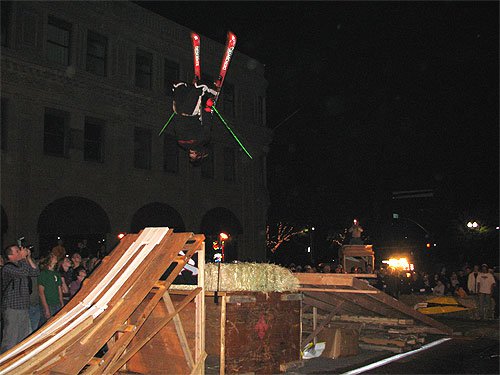 And the winner for sketchiest setup ever is...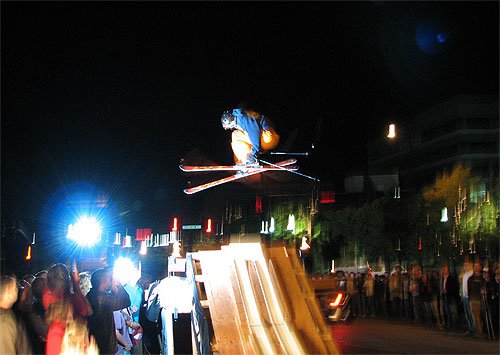 JT Robinson soars over the "big air" jump.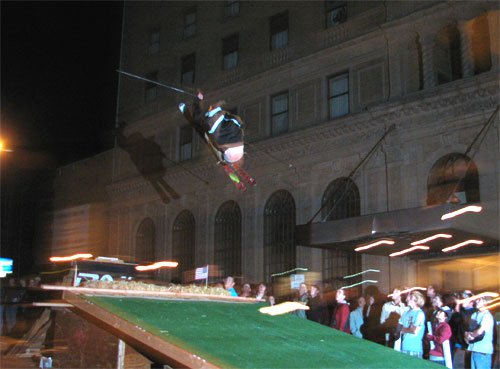 Possible new cover for NS, thoughts?The night's festivities concluded with an after party at the Esquire, dispelling some preconceptions about Ogden and leaving skiers inebriated and hungry for snow (and maybe munchies, too). When all was said and done, it was a wild event that Shylo Farnsworth, director of marketing and public relations, said DNA hopes to continue annually. The world premier of Shanghai Six will go down October 1 in Boulder. Check http://www.level1productions.com for ordering information and additional tour dates. As a side note, I had quite the rough evening. In addition to the bystander, the tow-in rope took out my camera and right thumb. So I dashed after my battered camera, temporarily forgetting about everything else. Some really nice people picked up the pieces while I paced about screaming obscenities. Later, I remembered everything else and decided to film the rest of the show with my old video camera. But my video camera was missing. So that didn't work. I tried to eradicate my problems with mind-altering substances and later found some consolation in the fact that I wasn't bleeding from the head�and in that I was able to recover some pictures from my memory card. But if you'd like to contribute to the help-an-impoverished-college-student-finance-camera-repairs fund, send me a message.