post originally from http://espn.go.com/action/freeskiing/
(Ed's note: Consider the source—whether it's drinking water, Af-Pak insurgents or marketeers, guerilla and otherwise, singing the praises of accoutrement in the vast ski-gear-o-sphere. So full disclosure here: Seth Morrison is sponsored by Full Tilt Boots. Seth has also been riding early incarnations of the same boots since before he was, you know, sponsored at all. So not only is Seth biased, Seth is uniquely qualified to discuss how his feet became intertwined in ski boot history…)
[+] Enlarge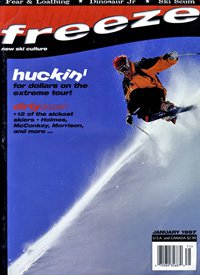 Mark Epstein CollectionFirst cover of Freeze mag, '97, with Seth and the Flexons.
As a kid, I grew up watching World Cup racers dominating in these boots. Strangely, the same boots were the choice of freestyler-bumpers, aerialists and ballet-ists too. Dudes like Bill Johnson and Nelson Carmichael ripped these boots. Why? The even flex and overall softness made this three-piece design the go-to.
I think I even heard of downhill racers using these boots for speed events and then going back to other brands for giant slaloms and slaloms. (Somehow, these boots also became popular with the hard-boot snowboard community.)
Kim Reichhelm got me my first free pair, in 1994, after I'd already been skiing in 'em for three years. Still, I suppose it is with random acts of kindess that most people get themselves indoctrinated into cults. And so it was for me with the Raichle Flexon ski boot, which today fly under the banner of Full Tilt Boots.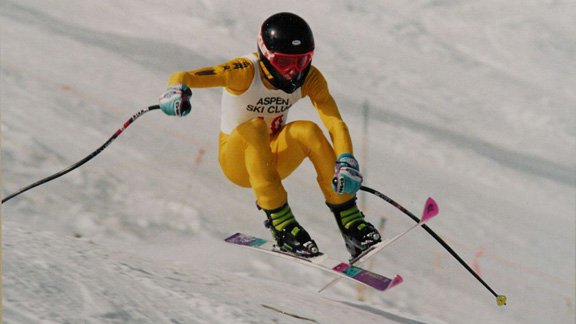 Seth Morrison CollectionSeth Morrison went to his personal unpublished archives for this 1991 photograph—Seth was then but an early Flexon adopter in a speed suit (for a FIS downhill race on Aspen Mountain).

"At one point I had 12 pairs of boots, 20 sets of tongues, boxes of cables, 50 buckles, power straps, boot boards, 5 liner sets and 20 replacement heals."

The Flexon design was created in the late 70's by Eric Giese, a former NASA space suit engineer who had come up with the rib technology you see on the arms and legs of space suits. Giese eventually presented his design—with the ribbed floating tongue and ankle hinge—to Raichle. To seal the deal he jumped up on a conference room table in Switzerland with his protype boot on one foot and the then-current Raichle model on the other foot. Bending into the mis-matched boots on the table, he demonstrated the non-shell-bulge flex of his boot versus theirs, bulging out. That was enough to produce the "Flexon." The year was 1980.
Over the years the boot has changed hands repeatedly, gone away entirely, and undergone some modifications for the better. With Raichle, we saw a variety of colors—mostly all black with green, red, pink, orange and yellow tongues inlays.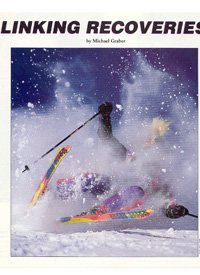 Full Tilt archivesGlen Plake, circa '80-something?
A Euro Tongue, as I called it (and not to be confused with the Euro barge), was mostly what the racers used. And it was one of the stiffer tongues out there; all one piece with a big smooth screw head at the bottom of the tongue that was part of the connection to the boot itself.
Later, the boots went to the Thermo Flex liner. This was a big move in the right direction. Like the Intuition Liners today, these were light, warm and fully moldable to the entire area your leg and foot—they put you in intimate contact with the entirety of boot's inner sanctum.
Rumor has it, in the late '80s, the then-owner of the then-company was in a car crash and died with his secretary (mistress); his wife apparently decided that she was going to ruin the company since it was his love. By 1996, she succeeded; the company was nearing bankruptcy.
At this point Kneissl took advantage and bought them. But they had some trouble with tongues breaking, and that put the hurt on the re-launch. They did put in an active foot board—a soft foam foot board to help absorb impacts—and this was another good move. But they were weighed down by the fragile tongues and challenges of selling a boot with un-formed liners, which made it tough for people to try them on and know how they were going to fit for real. And so they returned to a regular liner. But, coupled with marketing challenges, it was too late. Kneissl then went under new management and that was that for the boots. They were officially history.
Full Tilt archivesSome sort of airline ad, circa 1980s.
K2 bought the molds shortly after that, in the fall of 2004, but did nothing with them. Then K2 acquired Line Skis (Summer 2006) and almost instantly Line decided to do Full Tilt (Fall 2006). Years earlier Line had tried re-launch one of the wider Raichle models, but it didn't do very well. So they had the right idea back then, but now they had the cult classic.
Meanwhile, people like me hung onto old boots and boot parts in order to continue skiing them. At one point I had 12 pairs of boots, 20 sets of tongues, boxes of cables, 50 buckles, power straps, boot boards, 5 liner sets and 20 replacement heals. Some were new boots, some were almost worn out, and some were only slightly used.
Sometimes I was able to get new and used ones off eBay or at ski swaps and shops I'd routinely scour for parts: Summit (County) Recycle Ski and Sport and places in Vail, Breckenridge and Keystone. You never knew where they would show up.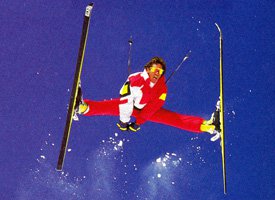 Full Tilt archivesBack when spread eagles had some actual wing span.
There was a period of four years before Full Tilt started that I was on the hunt all the time. Once I found some at a shop in Whistler. But they said I'd have to pay full pop since it was their best seller—even though they hadn't been made in a few years. (I passed on that.)
During a bout of temporary insanity I once even thought that being sponsored by another company was going to PAY off. I tried the Dalbello version and other styles and other brands; opportunites were there. This eventually led to a realization: If I ever ran out of old boots and parts I might as well retire from skiing. Of course this was after almost breaking my shins from a big cliff drop—I'd sold off my old Raichles from my ski racing days (broke college kid).
[+] Enlarge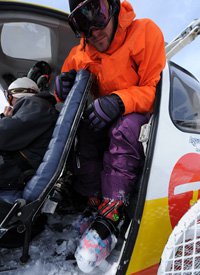 Flip McCririckSeth Morrison and the Full Tilt Seth Morrison Model: Great for stepping out of a heli.
A few of my friends had used them because Glen Plake did or they'd broken a leg, "boot-top style," and they didn't want to go back to the boots they were using (Rossignol). (They went to Raichle because they came up higher on the shin—so the fracture line was in the boot, not above it.) But originally for me, I was using them for their fit and performance. Boot bang became a thing of the past with these boots.
Thus far I've worked with all the companies, but pretty much I've been in the boot full time since 1991. I'll never try anything else. Now Full Tilt has been going for four years and they're picking up where the others left off. Tight new graphics have been the most noticeable addition, but Full Tilt also added moldable liners built by Intuition, cable guides for the tongues, and a variety of tongue flexes that offer more options than ever.
So naturally I'm pretty stoked to have a Pro Model with them now too. And maybe it has all paid off. I stayed in what works for me, through the thick and thin and the ski swaps and closets full of boots and parts. And now I only have eight pairs in the closet—just in case.