This post is originally located on ESPN.com/action
Photo: Seth Morrison
Last year was my very first trip to this neck of the woods in Northern B.C. Back then, TGR and a crew of Oakley athletes went to Bell 2, serviced by Last Frontier Heli another Canadian based heli ski operation. We heard about Ripley Creek through those guys on that trip, so we decided to leave behind the 5-star set up at Bell 2 this year in the hopes of exploring a new zone.
Photo: Seth Morrison
Stewart sits just on the edge of the southern-most part of the Alaskan panhandle, nestled right up to Hyder on the Coast Mountains. The road into town comes to a dead end in Hyder a few miles past Stewart, which is primarily a mining town by trade. With the economic state and lack of mining, Stewart is pretty much a ghost town in the winter. A few hard-core sled necks are pretty much the only people going into these mountains.
Photo: Seth Morrison
The crew consists of Kye Petersen, Callum Pettit, Sammy Carson and myself. We are filming for the TGR's next film (name is yet to be determined). Being with such a youthful group of skiers was nice to see — energy and fearlessness. This definitely came into play for Callum: He jumped off a piece of glacier ice and skipped off another piece and crashed on some not-so-soft snow and ended up dislocating his shoulder. He was sore after getting it put back in, but it meant that he was out for the rest of the trip.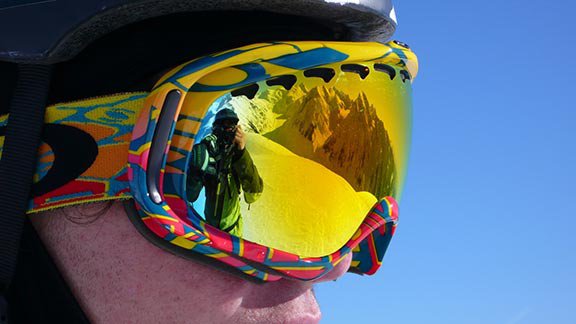 Photo: Seth Morrison
The mountains here are pretty intense, poking right up out of glacier ice fields. At times the peaks look small because of the massive expanse of snow-covered glaciers in between them. This season, they were 15 feet of snow shy of the normal coverage, which meant that many crevices were exposed and a lot of lines were unsafe due to gaping holes in run-outs. Everyday was a new adventure for us, searching the terrain by air and sometimes flying to places that offered little and then back to ones we had thought too much to handle at the time.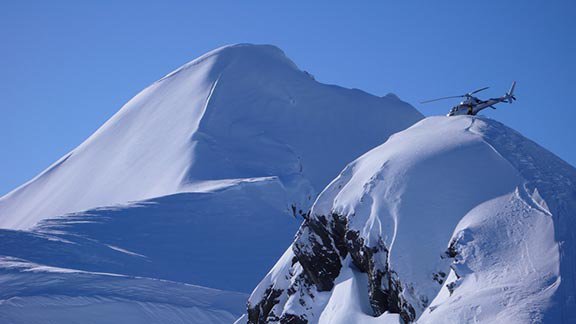 Photo: Seth Morrison
Light is a big curveball this time of year. February into March is pretty early for these kinds of mountains since they are big and the sun still sits low in the sky. We had early mornings and late afternoons as our best filming times for the better quality powder, so NE and NW aspects were on our list. Sometimes you'd overlook lines on these aspects because you'd see them in the shade and not even notice them. When you see them lit up, you can't believe your eyes. Our guides played a big roll with the knowledge of terrain and aspects.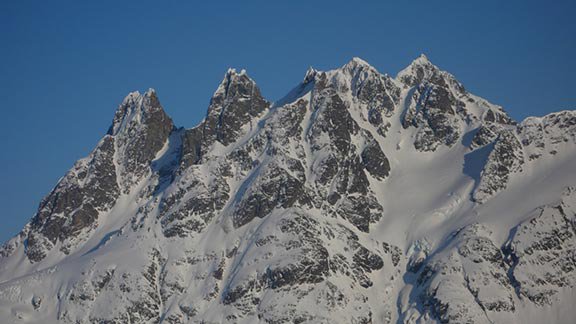 Photo: Seth Morrison
Some days were sunny, others were cloudy — typical Coastal Mountain ski adventure. Luckily the terrain here offers many pillow-y tree runs below the Alpine for cloudy or snowy days. This worked out for use because the best snow was here and wasn't seeing the light of day on this trip, even when it was sunny.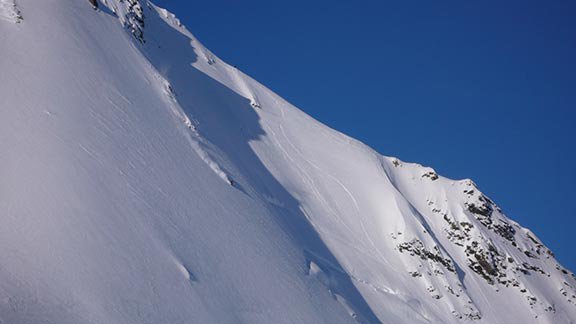 Photo: Seth Morrison
All in all it was a pretty sick trip, a good bunch to be with and another step towards the main goal of the season in Alaska. We were even able to keep up with the Olympics. There was a lot of curling on, so we inquired and found that we could curl. It was U.S. vs. Canada — we had even numbers in our groups from representing countries (the U.S. won of course).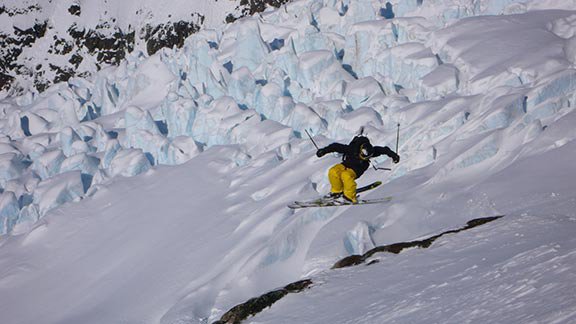 Photo: Seth Morrison
One last thing: If you are ever driving to Alaska, you will drive right past the turn to Stewart and Hyder. Make this turn, 'cause you're probably not in a huge hurry anyway, and go get "Hyderized" in Hyder. From what I hear from other pros, there is a moonshine shot there that is not to be missed.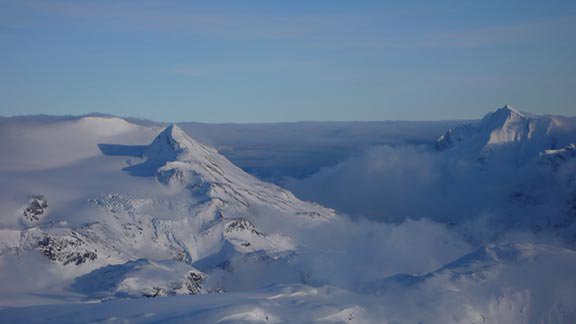 Photo: Seth Morrison
Check out TGR's "Live From The Field" to see some of the stories I'm talking about but in short video versions.