At the time of cherry blossoms and hanami parties, there was a sweet meeting held in the Tohoku area of Japan.If you know where Alts Bandai is, you can say you are a real Japanmania. Alts locates in the Fukushima prefecture, a 4-5 hour drive from Tokyo. It's famous from the Nippon Open of snowboarding (not the Nippon Freeskiing Open) and has really nice park and slope.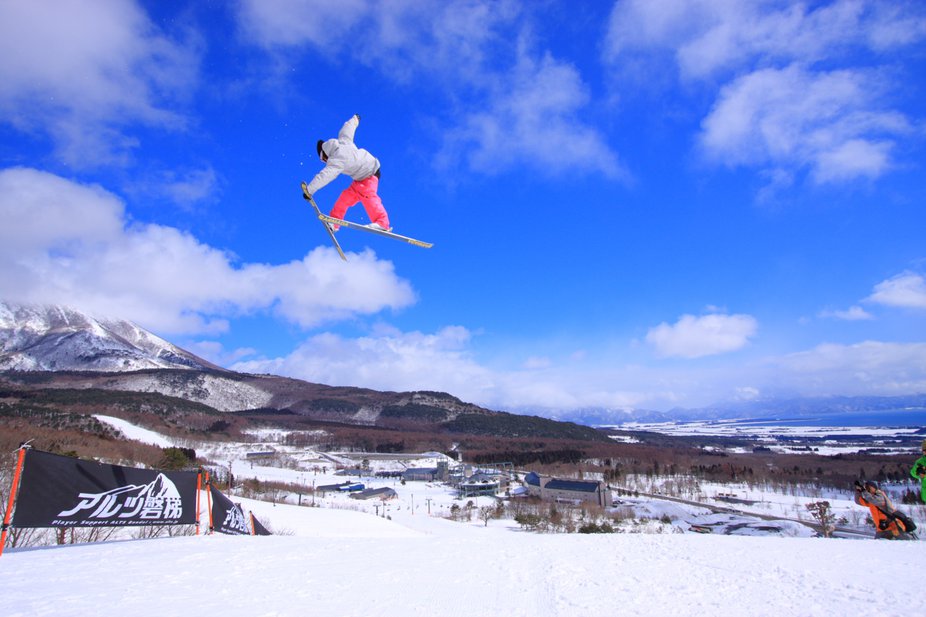 R: Kyohei Miyata P: FUMI style, style, style.In my opinion, it's one of the best parks in Japan. It has tons of rails and jumps, easy ones to expert ones.For this session, we used the Snowboard Nippon Open slope which had a nasty feature of rails and a sweet jump to a huge hip.And right on the side, there was a perfectly shaped half pipe, that means the setup was perfect.
R: Mikiya Tanno P: FUMI Mikiya was dominating the pipe this day.We invited almost every top-level freeskier in Japan for this session, which sums up to over 30 riders.The session's purpose was really simple, we wanted see how it goes if we prepare a perfect slope and pipe for the best riders, that was a initial shot of it in Japan.
R: Yuki Ikeda P: FUMI Yuki going biiiiig. Three film labels gathered around for the session, Mighty Jamming, KAI Entertainment and Muddy Films.Also 6 photographers came to scoop this chance, so a lot of lenses were aiming on the riders on this three day session.
R: Kana Tanno P: FUMI Girls gone wild. Nice mute grab from Silvia.
R: Nobuhiko Tamaki P: Takuro Hayashi Here comes the cover shot guy!
R: Yuki Ikeda P: FUMI Yuki grabbing the tail for his life.
R: Shinji Osada P: FUMI Shinji saying hello to us.
R: Kentaro Tsuda a.k.a. "Cab10Ken" P: FUMI Ken's competing on the Dew tour, so please check'im out! We're planning to do this session again this year, and we're gonna report it on this blog so please take a look of it!Here's some of the teasers that filmed this session. Muddy filmshttp://jp.youtube.com/watch?v=maPDkNjATDEMighty Jamminghttp://www.mightyjamming.com/KAI EntertainmentPlay http://jp.youtube.com/watch?v=z6O1s_P9NEMTrace http://jp.youtube.com/watch?v=KF628fSLUesMatane~