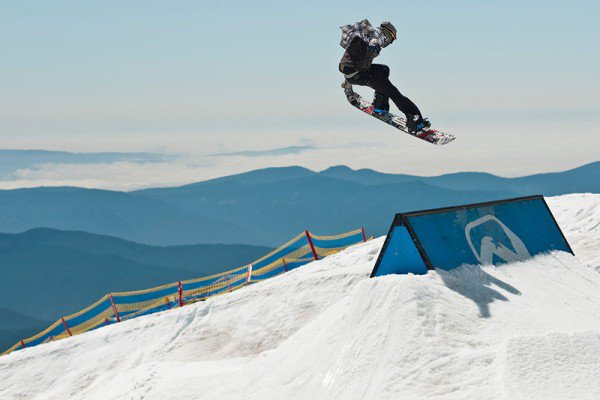 Andrew Brewer launches the spine with a picturesque nosegrab.
It?s official: 2011 summer snowboard camp has come to an end. The towropes have stopped, the rails have been taken down, and everyone?s boots will finally be given the chance to dry out. It?s always sad to see the season go, but lucky for everyone at Windells, Session 7 was one of the best summer finales that we could have asked for. The weather was super sunny and there was tons of snow, so it was perfect both on hill and in the Concrete Jungle. Campers, visiting riders, and staff spent every moment shredding, making sure to squeeze the most fun out of the session before it was over.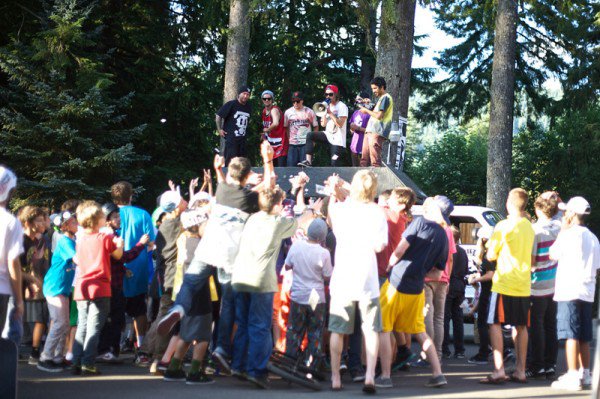 Cole Taylor, Dylan Thompson, Derek Dennison, Andrew Brewer, and the Technine Prospects instigated a waterballoon fight back at camp.
The Technine Team hosted Session 7. Derek Dennison, Dylan Thompson, and Andrew Brewer were joined by Ben Bilodeau, Zander Blackmon, Brady Larson, and of course, Marc Frank Montoya. In true T9 fashion, the team went hard, both on hill and off, riding, filming, and putting on tons of games for campers.
Here are a few highlights from the last session of the summer:
Ben Bilodeau floats one over the spine.
- The Windells Diggers added more features to the rail zone and the Technine crew held a competition for campers on the prism wedge, Jersey barrier and down tube. Dylan Thompson did an impressive mini handplant, Derek Dennison helped campers learn switch ollies, and Andrew Brewer emceed.
The Second Annual Technine Doughnut Eating Contest. Dylan Thompson at the head of the table, leading the charge.
- The Second Annual Technine Doughnut Eating Contest went down in the courtyard. Derek and Brewer officiated and Dylan competed, consuming at least 12 mini doughnuts before the powdered sugar started flying, coating everyone in a snow-like layer of sweetness.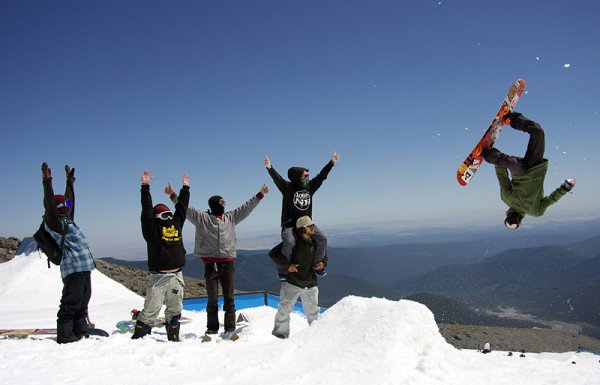 It doesn?t get much more quintessentially summer at Mount Hood than this. Brandon Hobush backflip during a Hobo Shred Wear backie clinic. Good day.
- Dylan Alito was at camp and put on a Hobo Shred Wear backflip clinic with Brandon Hobush. Campers and staff hucked away the afternoon, learning backflip variations, while a small crowd hooted and hollered. It was definitely summer boardin? fun.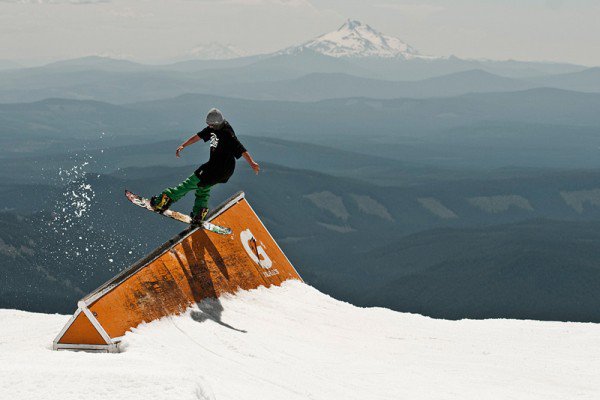 Dylan Thompson blunt.
- To close out the session, MFM DJ?ed a Skullcandy dance party for campers, which included a breakdancing competition. A couple of campers threw down with moves that could have passed on any MTV dance-competition show and one lucky guy won a Technine snowboard.
Derek Dennison, Andrew Brewer, and Dylan Thompson sign autographs for stoked campers.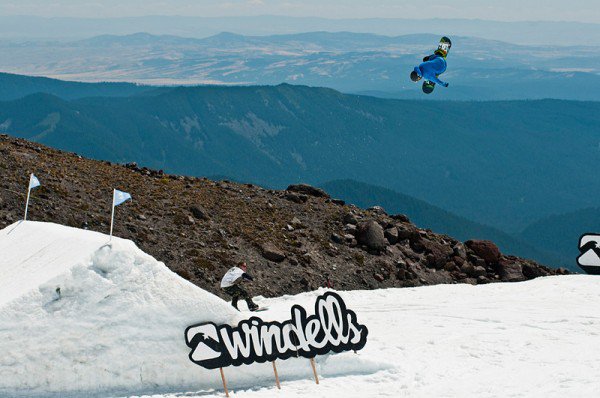 Head Counselor Cody Lee front five.
Counselor Stephanie Feld rips. Stale to boardslide.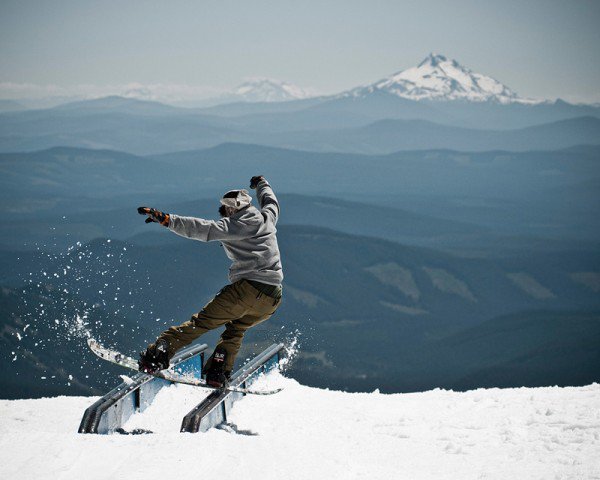 Two rails is better than one, as Austin Leonard demonstrates.
It?s been an amazing summer at Windells, but the fun isn?t over yet. There?s tons of skating to be done and winter camps begin in December! Stay updated with all of the fun at on the blog and see you next summer!
Windells - BMX. Skiing. Skateboarding. Snowboarding.