Photos: Rachel Bock
The easy story coming out of Big Boulder this weekend is Ryan Stevenson. He's the 14 year old who came into the Sean Jordan Open this Saturday in the grom category, and who left on top of the open category podium, with five grand in his pocket. He's the one who went toe to toe with skiers who had at least five years and about 50 pounds on him, not to mention they could grow beards and buy beer. Ryan Stevenson is the kid who stomped left and right side spins in finals, who the other kids compared to Goepper, who showed everyone how to stomp a slopestyle run with style. He was the easy story, he stole the show.
Ryan Stevenson spinning Cork 9 over the judges | photo: Reed Weimer
Now, what depends is which show it was he stole. On the one hand there's Doug Bishop who, for six hours, sometimes in vain, sometimes successfully, took care of announcing the competition on the microphone at the bottom of the course. He cracked wise to the crowd and shouted out each rider as they came through the jump section.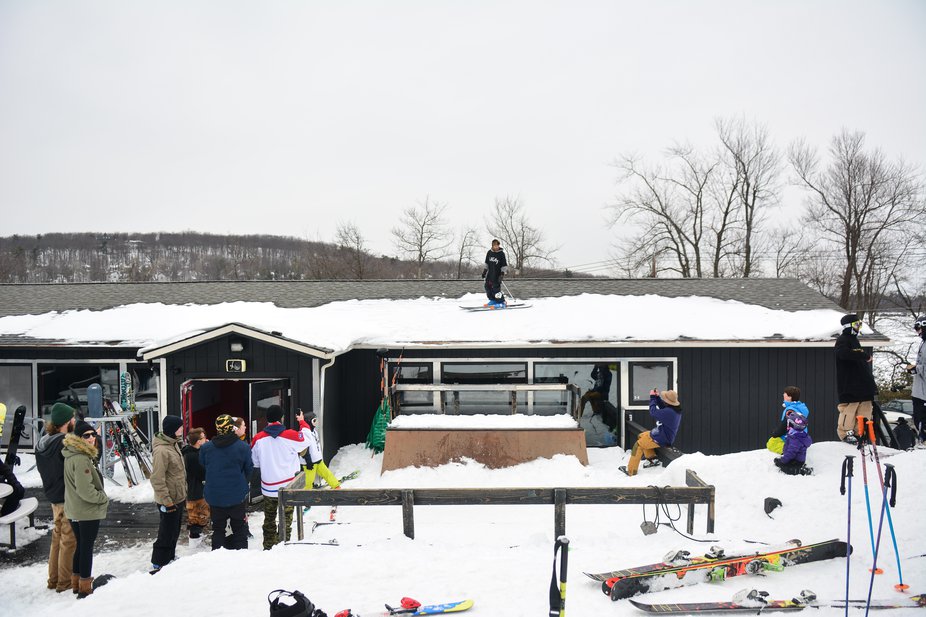 Ready to drop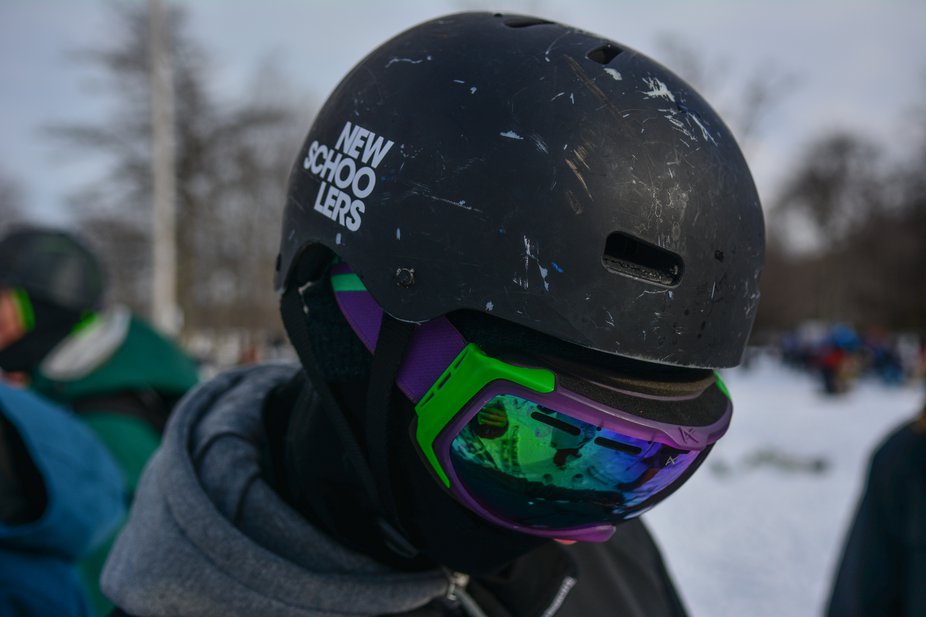 Good lookin' out kid
Sometimes he got the kids' names wrong, sometimes he gave them goofy nicknames and sometimes they crashed out and left him hanging, calling their names at an empty course. He did his best to keep the crowd engaged and entertained, and although it's true that you can only ask a person how they feel?! so many times before they begin to glaze over, Bishop on the mic was the perfect soundtrack for the day.
Doug Bishop and the Under Armour tent, down rail and the crowd | photo: Reed Weimer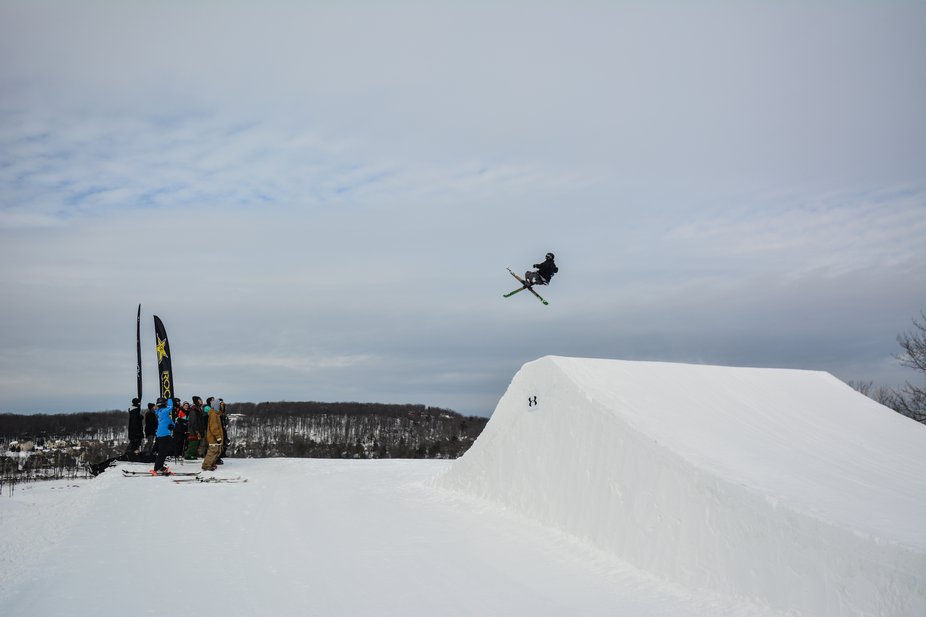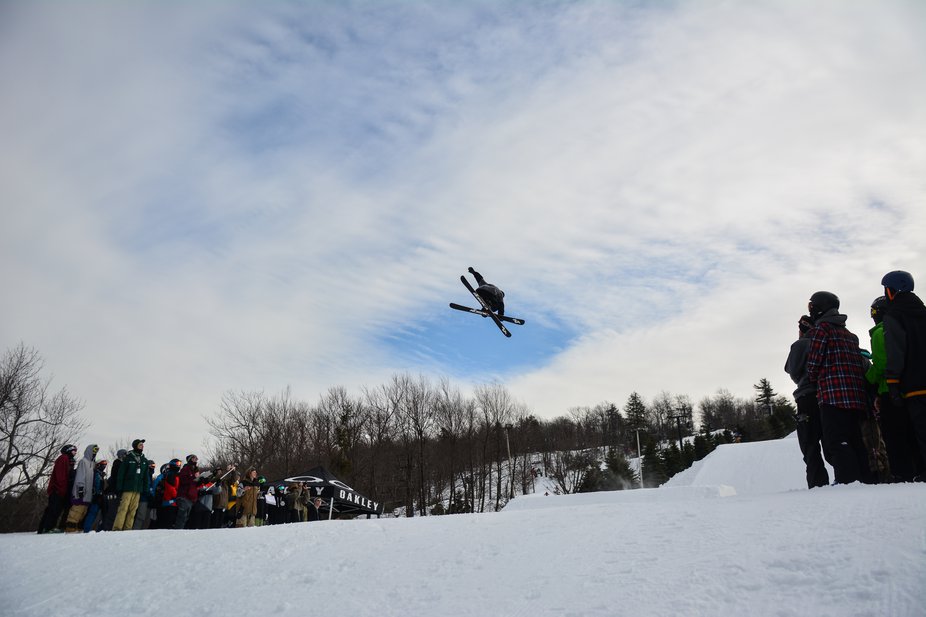 On the other hand there's Connor Scofield, and later Jamie Ficco too, who spit rhymes at the hotel until 3 in the morning (with the time change, settle down.) They were encouraged by snapchat, and done in by the NS Coreshot ski, which is quickly becoming a staple of memorable ski weekends.
http://www.newschoolers.com/membervideo/760642.0/Coreshots?s=1706&t=6&o=8
Now that's a product! | Video: Dan Weis and Evan Heath
The brilliance of the coreshot is its design and portability, the brilliance of the shot ski is that it is completely irresistible and guarantees at least one rap battle per get-together. Scofield and Ficco sent it until there was nothing left to do but fall asleep with your shoes on. Hell, Dylan Malone even explained, in verse, the time he got from Big Bear to Vegas in the same afternoon so he could be witness to a shotgun wedding. There was a lot of entertainment to choose from this weekend.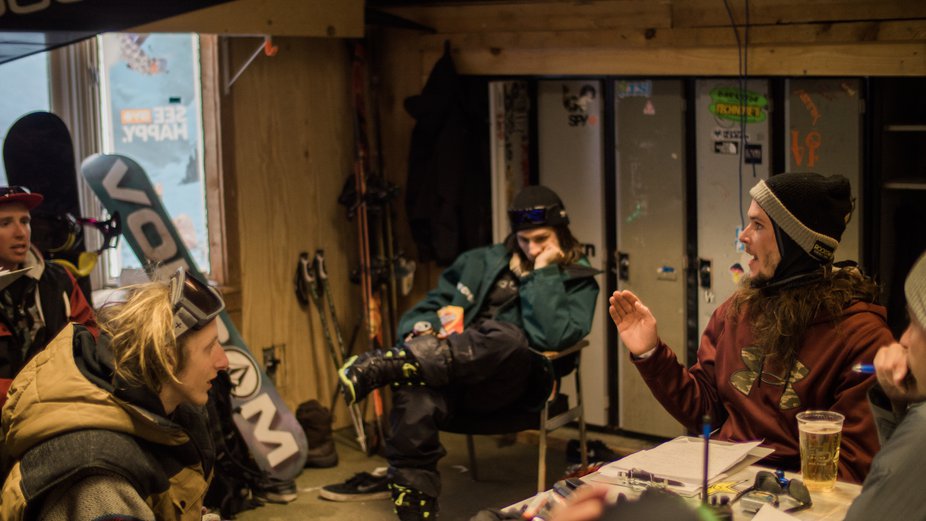 Serious only when they have to be | Photo: Aaron Lu
So it's hard to say who would've done it better, between Doug and the crew. Not that it matters of course, because this kid named Ryan Stevenson is going home with a check as tall as him and the right to say he won the Sean Jordan Open. Not bad at all. And we get to go home stoked about another stellar SJO.
Although the weather didn't cooperate, the riders threw down while Sean, Malone, Scofield and the whole crew at Big Boulder Park put on a heck of a show. Big thanks to everyone who came out, who stopped by to party and who helped to make this contest happen. We'll see ya next year.