Words & photos by Tom Winter
Well, it's official. Almost. As Scary Steep looks towards the New Year, it's now possible to see the future without a crystal ball. The future in question is the shape of the upcoming big mountain competition scene. And this year there are some real changes to talk about. Hell, there's even some controversy. Along with the controversy there's some hope, as well plenty of increased opportunities for junior athletes, especially in Europe.
But first, let's take a look at competitions and how they fit into the kaleidoscope that is big mountain skiing. There's no doubt that big mountain comps are a bit of an oxymoron. After all, the reason that most of us (Scary Steep included) go hike peaks, take sleds into the backcountry and duck under ropes is to find that most elusive of prey: the powder run. Isn't that what it's all about? Killer snow conditions on rowdy terrain? Not too many folks are heading into the steep when it isn't deep. Ice covered rocks above exposure is great for ice climbers, but less so for skiers.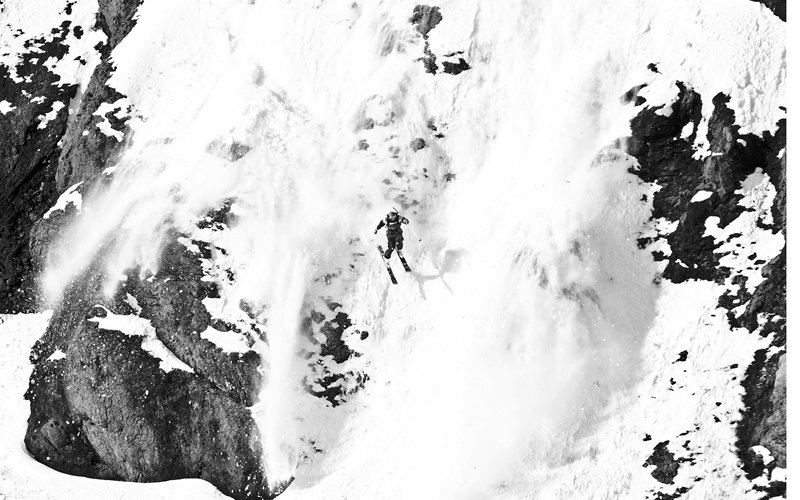 J.T. Holmes spent 2010 on the Freeride World Tour. The year included a stop at Squaw, where the venue was supposed to be the Tram Face. Heavy snows caused that venue to be nixed due to avalanche danger, and the comp was moved to the Silverado Venue. J.T. had a tough run, hitting the transition at the bottom of this steep rocky section and blowing up. The crash was violent and he wasn't able to do his second run, but he's so tough that he bounced back to complete the tour.
Hence the big question mark surrounding big mountain comps. We all know how they usually play out: brutally tough conditions with rock hard landings and plenty of competitors with nothing to lose and perhaps a "sponsorship" worth a free pair of skis to gain.
But if we've learned anything from history, it's that humans are competitive. We'll throw down against our friends, strangers and enemies just to prove that we're radder than the rest of them.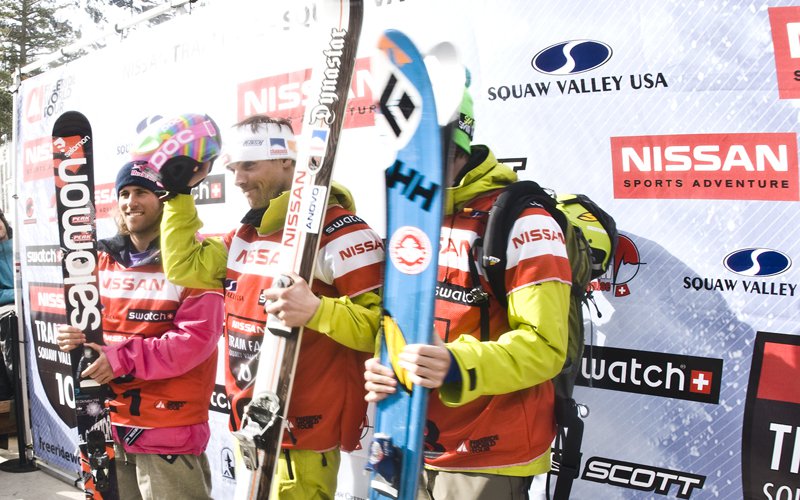 Henrik Windstedt (far left) looking really happy after scoring the win in Squaw.
So, out of this milieu is born the big mountain comp. And the reality is that these competitions have been the breeding ground for some very, very good athletes when it comes to all things sponsored. The name Seth Morrison will probably ring a bell. The other interesting thing about big mountain comps is that despite the conditions (which usually don't include untouched pow runs) they continue to attract participants. In fact, most of them sell out. So obviously they're popular and event organizers are onto something. And this year, a variety of comps offer something for everyone. Even those who just want to give it a go.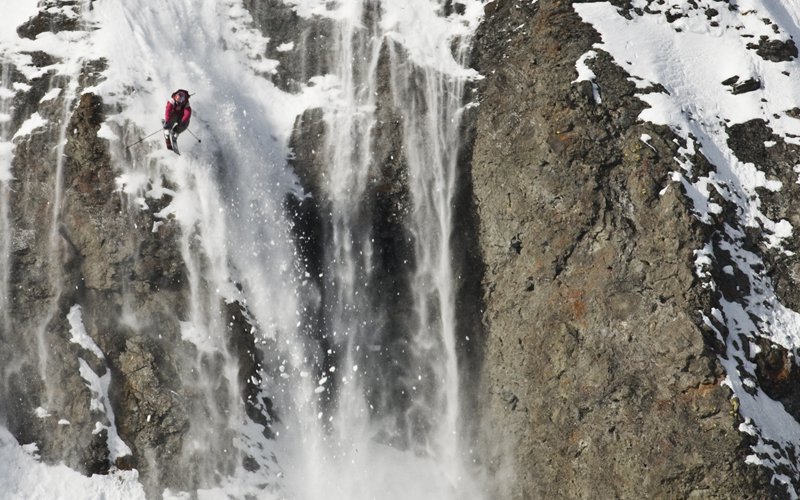 A competitor hucks the bottom air on Squaw's Silverado venue. The cliffs are front and center for the judges and it's the last chance on the run to rack up points. But if you don't stick the landing, then you're also front and center for the points to vanish into thin air as the judges watch you tomahawk through the finish.
2011 sees the return of two "World Tours", both of which are organized by two competing groups. The Freeride World Tour (http://www.freerideworldtour.com) is based out of Verbier, Switzerland and has exploded. New in 2011 for the Freeride World Tour are two additional stops, as well as a full slate of qualifying venues. The main tour will kick off in Chamonix, France on January 22nd. Additional stops include Engadin/St. Moritz, Switzerland, Crystal Mountain, Washington (Snowboard only), Sochi, Russia, Fieberbrunn, Austria and the finals in Verbier, Switzerland.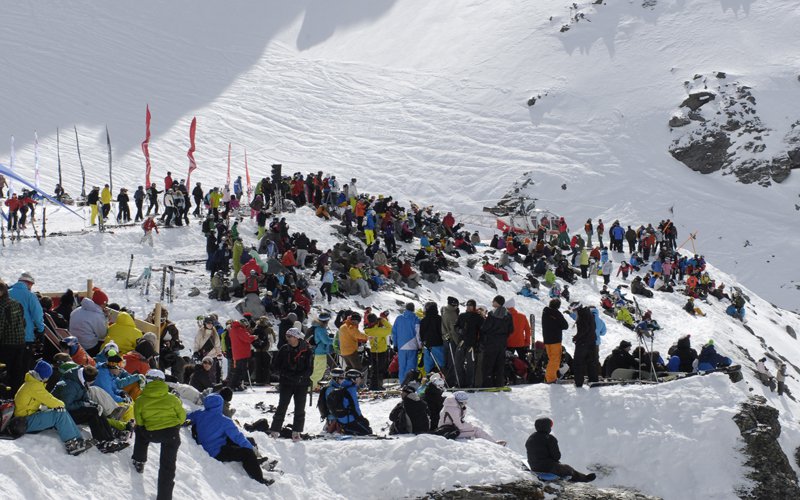 The Freeride World Tour stop in Verbier is probably the best big mountain competition in the world to watch. Not only do you have athletes like Candide Thovex and Julia Mancuso, but the tour takes over the entire town for a week. There are huge street parties, you can watch the event on massive big screen TV's down in the village and the atmosphere is electric.
To compete in any of the Freeride World Tour events, you have to qualify. And it's the associated qualifying events (called FWQ) that really make the FWT a true global tour. These events are ranked from one to four-stars. They take place at venues ranging from Taos, New Mexico to Röldal, Norway to Treble Cone, New Zealand to Lenzerheide, Switzerland.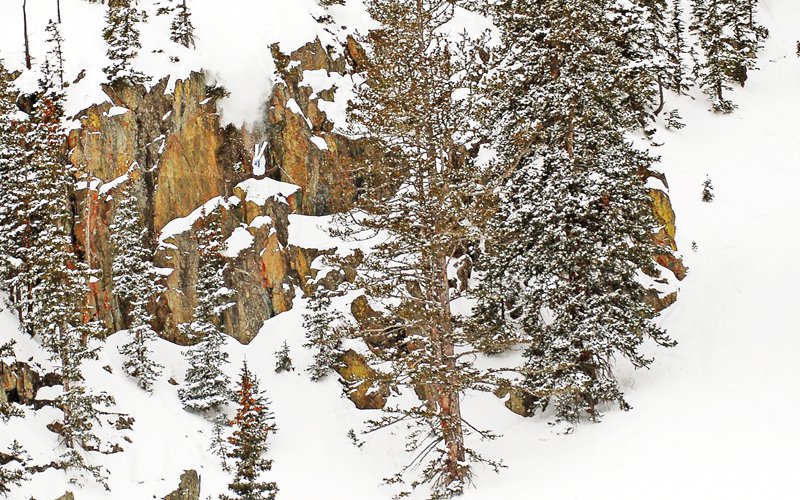 The second day of qualifying at Taos sees competitors pull out all the stops as they look to advance to the finals on Kachina Peak. Of course, some make a better case for themselves than others, and huge flips off of big cliffs usually reflect that you're pretty hungry.
Here, though, is where the controversy comes in. And it has to do with the ladies.
The women have always been treated well by the FWT organizers on the main tour. However, in 2010 they were excluded from the Sochi, Russia event (which ended up being cancelled due to weather) and they don't start from the top of the Verbier venue (Bec Des Rosses), instead having a "secondary" start from a lower shoulder of the peak.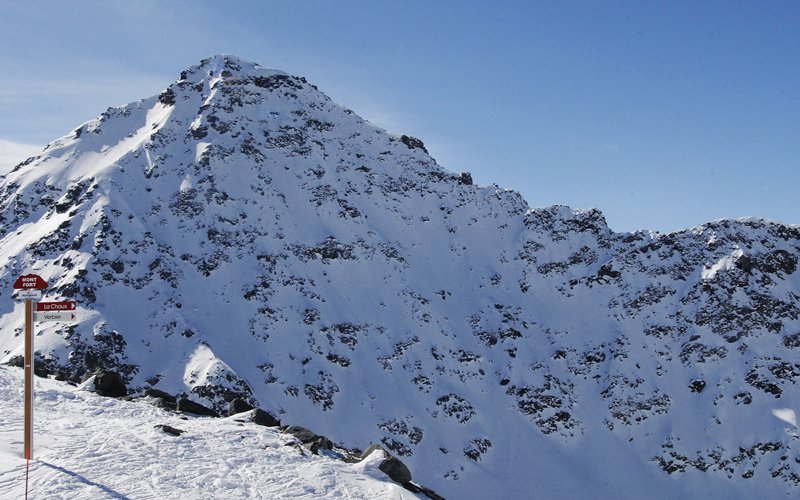 The Bec Des Ross is gnarly. This huge face punishes mistakes. Fall and you'll end up at the bottom, hopefully still alive. The access for spectators is amazing, you step off a tram and there you are, looking directly at the face across the valley. The best thing about it is that once the event is over, if you have the balls you can hike to the top and ski it yourself. Most people get to the top, look over the edge and turn around.
Considering that Julia Mancuso of the USA's national ski team showed up to compete (she finished 3rd in the event), the decision to have the lower start in Verbier has rankled some on the FWT women's tour. And the discord is bound to increase, as the women have been inked out of several FWT events including Engadin/St.Mortiz, Sochi (again) and Fieberbrunn for 2011. The idea is that instead, several four-star FWQ events, including stops in North America at Taos and Kirkwood will fill in the gaps.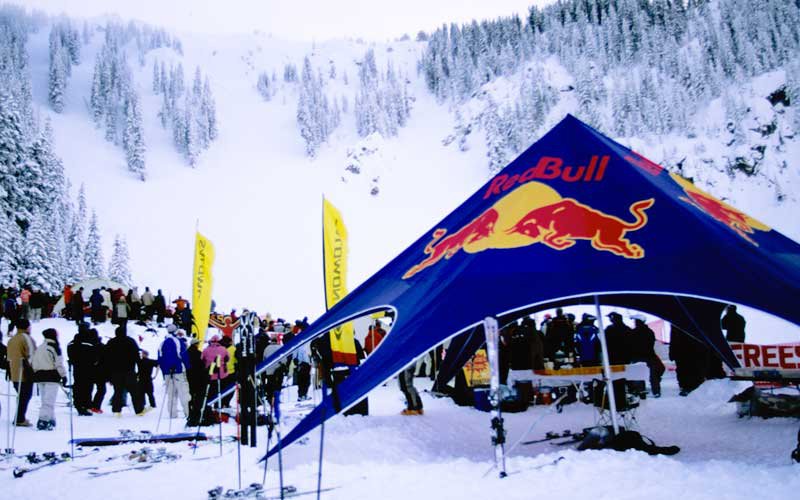 The West Basin venue at Taos offers a lot of variety. With Salomon and Red Bull as sponsors as well as a purse that exceeds $10,000, it's one of the top events in North America. Oh, and the breakfast burritos they serve at the base lodge are pretty good too!
Regardless of what you think of the Freeride World Tour, there's no doubt that with 30 qualifying events along with major tour events at venues like Chamonix, France and Verbier, Switzerland, that this is – at least for big-mountain skiers – the only true world tour. Add in the best athletes (a guy named Candide Thovex won the overall title in 2010), and the Freeride World Tour is the pinnacle of big mountain freeride competition.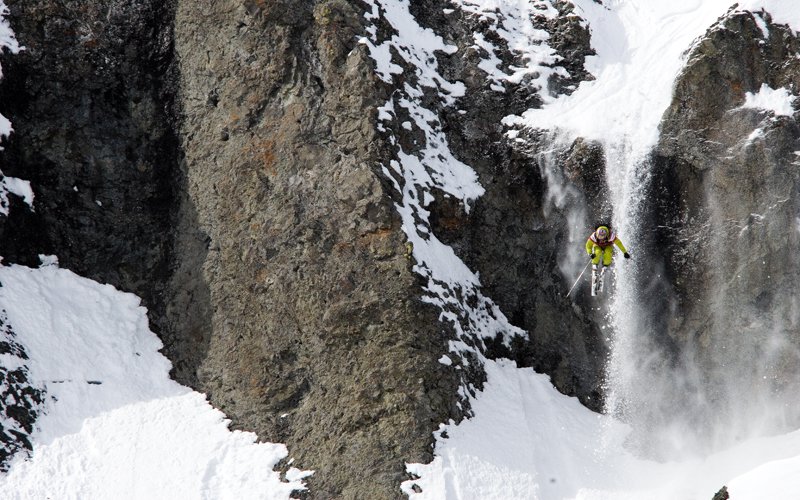 Aurelien Ducroz on his way to a second place at the 2010 Freeride World Tour stop in Squaw. He ended up skiing well all year and wrapped up the Verbier finals sitting in 4th overall. One of the best things about the Freeride World Tour is the fact that it is a truly international event, with athletes from around the globe competing in front of large crowds.
The guys who would argue that point are based out of Salt Lake, Utah. Mountain Sports International (MSI) has been organizing a parallel "World Tour", which until 2009 was based solely in North America. With events in Chile and Argentina the MSI guys have obviously stepped up their game. But the Freeskiing World Tour really isn't a world tour. Rather it's a North and South American tour.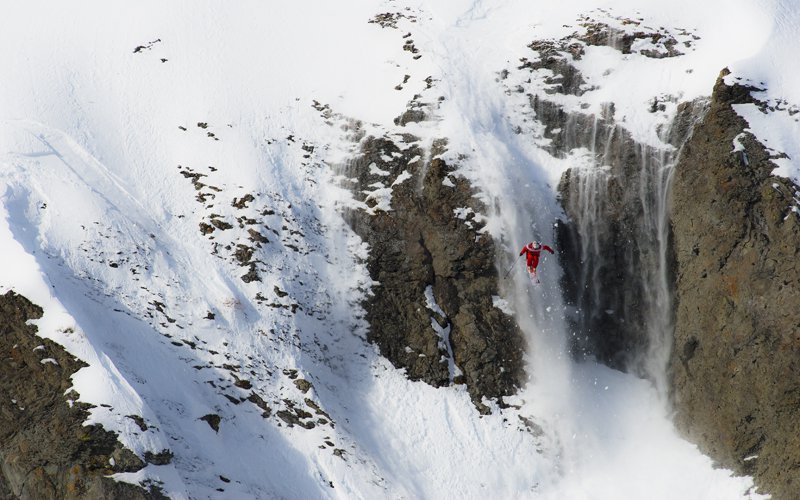 Julien competes in both the Freeride World Tour and in some MSI events. The Frenchman is an amazing guy, always a positive attitude and a lot of fun to watch ski. He had a brutal finish to the year with a scary crash at Verbier. He's definitely itching to get back and face that mountain again in 2011.
But for those of us in North America, that doesn't matter, as the MSI events are close to home and include some killer venues. With stops at Snowbird, Utah, Revelstoke, Canada, and the granddaddy of them all, Crested Butte, Colorado, it's a given that an MSI event will be close to where you are. Or at least closer than Lenzerheide, Switzerland. The organization of these events is a bit different too, with MSI including qualifying days as part of the main competition. In other words, you don't have to prove yourself on a separate tour, but you do have to prove yourself during the early qualifying rounds to get into the finals at say, Crested Butte or Revelstoke. You can learn more about MSI's tour here: http://www.freeskiingworldtour.com.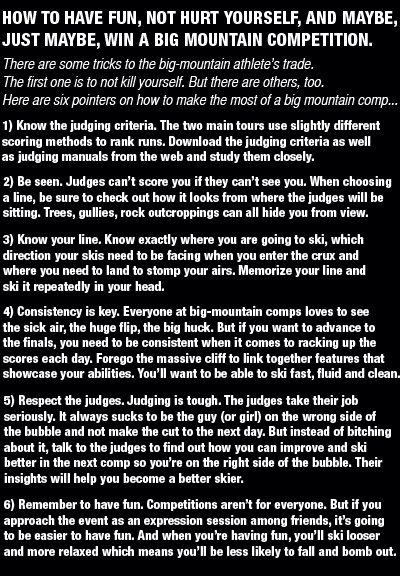 Two news items are worth noting when it comes to the MSI events.The first is that the judging criteria has been tweaked for 2011, with the new criteria including a "style" category and the "aggression" category being dropped.
Also worth watching is the Kirkwood event. The North American Championships, as the February 25-March 1 comp has been billed, is also considered a four-star qualifying event for the Freeride World Tour. This may or may not indicate a joint future for the FWT and the MSI guys. Or it may be a mere continuance of the jockeying that has occurred between the two organizations as each try to stake their claim to being a true "world tour". Scary Steep will be watching.
In addition, there's the junior (Under 18) scene. Right now in North America, we have, courtesy of MSI, as well as several independent organizers (Taos, Red Mountain), the best opportunities for junior athletes to compete in big mountain comps in the world. With the addition of these junior-only events in Europe organized by the Freeride World Tour, there's now a growing host of opportunities for younger athletes. If you are a junior skier, you'll definitely want to take advantage of these opportunities. And if you are a junior athlete with deep pockets, it would be hard to ignore the quality that the Freeride World Tour is bringing to the table, with events in Chamonix, Fieberbrunn and Verbier. Highlights from the North American schedule of junior events include Red Mountain, Canada and Taos, New Mexico.
Finally, the east is getting into the act, with the Ski The East Freeride Tour. With stops at Mad River Glen, Magic Mountain, Sugarbush and Jay Peak, the tour is an amalgamation of four pre-existing events. While no one will confuse Jay Peak with Chamonix, there's no doubt that this tour is a welcome addition to the big-mountain scene and will prove to be an excellent stepping stone for many athletes. You can learn more about it here: http://www.skitheeast.net/freeridetour-overview.