Ever seen Sarah Schleper psyche herself up in the start gate before a race? That patented "rooooooooaaaaaaaar" has kept her going all these years and keeps her coming back for more. Named to the US Ski Team once again, Sarah now straps on her Slytech Back Protection and Nervous Shin and Arm Guards… here her racer profile: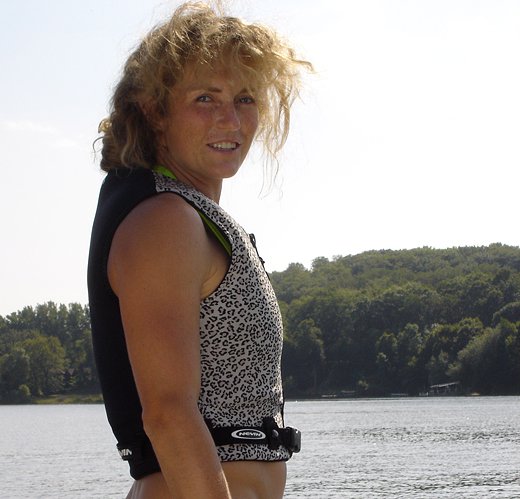 Name: Sarah SchleperSport: Alpine SkiingHometown: Vail COBirthdate: InfinityBest Results: World Cup Podiums, World Cup WinAbout Me: Sarah Schleper made her World Cup debut at home but three years later was injured when the World Championships came to her hometown in '99. She's been to three Olympics, been ontop of a World Cup podium and won 4 U.S. championships. She likes that view from a podium.Skiing Magazine called her "the great blonde hope — part Rasta, part Harpo, part Medusa, all Sarah." In her free time, she likes to see her brother Johnny play live concerts with the MTHDS and surf. Schleper is frequently recognized by her thicket of long, curly blond hair, which can be unruly, bringing about mystical qualities.Twelve years after her World CUp debut, Sarah wed Federico Gaxiola de la Lama of Mexico. The two welcomed Lasse to the world in early 2008. With citizenship in both the United States and Mexico, Lasse has become one of the World?s youngest locals. The three of them have traveled to and from continents and countries racing in the Alpine Ski World Cup. Lion like, Schleper ?roared? back at a fourth trip to the Olympic Games in Vancouver.Schleper's father, Buzz, raised Sarah and her younger brother as a single parent. In 1972, Buzz was a self-proclaimed ski bum who moved from Minnesota to Vail with a van and $1,000 in cash. Upon arrival, he worked in a local ski shop and later opened his own store. "She literally grew up in my shop," Buzz says of Sarah. "I think she learned you have to work for everything you get." As a child, Sarah would beg her father to ski, then head to the shop afterwards and fall asleep under one of the ski-tuning benches. When Buzz got done with his shift at midnight or later, he would carry his sleeping daughter to the car and drive her home. Sarah began skiing at age 2 after receiving a pair of skis for her birthday. She was racing by age 11. Schleper won five Junior Olympics gold medals and was Junior Skier of the Year for "Ski Racing" in 1995; she also was Whistler Cup slalom champ in '94 and made her World Cup debut at Beaver Creek, Colorado, in November 1995 at age 16. In '97, Schleper was slalom silver medalist at World Juniors.- Paul Robbins (Friend of Alpine Ski Racing) [Show as slideshow]








Website: in progressTV: Truth in Motion. Rocky Mountain News 'Vail's Olympic Mom'Something You Think Everyone Should Try In Their Lifetime: meditationCraziest Dream: all my dreams are crazy. But I tell you this: my living waking dream is my fantasy. I am happiest when I'm counting my blessings and living with an open heart. The forces are strong to pull you about, but if you can surrender and be yourself, no matter what, that is what it feels like to be free.Age You Learned to Shred: I was born shredding.What Excites You: Yes people, let's do it together. Make changes. One love. Care for our home, care for our brothers and sisters. Let's live in peace. Accept the unaccepted and expect the unexpected.