Words by The Canadian Freestyle Ski Association
The Canadian Ski Association has received an update on the condition of Canadian Freestyle Halfpipe Team member Sarah Burke following her accident in Park City, Utah on Wednesday.
 
The following was released by Sarah's publicist Nicole Wool, with the consent of Burke's family and the medical staff at the University of Utah Hospital where she is being treated: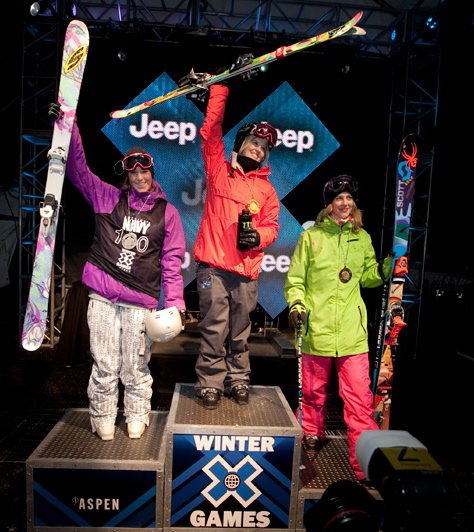 Brita Sigourney, Sarah Burke and Rosalind Groenewoud at Winter X Games 15. Photo by John Vandervalk
 
Canadian freestyle skier Sarah Burke remains in critical condition at the University of Utah Hospital after sustaining serious injuries during a training run at Park City Mountain Resort on Tuesday.
 
On Wednesday, Burke underwent a successful operation to repair a tear to her vertebral artery, which resulted in an intracranial hemorrhage at the time of her fall. William T. Couldwell, M.D. Ph.D., professor and chair of Neurosurgery at University of Utah performed the operation to repair the artery.
 
"With injuries of this type, we need to observe the course of her brain function before making definitive pronouncements about Sarah's prognosis for recovery," said Couldwell. "Our Neuro Critical Care team will be monitoring her condition and response continuously over the coming hours and days."
 
Sarah's family is grateful for the overwhelming outpouring of support from around the globe. Fans may continue to use Sarah's Facebook page at http://www.facebook.com/pages/Sarah-Burke/50553451173 to express their wishes and receive updates.
 
The family also requests media and the public respect their privacy in order to give them time with Sarah at this critical stage.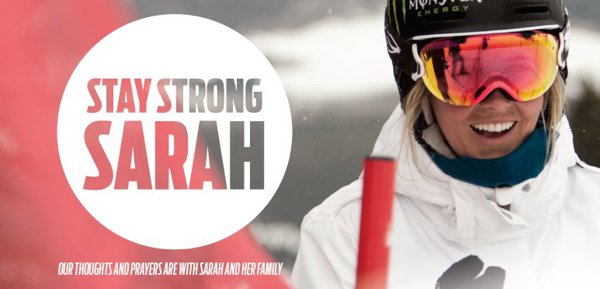 Image courtesy of Smith Optics
 
Again, please join us in wishing all the best to Sarah and her family during this difficult time. - Newschoolers.com