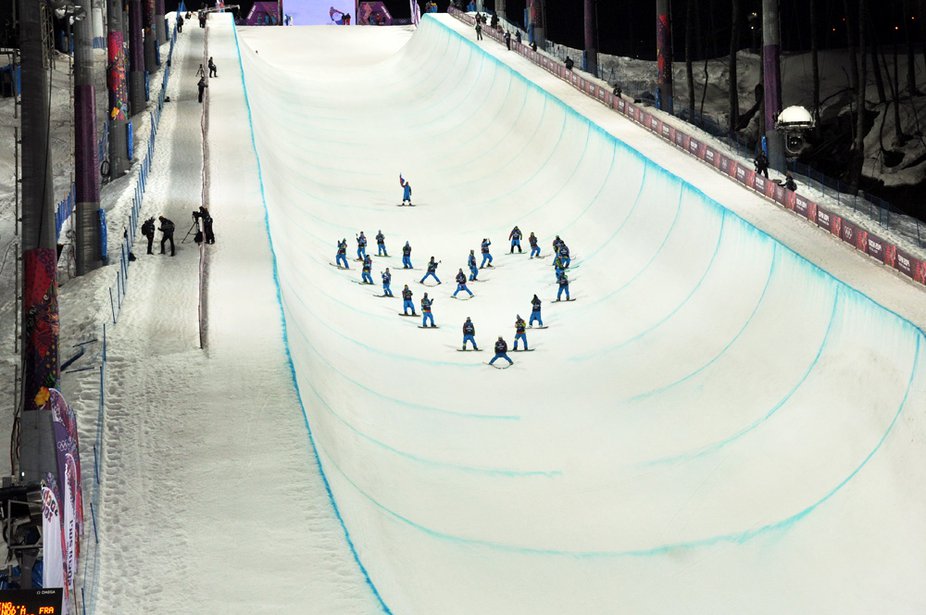 The halfpipe slippers provided a moving tribute to Sarah Burke.
Words & photos: Ethan Stone
Sure, Maddie Bowman might have stood on top of the podium tonight at the base of the halfpipe at the Rosa Khutor Extreme Park. But tonight's real winner, and the name on everyone's lips, was Sarah Burke.
Bowman claimed the first gold medal in women's ski halfpipe, thanks to a run featuring a right 900, left cork 900, and capped off with a switch 720. She was joined on the podium by France's Marie Martinod in second, a legend of the sport who returned from retirement to compete in Sochi, and young Japanese skier Ayana Onozuka, who boosted her way into third place with some huge amplitude and clean switch skiing. But all of the competitors agreed that tonight was Sarah's night.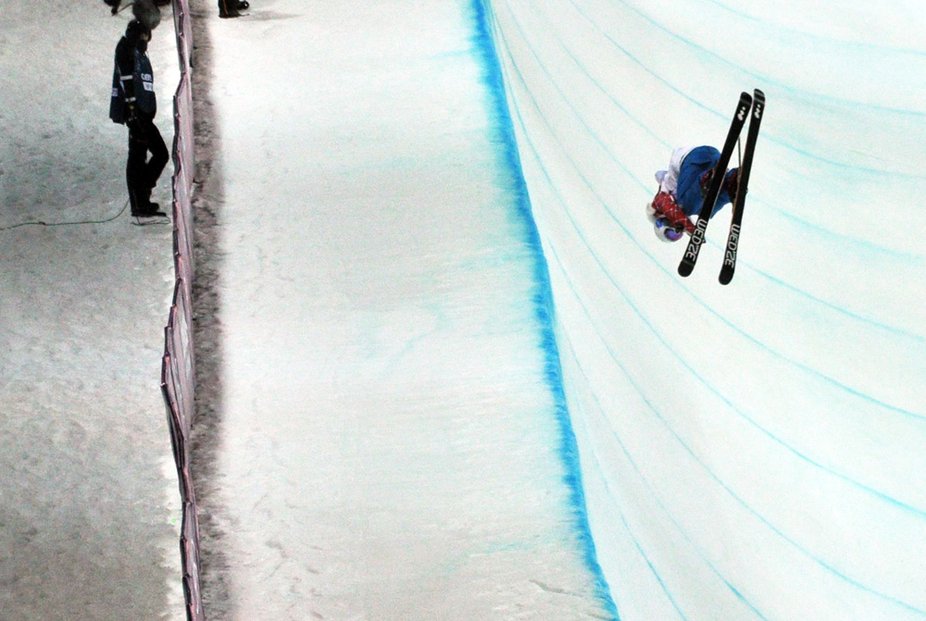 Marie Martinod's smooth cork 5s were a highlight of the evening.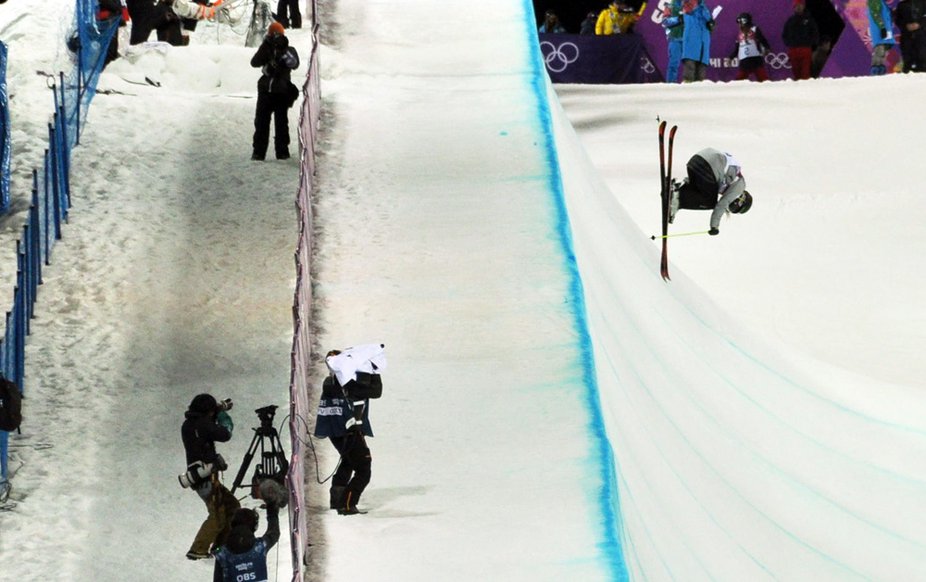 Ayana Onozuka, boosting.
"Sarah inspired us on snow and off snow, and i think she would have been really proud of how all the girls rode tonight," said Bowman. "I sure hope that I and everyone else made her proud, because we would not be here without her."
"She was fighting to get halfpipe skiing at the Olympics," said Martinod. "I am sad she is not here, because she made this happen."
"I came back to compete at the Olympic Games because one night Virginie Faivre and Sarah Burke came to my place and told me that halfpipe is going to be in the Olympics for sure, you have to come. I said, 'You're kidding me, that's nonsense, I'll never be able to do it.' But then I thought I can't watch it on the couch on television.
"[Sarah] was the inspiration that got me into halfpipe," said Angeli VanLaanen, who placed 11th tonight. "With her being the catalyst for me getting into this sport, I have been carrying her with me and thinking of her so often."
Angeli VanLaanen grabs mute.
The women had to endure some snickers during the qualification round, which included some skiers who apparently weren't able to perform more than straight airs in their runs. I personally had to listen to clueless journalists in the press center who guffawed as some ladies crashed and told each other that "they just didn't find the sport impressive."
"Ready for some extreme action?" said one douchebag sarcastically on his way out of the press tent to watch the finals. "Dude, I'm so stoked."
However, in the finals the ladies turned up the heat and put on an impressive show for the crowd. The judges had awarded Marie Martinod the top qualifying spot, sending a clear message to competitors that spin-to-win without clean grabs would not be rewarded this evening--a message that was reinforced when the USA's Annalisa Drew picked up a low score on her first final run despite a 900 and a 1080 (both hucked) in her run.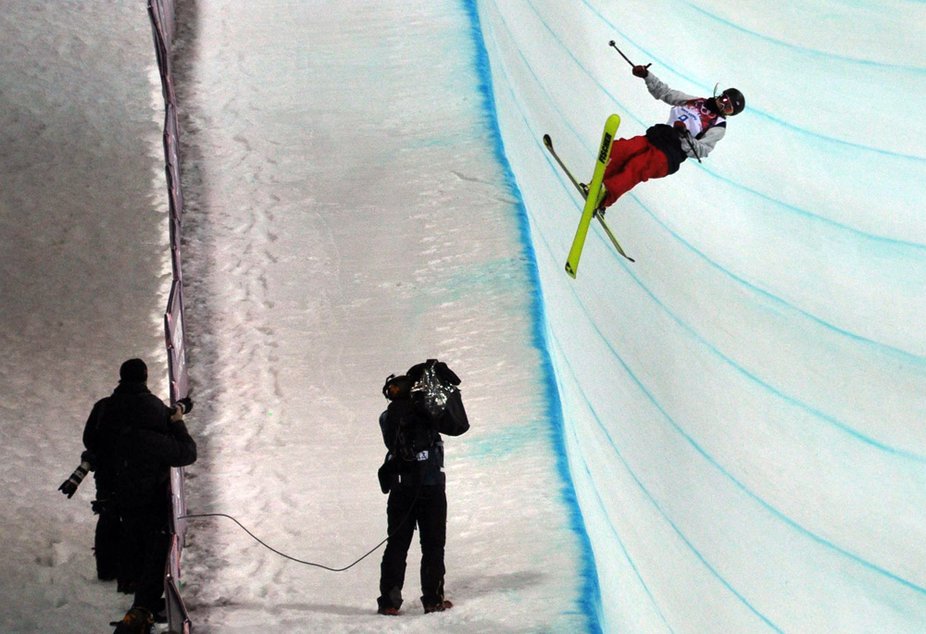 Annalisa Drew, mid-1080.
Second-place qualifier Brita Sigourney and Canadian favorite Roz Groenewoud both couldn't put down clean runs in the finals. Roz might have had a chance, but just like Derek Zoolander, she can't spin left. Ultimately it was Martinod the veteran, Onozuka the Japanese booster, and Maddie the American favorite who topped the podium. Switzerland's Virginie Faivre just missed the podium in fourth place, followed by New Zealand's Janina Kuzma, who displayed some of the night's most stylish riding (along with Germany's Sabrina Cakmakli, who in this writer's opinion should have made finals with her clean switch hits).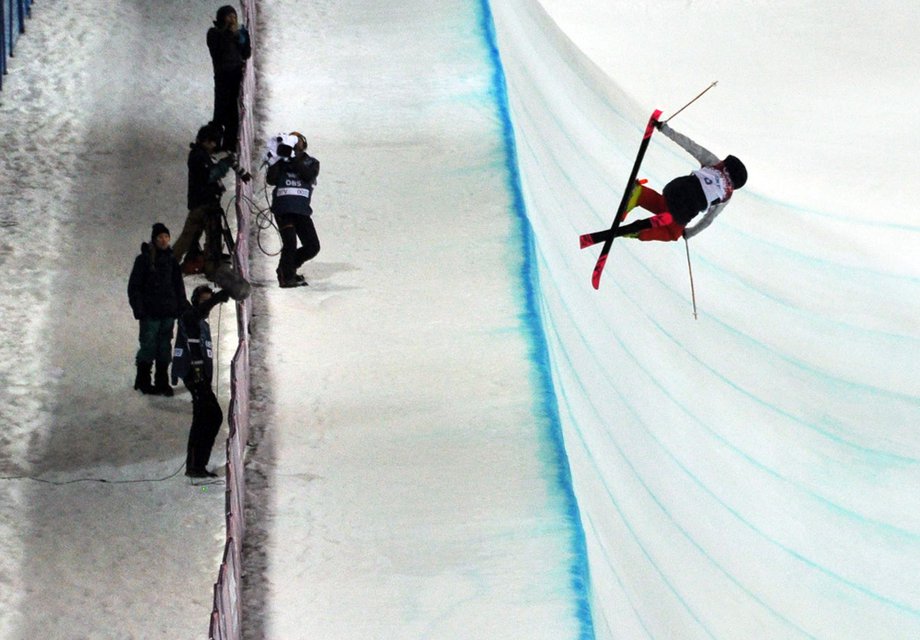 Brita Sigourney, 540 tail.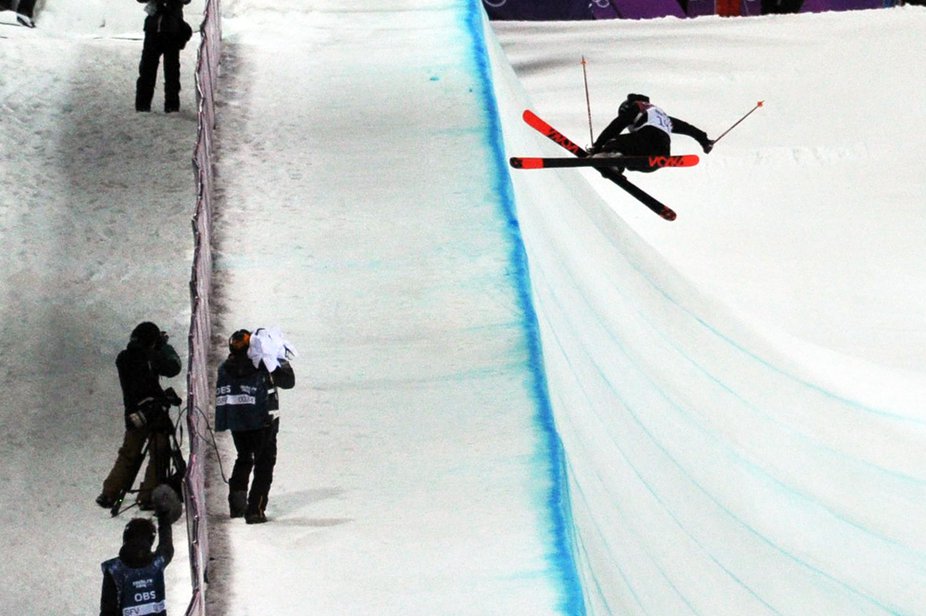 Janina Kuzma's smooth 540 lead mute.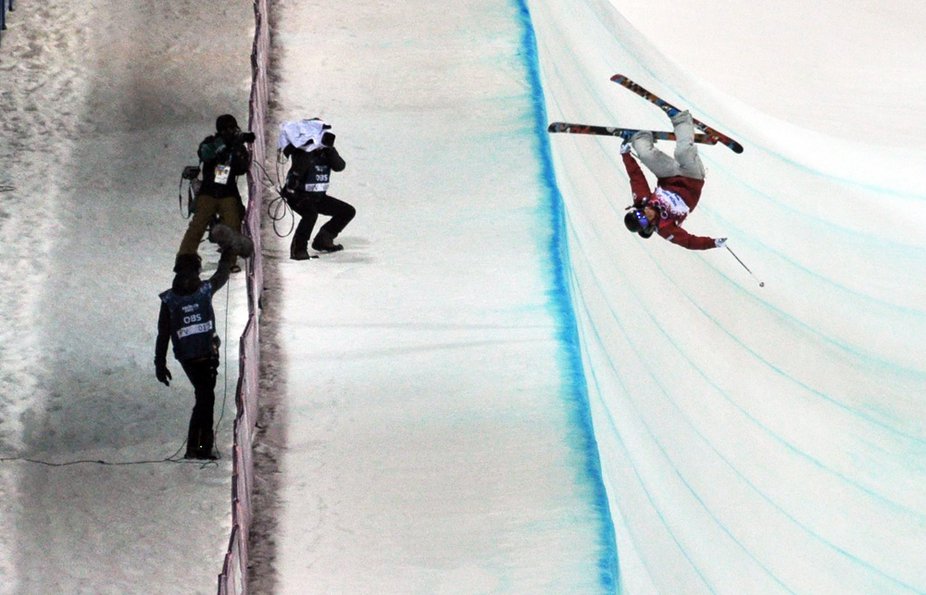 Roz G flairs it out.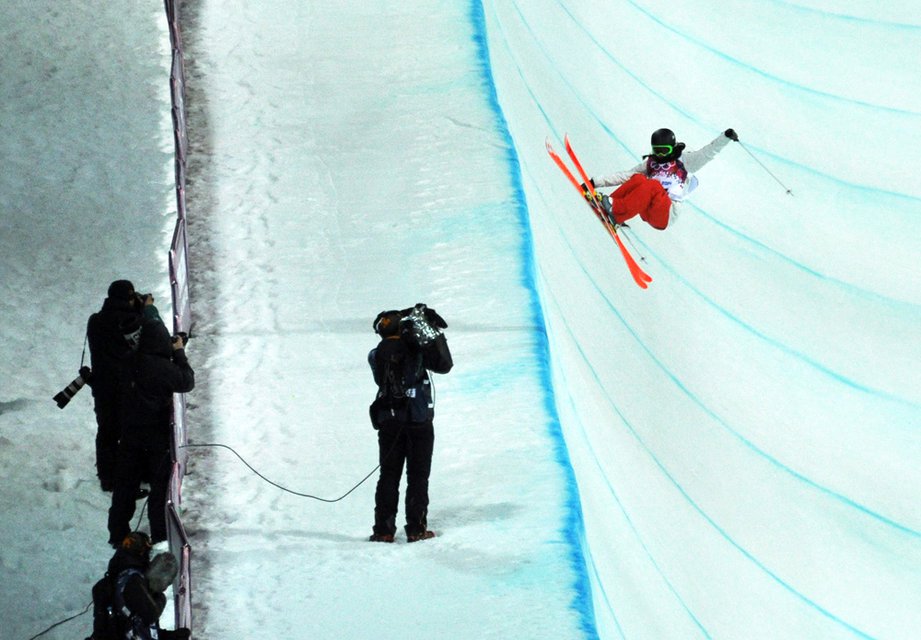 Viriginie Faivre with an air to fakie.
"All the girls came out and showed the world who we are and what we do, and I think everyone should be proud of that tonight," said Bowman. "This if the first time that a lot of people have seen what we do, and why we love it."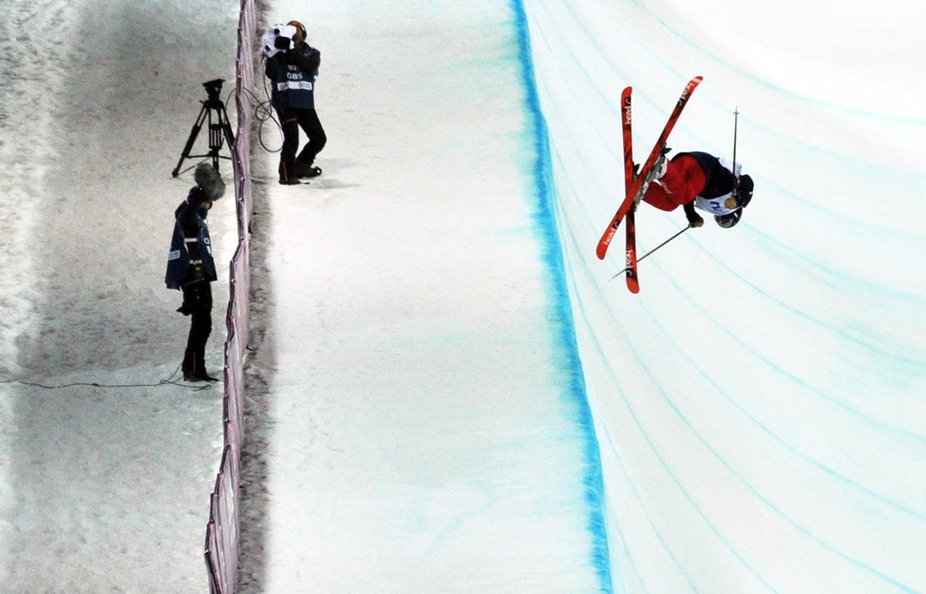 Maddie Bowman tosses her cork 900 en route to first place.
"I think I didn't' say goodbye to Sarah yet, and I still have to do it," said Martinod. "Now I feel like I'm able to do it, because I did what she asked me to do when I last saw her two years ago."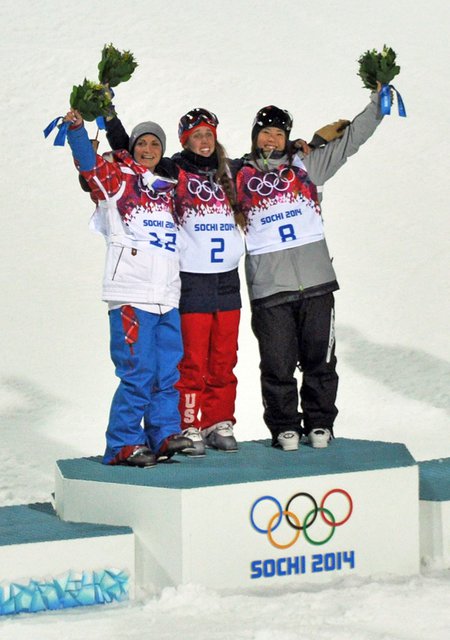 The podium.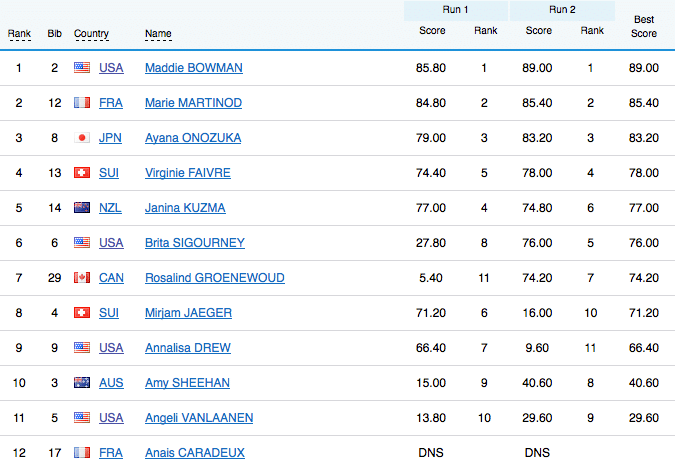 Finals Runs Breakdown
Run 1
Amy Sheehan
Straight air tail
Right 540
Left 540 safety
Right 720 (crash)
Score: 15.0
Annalisa Drew
Straight air japan
Left 900
Right 540
Left 540
Straight air safety
Left 1080
Score: 66.4
Mirjam Jaeger
Straight air japan
Alley-oop
Left 540
Right 540
Alley-oop
Alley-oop 360
Switch 540
Score: 71.2
Janina Kuzma
Straight air mute
Alley-oop mute
Left 540 mute
Flair safety
Straight air
Straight air
Left 720
Score: 77.0
Viriginie Faivre
Straight air safety
Alley-oop
Left 540
Right 540
Air to fakie
Switch 540
74.4
Roz Groenewoud
Left 900 (fall)
Score: 5.4
Angeli VanLaanen
Straight air mute
Left 540
Right 540 (crash)
Score: 13.8
Ayana Onozuka
Straight air safety
Alley-oop
Left 540
Right 540
Left 720
Switch right 540
Score: 79.0
Maddie Bowman
Straight air
Straight air
Left 900
Right 900
Left 540
Right 720
Switch left 720
Score: 85.8
Brita Sigourney
Alley-oop japan
Left 900 (huge)
Straight air
Left 540 tail
Right 540 (backseat)
Left 720 (crash)
Score: 27.8
Marie Martinod
Straight air
Left 540
Right 540
Cork 540
Alley-oop mute
Left 900
Score: 84.8
Run 2
Amy Sheehan
Straight air tail
Right 540
Left 540 safety
Right 720 (crash)
Score: 40.6
Annalisa Drew
Straight air japan
Left 1080 (crash)
Score: 9.6
Mirjam Jaeger
Straight air japan
Alley-oop
Left 540
Right 540 (crash)
Score: 16.0
Janina Kuzma
Straight air mute
Alley-oop
Left 540 mute
Flair
Straight air
Straight air
Left 720
Score: 74.8
Virginie Faivre
Straight air
Flair
Left 540
Right 540
Air to fakie
Switch 540
Score: 78.0
Roz Groenewoud
Straight air mute
Right 900
Flair
Right 540
Right 720
Score: 74.2
Angeli VanLaanen
Straight air
Left 540
Right 540
Left 540 (sits down)
Score: 29.6
Ayana Onozuka
Straight air safety
Alley-oop mute
Left 540
Right 540
Left 720
Switch 540
Score: 83.2
Maddie Bowman
Straight air
Right 900
Left 540
Straight air mute
Left 900
Right 720
Switch 720
Score: 89.0
Brita Sigourney
Alley-oop
Left 900
Straight air
Left 540 tail
Right 540 (backseat)
Left 720
Score: 76.0
Marie Martinod
Straight air tail
Left 540
Right 540
Cork 540
Alley-oop
Left 900
Score: 85.4