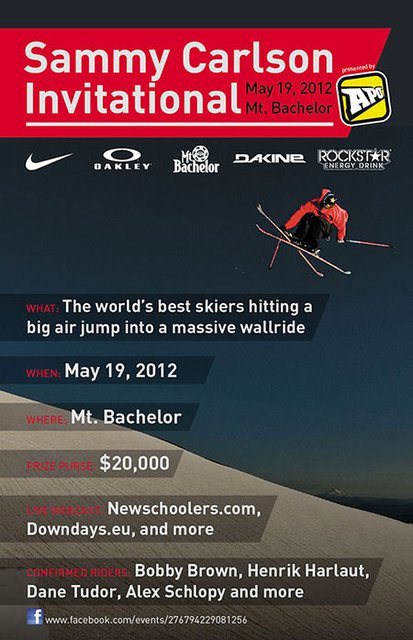 Coming into our lives on the 19th May (that ain't too far away!) will be the Sammy Carlson Invitational. It's bigger and better than ever and has a ridiculous amount of top skiers on the confirmed rider list. Here goes:
Confirmed Riders:
Tanner Hall
Henrik Harlaut
Phil Casabon
Torin Yater Wallace
Bobby Brown
Dane Tudor
Parker White
Willie Borme
Sean Jordan
Clayton Villa
Alex Schlopy
John Spriggs
Ben Moxham
Chris Logan
Matt Walker
Nick Martini
Vinny Cash
Dale Talkington
Sean Pettit
Alexi Godbout
Tommy Ellingson
Kaya Turski
Banks Gilberti
Alex Belmore
Charles Gagnier
and more…
The event will be presented by APO-Snow, Nike Ski, Rockstar Energy Drink, and Mt. Bachelor Ski Resort.
Related posts:Sammy Carlson signs for APO! The latest mover and shaker in the ski world is...
Junction 133′s Sammy Carlson edit Here's a Junction 133 Productions edit of Sammy Carlson that...
Sammy Carlson's Segment from TGR's Re:Session One of our favorite segs of the year for sure…...