SALOMON STORE VANCOUVER IN PARK ROYAL FIRST OF ITS KIND IN WORLD
New Design Concept Invites Vancouver To Feel The Mountain Spirit
BRITISH COLUMBIA September 21, 2011 – On October 6 Salomon Store Vancouver will open its doors in Park Royal with a party and debut a rustic new design concept that celebrates the mountains and is the first of its kind in the world.
"Of all the cities on this planet, we chose Vancouver to launch our new store design concept because this is the place that best embodies the essence of Salomon," says Pascal Clausse, Salomon Head of Business Development and Retail. "To us, this city and its people, and the environment surrounding them, is the essence of mountain sports. In the coming months, Salomon will be opening more new stores in this design concept in Chamonix, France; Moscow, Russia and Toulouse, France.
The store's new design offers a warm and rustic contemporary ambiance and the influence of the mountains is evident with signage featuring way finding codes and symbols. Rough wood and rock are punctuated with contemporary finishings.
Once shoppers are suitably inspired by the store's surroundings they are invited to explore Salomon's digital kiosk and discover sport specific footwear options and their technical benefits. Knowledgeable staff are always on hand to lend their expertise and the Footlab offers a dedicated fitting center to ensure a perfect fit for Salomon's array of technical footwear.
Largely comprised of soft goods, the Salomon Store Vancouver in Park Royal will also boast a complete range of Freeski, Nordic and Trail Running gear. Vancouver's elements demand technical clothing for the winter season and Park Royal's Salomon Store will be opening just in time to get geared up for the return of another epic La Nina winter.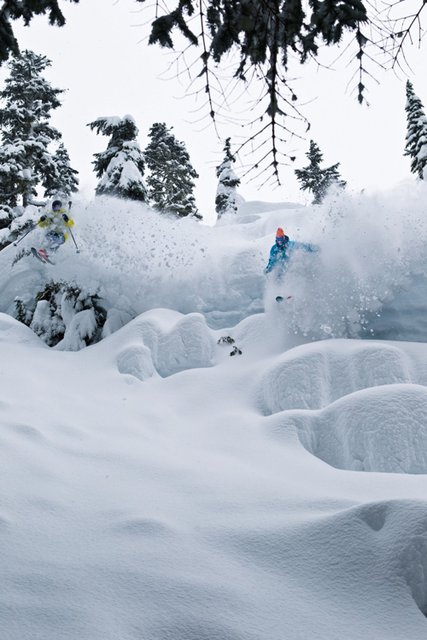 Salomon athletes Cody Townsend and Mark Abma.
With many of their key freeski athletes calling Vancouver and the surrounding area home, the Park Royal store's launch on October 6 is sure to be a snowy, star-studded affair. Mike Douglas, godfather of newschool skiing, one of the world's most influential skiers and producer of Salomon Freeski.tv will be in attendance.
The launch event on October 6 will take place from 5-9pm and everyone is welcome to attend. A percentage of sales from the night will go to benefit North Shore Search and Rescue, and there will be bites from Whole Foods, drinks and the chance to meet Salomon athletes. The Salomon Store Vancouver is a 2,000 square foot store located in Park Royal across from Whole Foods.
Shoppers can also enter an in-store draw for a trip to Annecy France to see Salomon Headquarters and ski the French Alps this winter. The trip will be drawn on October 10 and entrants must register in store to participate, no purchase necessary.