Words: Doug Bishop
Photos: Matt Stauble
Come on... be somebody.
I was thrilled to get the invite from Salomom extrodinare, Jenny Naftulin, to come down to the Sunday River Jib Academy stop last week. Through various circumstances, I've managed to miss every single one of these things for the last four years they've been running. I guess I can blame Schmuck for doing such a good job with the content and keeping me stuck in the office most days. :)
Regardless, it was my turn to get out into the world, so I plugged the address into the GPS, stuffed the roof box with a fresh pair of Suspects, and started the 4.5 hour drive down from Montreal.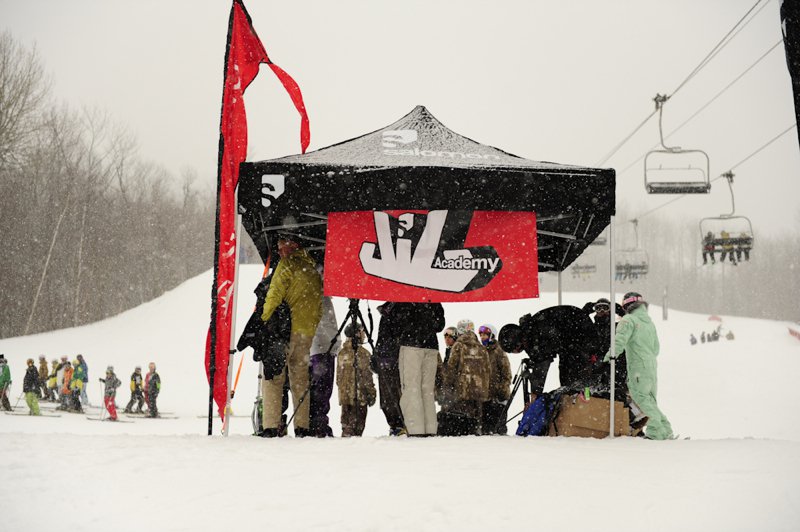 Textbook definition: The Jib Academy is an event for skiers under the age of 16, where they get a chance to hang out with their favorite pros, and compete for a spot (and trip) to the finals out in Mammoth.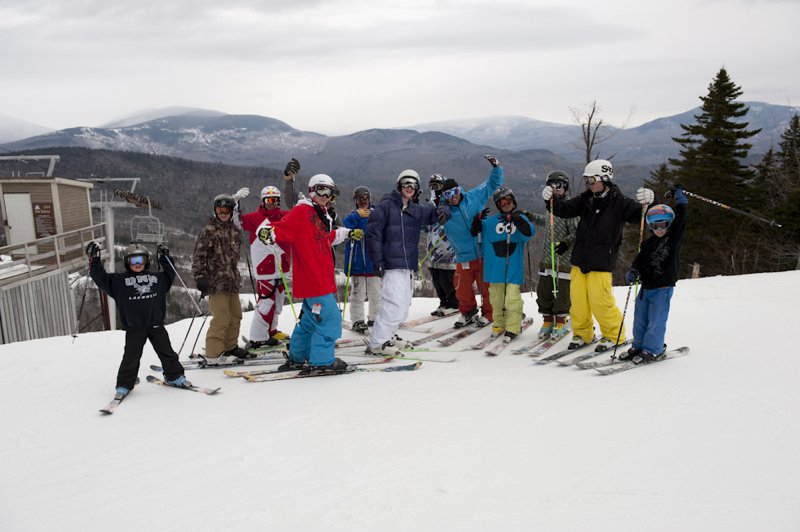 Doug's interpretation: They have managed to create this awesome hybrid event, where you get 50% summer camp vibe, and 50% jam-style competition. This adds up to 100% of the best opportunity to start your ski career that's out there.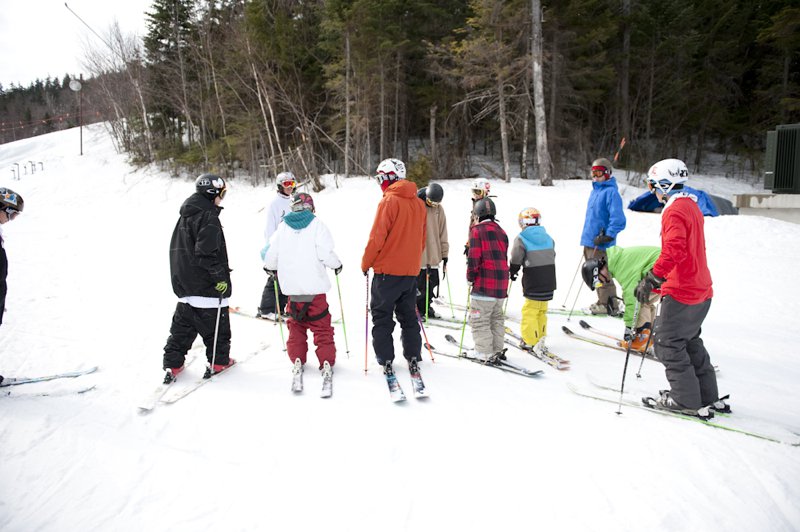 I'm sure most of you know the format already, morning being group shred sessions with a pro where the skiers vote for who was the best in their crew. Afternoon the finalists from every group get together for a jam session, with their peers watching them shred and again voting on who was the best.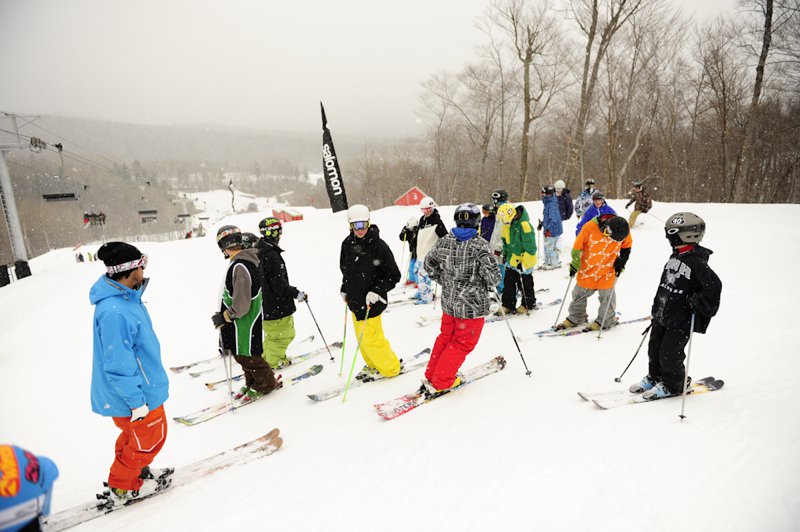 I spent my morning skiing around with a few of the different groups, led by such awesome skiers as Matt Walker, John Symms, Tommy Ellingson, Cody Ling, and a surprise coach of Salomon International Team manager Tyler Gigg.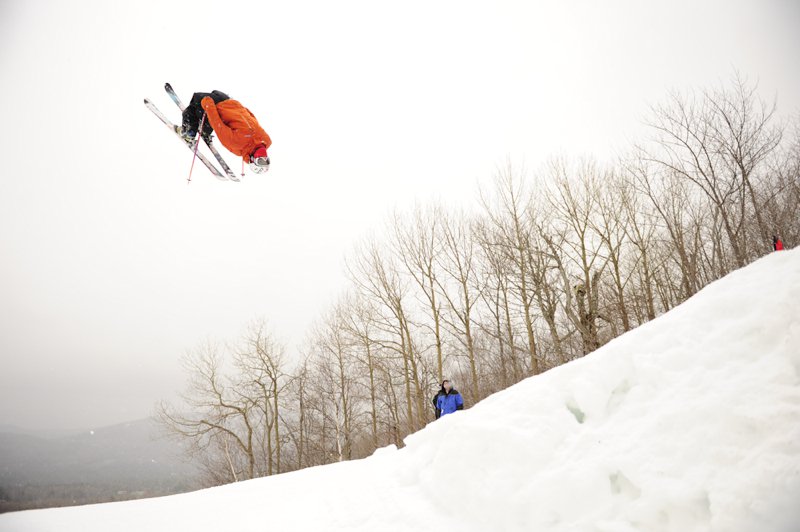 John Symms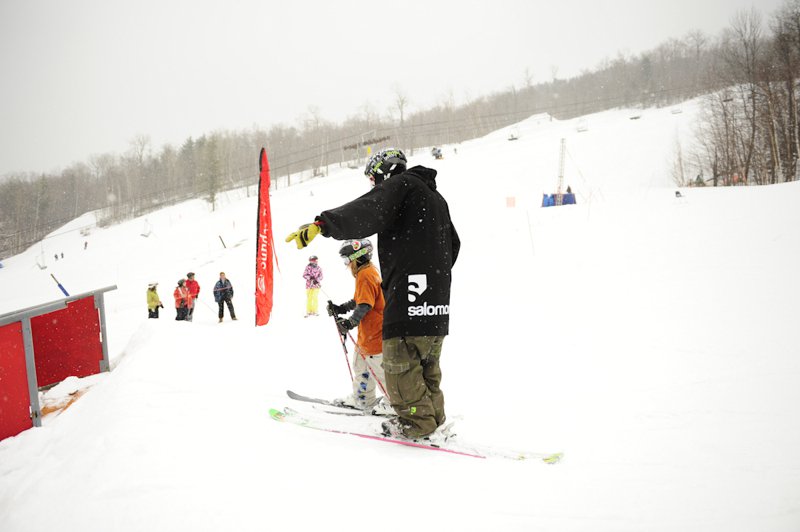 Tommy Ellingson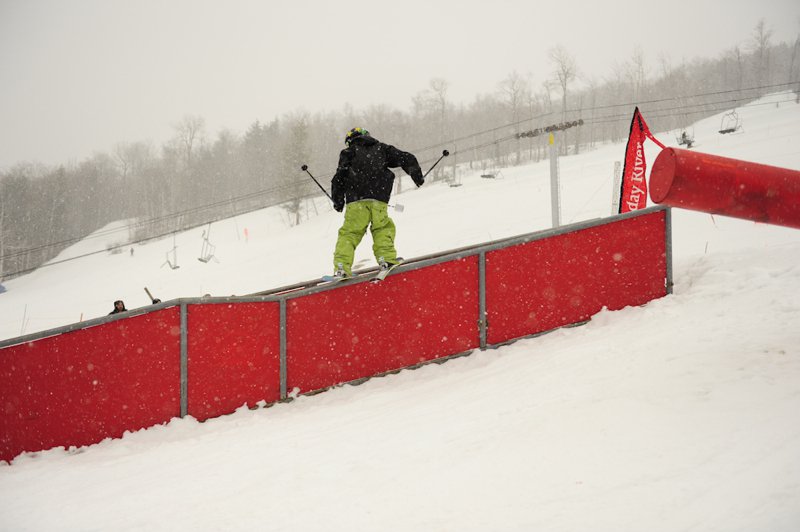 Cody Ling
The vibe was always awesome, riding around with a pro skier and getting tips and stoke coming your way. I really felt like an old man though, as the level of talent was so incredibly high. I felt like half of the skiers there were better than the top pros were four years ago. Apparently spinning onto and off of a rail is no big deal anymore.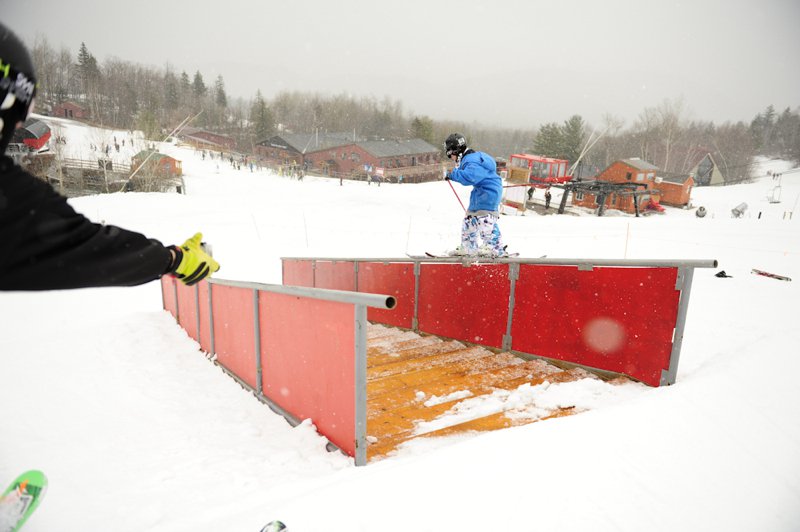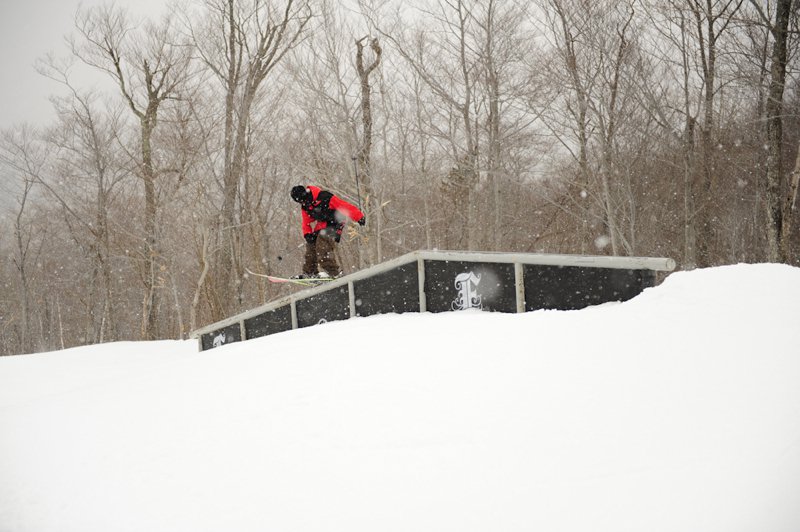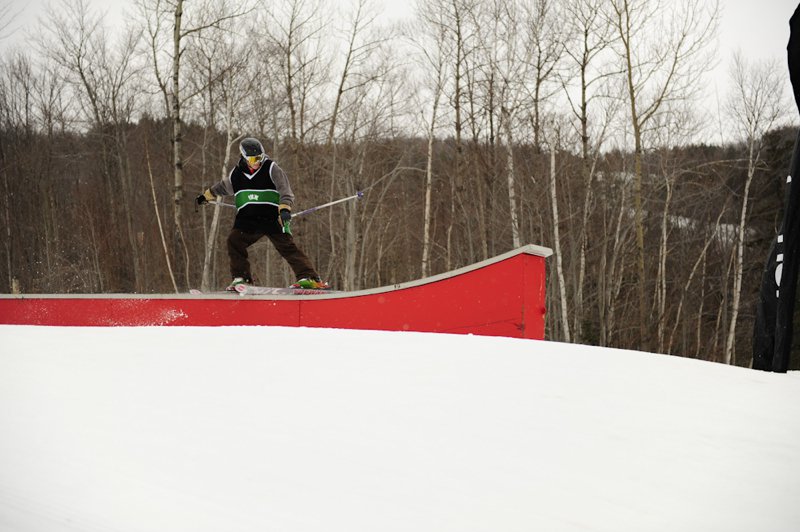 The light and friendly vibe of the morning gave everyone an awesome start to the day, and a chance to check out the level of talent. Sadly the morning came to an end, but it was time to chow down on some free lunch!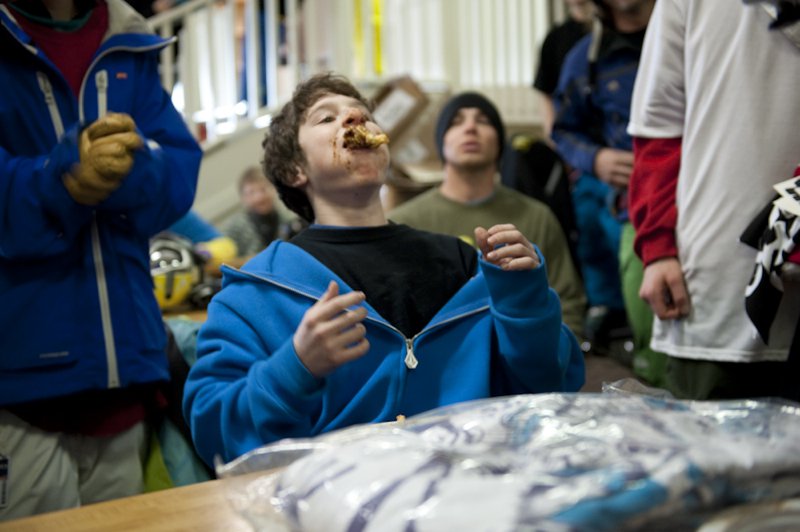 Lunch Time!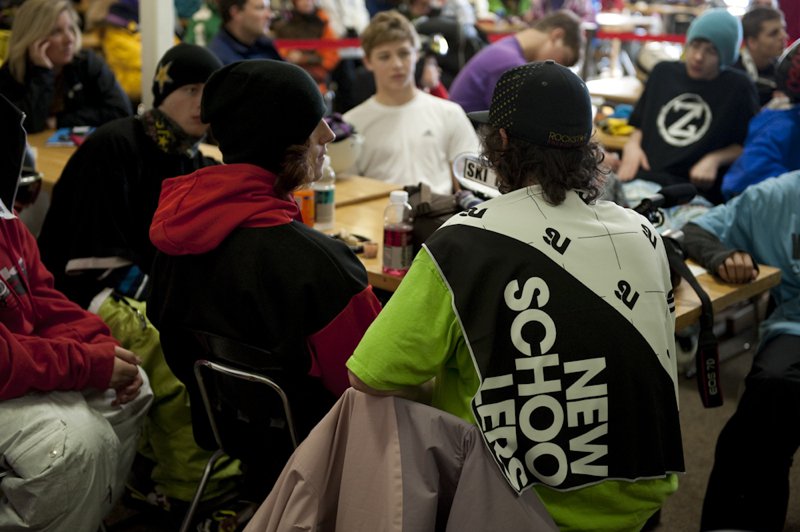 Walker & Martini
During lunch I sat with Matt Walker, and we had a blast hanging out with a group of young skiers, just gabbering about skiing (it was like live newschoolers). All the while, voting was open. Each skier went up to the desk with Jenny Naftulin and co sitting at it, and put in their vote.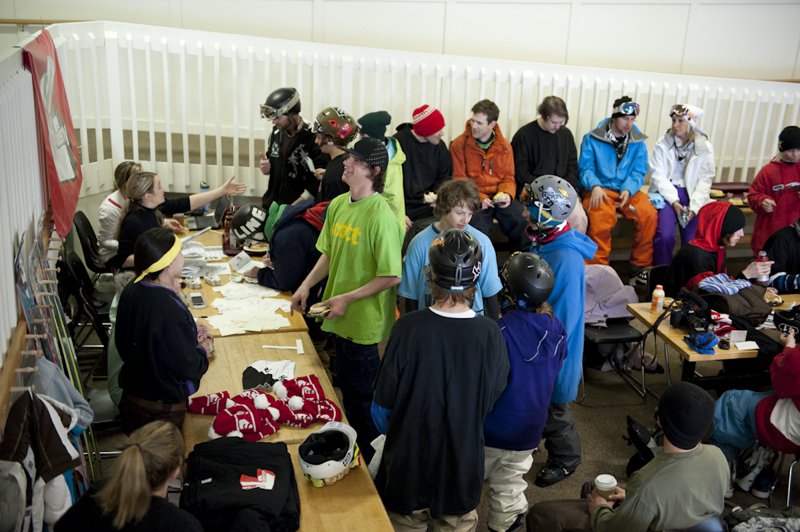 One skier from each group was chosen, and the group headed out for finals.
The finals had a simple format... 30 minute jam on the big air jump at the bottom, followed by 30 minutes on two of the rails right across from the jump. The pros, staff, skiers, parents and spectators all stood on the deck of the jump watching the action. Really fun environment to watch a contest, and a really good way to get an idea of who is skiing the best.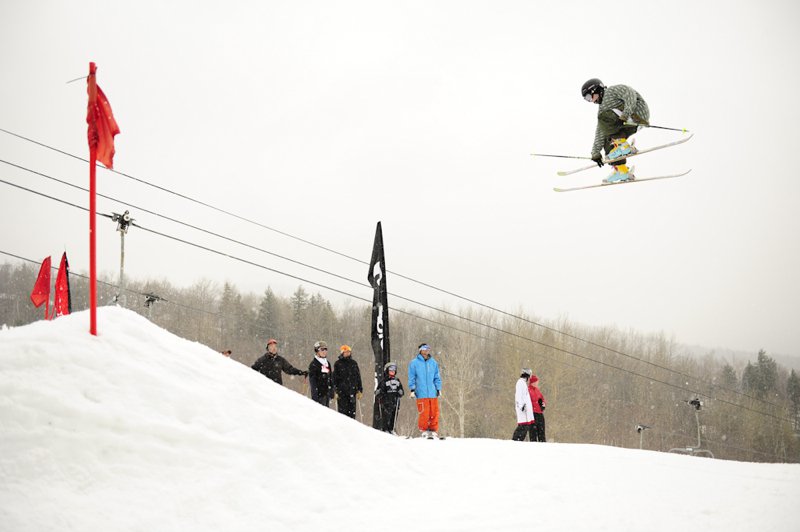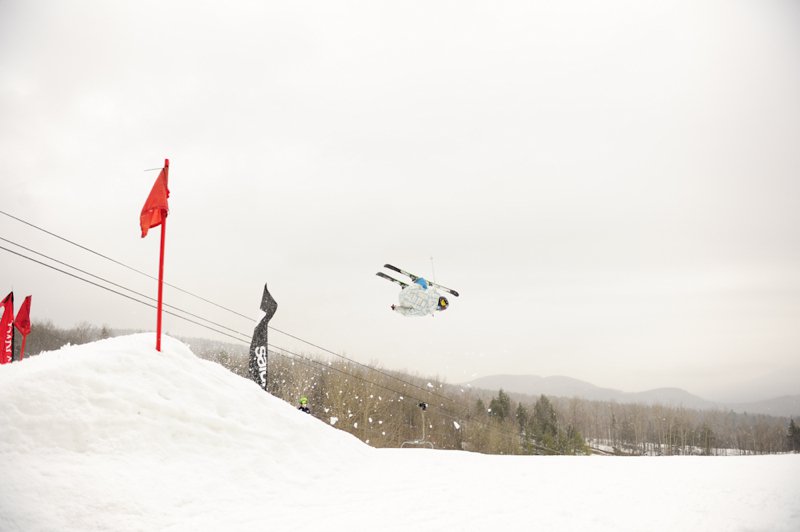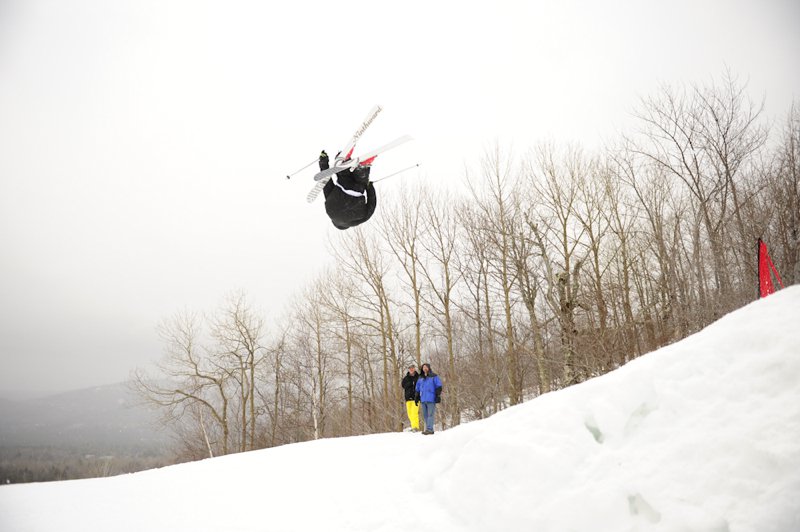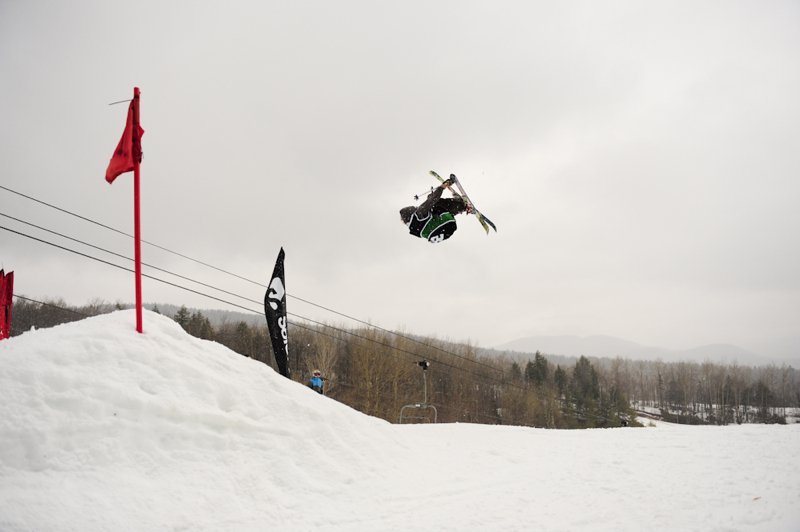 There was some pretty amazing skiing, KC Brousseau poking out some really cool rodeo 5's, Colin Delaney getting his shifty 5 on, Julia from Whaleback showing that she has what it takes to play with the boys...overall it was a good old fashioned meat hucking session where all the athletes were skiing extremely well. We also got a nice juice of entertainment from the "Flying Circus" (a la US open big air 2003) which was all the pros lapping through and showing off. We even got to watch youngster Willie Borm lay down slayage, which he had no shortage of.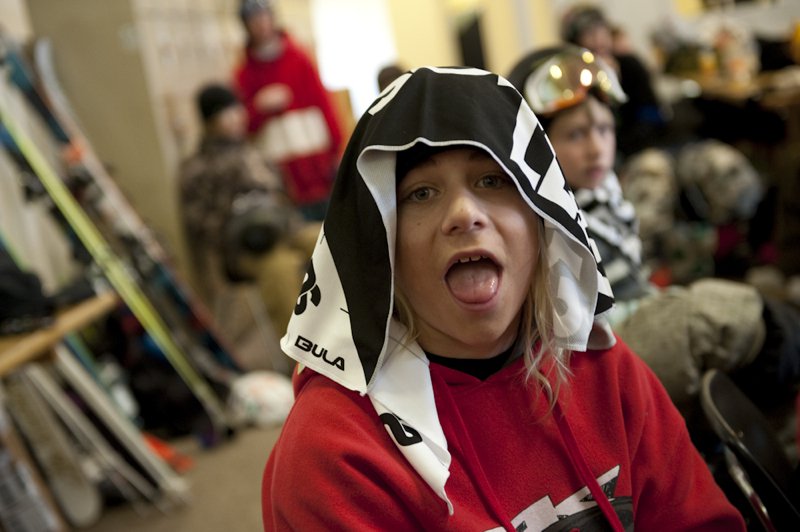 Willie Borm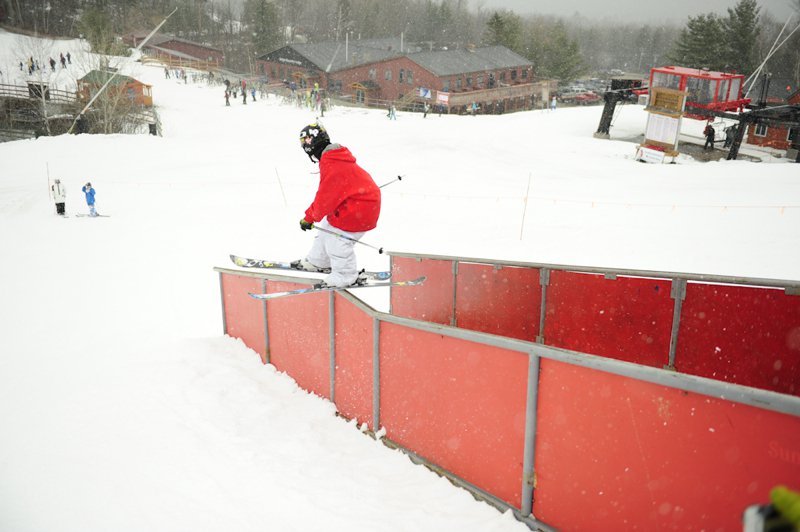 The rail jam got going next, which was straight bananas. 450 shiftys off of the kicker box, every type of k-fed variation there is on the flat down, front flips, misty 450's out...even a worm turn while sliding on the kicker box. The athletes all duked it out for the 30 minute time slot, putting on one of the most entertaining rail shows I've seen this season.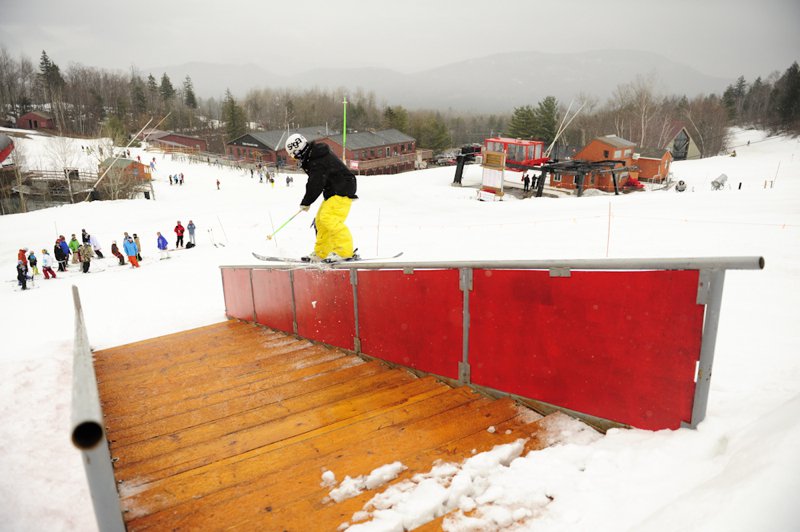 Sadly the day had to wrap up, and winners needed to be chosen. The entire crew headed back to the lodge to once again place their votes for the winners, as someone has to win a trip to Mammoth.
Mark Spinney
In the end, John Sirois took 3rd place probably with the help from some of his burly misty flips out of the box, and coming in a close 2nd place was Mark Spinney, putting on an awesome show on both the jump and the rails.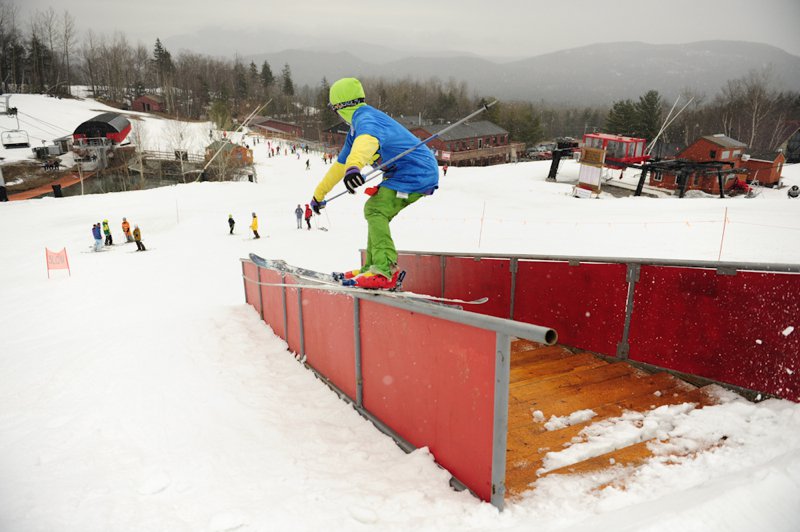 KC Brousseau
However, the man of the day was KC "Tight Pants" Brousseau taking home 1st place and the coveted spot in the Mammoth finals. KC might have won because of his poked out rodeos, it might have been his misty flips off the booter box, his unique and cool style, or maybe even the styled-out superfed... but if you ask me it was probably his excellent fashion sense, and the extra super duper tight pants points he got. Seriously though, it was a well deserved win from a skier that you should all be keeping your eyes out for. Good luck in finals KC, and congrats!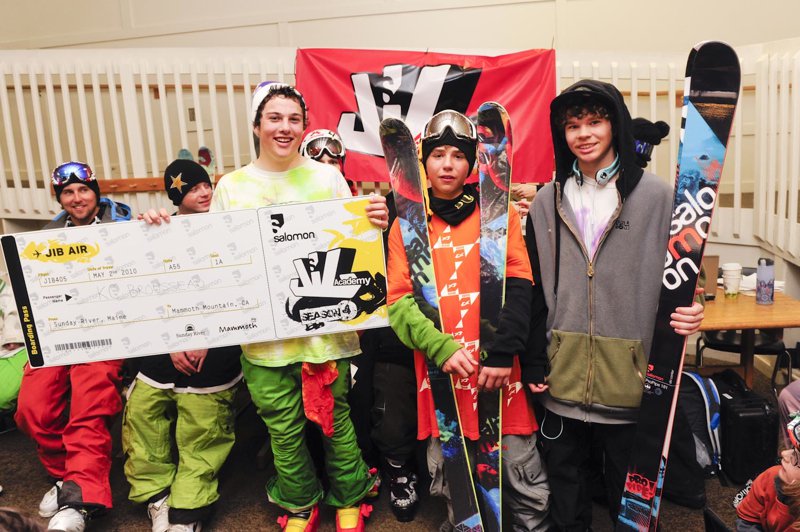 Unfortunately the whole thing did have to come to an end, and I did have to drive all the way back to Montreal. But I left with a feeling of satisfaction at seeing a truly special event, and of knowing that there are such awesome opportunities for skiers to make their way into this industry.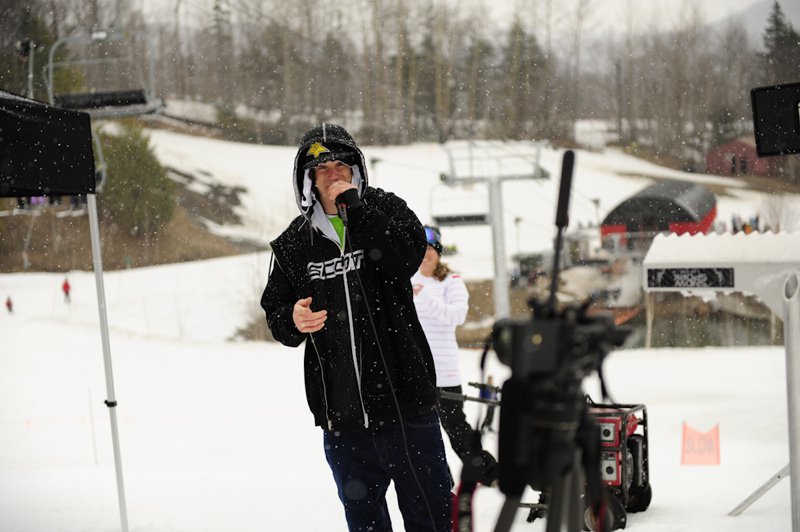 But don't take my word for it...take Salomon Pro Nick Martini's, as a few short years ago he won one of these: http://newschoolers.com/web/content/readnews/id/1379/