Words by Mike Rogge
Photos by Dan Brown (http://www.kapitolphotography.com)
Loon and Salomon sittin' in a tree... S-K-I-I-NG! First comes love then comes marriage then comes... you get the idea. Valentine's Day this year was extra special as Salomon and their pro (PRO!) team harmoniously ascended upon one of the East Coast's finest mountains, Loon. Cupid was firing off arrows left and right as New Englanders 16 and under fell in love with Loon's features and their new coaches for the day. Joining Cupid on the hill was none other than John Symms, Michael Clarke, Matt Walker, Nick Martini, Bobby Brown, Keri Herman, Seth Warner, Jen Crichton, and more.
Keri Herman & friends
The morning kicked off with sign ups at the notably Valentine's Day themed Salomon booth. Plastic hearts, fuzzy headbands, heart-shaped candy, pink and red streamers GALORE! (And yes, Mr. Bishop's bedroom at home is decorated the same way). The lovely Jenny Nauftin sorted the expansive crowd of kids into their groups and went on to explain the loose structure and history of the Jib Academy (Did you know Nick Martini won the first ever Jib Academy and when he's not skiing he's a part time thug that gives out hugs? True).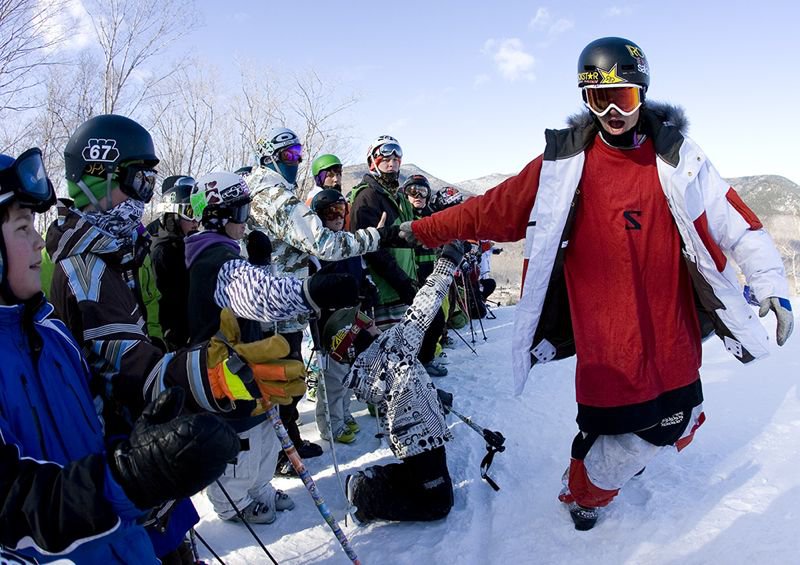 Nick Martini
The rules are pretty similar to most days on the hill:
1) Be safe
2) Have fun
3) Have fun
It doesn't get any simpler than that and before I knew it, the kids were off ripping through the pipe with their coaches, or hiking one of Loon's many rails. The sunshine was beaming down (it's always sunny in America these days) but the wind proved to be a bit much in the morning with several groups choosing the mini jib jumps or the multitude of rail and box options.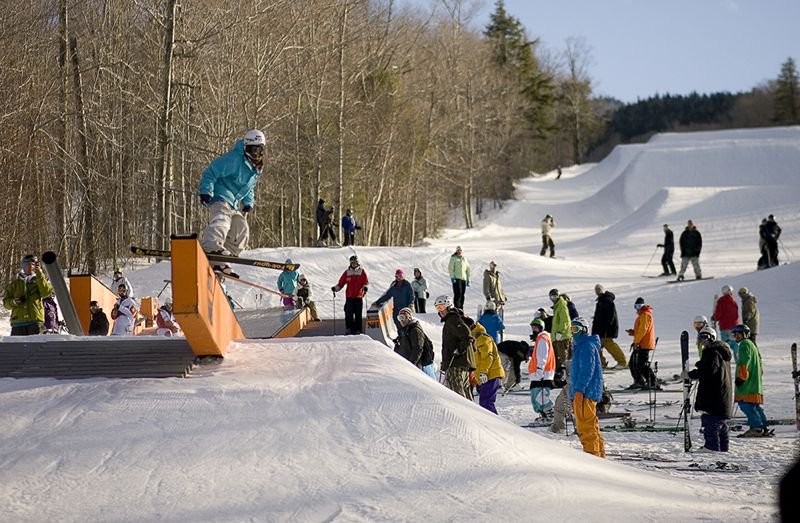 Jake Doon
One particular feature that caught the eyes of many was Loon's butter box between two wedge rails, a feature made famous in a past Red Bull Schooled event. Butter boxes continue to pop up all over the country after events like the Dew Tour and X Games featured the fun  feature in their slopestyle courses. The Jib Academy students agreed and went off on the feature throwing a variety of left and right side spins, on and off the butter box.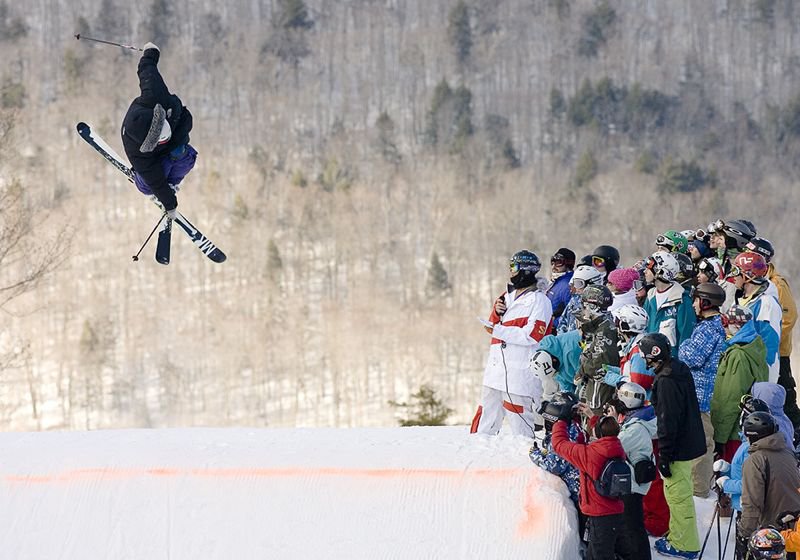 Henry Bonneau
As the wind died down, the jumps came alive, and Loon's impressive jump line was in its glory as Martini, Walker, and B. Brown (Young Money) showed the kids a thing or two and perhaps a sneak peak at what'll go down this weekend at Northstar for the last stop of the Dew Tour. Join me in wishing the boys  and the rest of the athletes luck. After a morning session of jumps, rails, and Valentine's Day jokes that left some of the jibbers shaking their heads ("Go tell that girl you like her 720") it was onto lunch.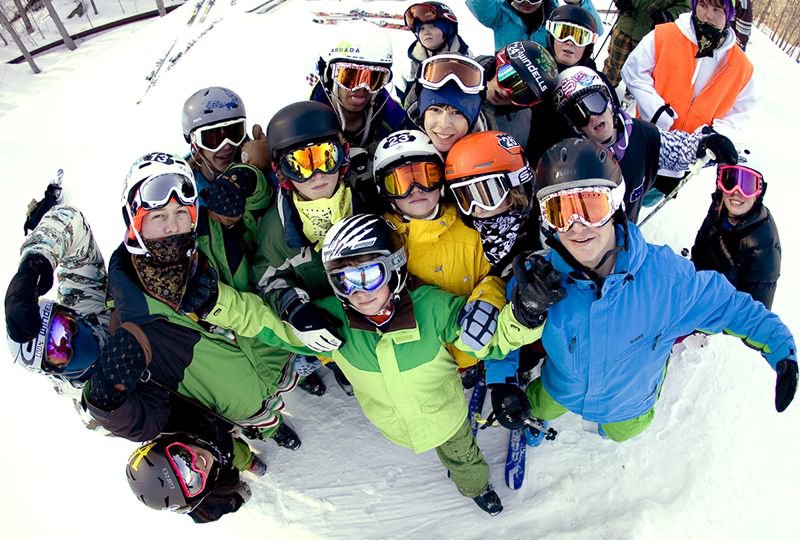 Lunch at the Jib Academies is a unique and fun part of the day. Athletes, media, parents, and of course, the participants, relax, eat lunch, laugh, and swap stories about skiing and a variety of other topics. Martini, one of Salomon's more vocal athletes and a local of sorts in New Hampshire (he grew up skiing near by Canon Mountain), was recalling stories of skiing Loon as a kid with Walker and some of the members of their group.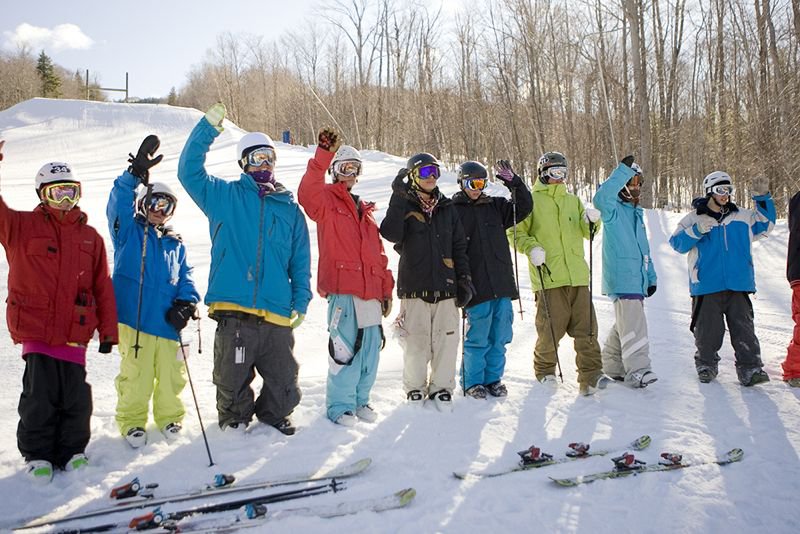 the finalists
After lunch, it was onto the finals where 12 members (one from each group) battled it out on two jumps and two rail features that offered over 15 different options. Cork spins and smooth style seemed to be what the judges (the collective group of Jib Academy contestants) were after as they awarded third place to Chris Moustafa.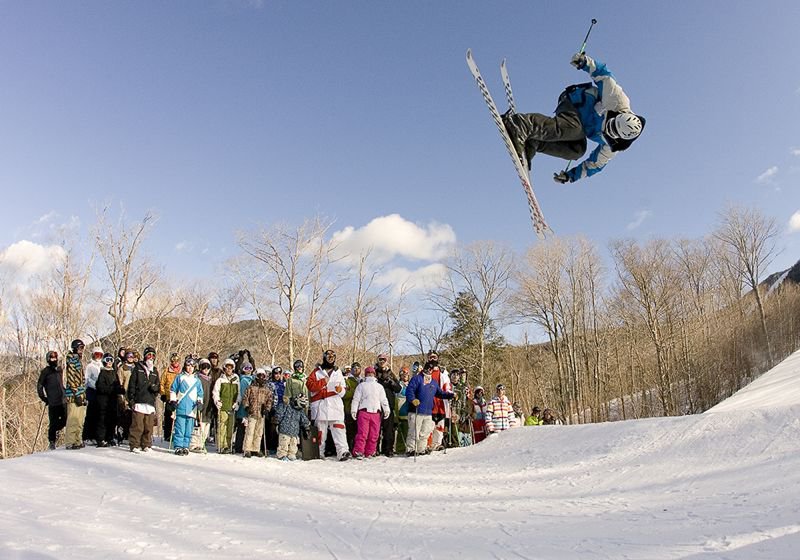 Chris Moustafa
Coming in second was none other than Mark Marino, landing in the silver spot with smooth spins and impressive rail trickery.
Brendan Wall
In first, winning a pair of skis and a trip to Mammoth for the final Jib Academy stop was Brendan Wall.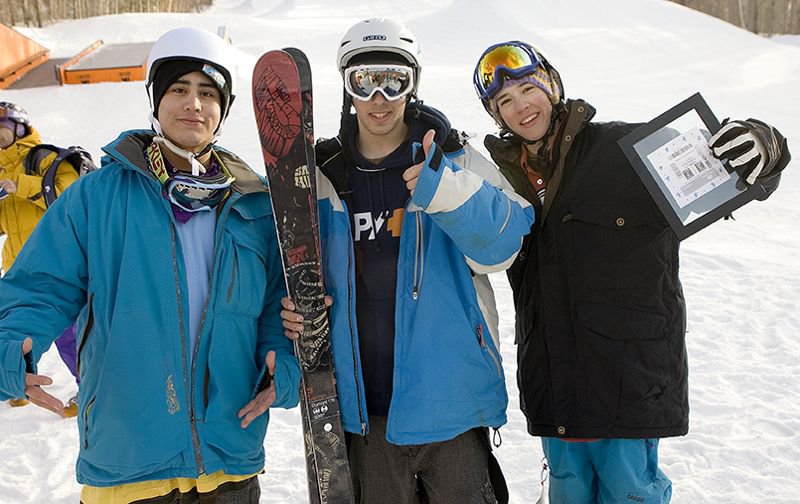 (left to right) Mark Marino (2nd), Chris Moustafa (3rd) & Brendan Wall (1st)
After the win, Wall received a loud applause and major props from the Salomon athletes. As the sun set on another Jib Academy, skiers tiredly cruised down to the lodge with their little hearts filled with joy and their arms filled with swag proving that Valentine's Day and Jib Academy are a match made in ski heaven.