Words by Jeff Schmuck
Photos by Jeff Schmuck, Jenny Naftulin & Dave Amirault (http://www.freeskier.com)
The fourth and final day of Salomon Jib Academy Finals took place yesterday in Mammoth, California, and as expected, it was the best of the bunch.
The sun was shining (again), the mood was high, and after a bit of skepticism as to whether or not the private shoot on the kicker at the top of the mountain would finally go down, the battalion of pros, ams and kids may their way to the peak of Mammoth to give it their all on the last day of the indescribably fun event.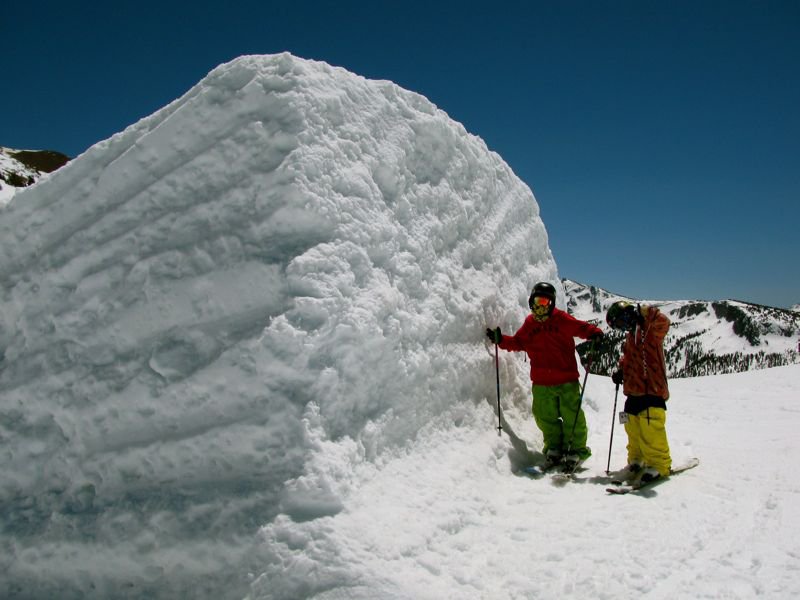 Willie Borm & Seamus Flanagan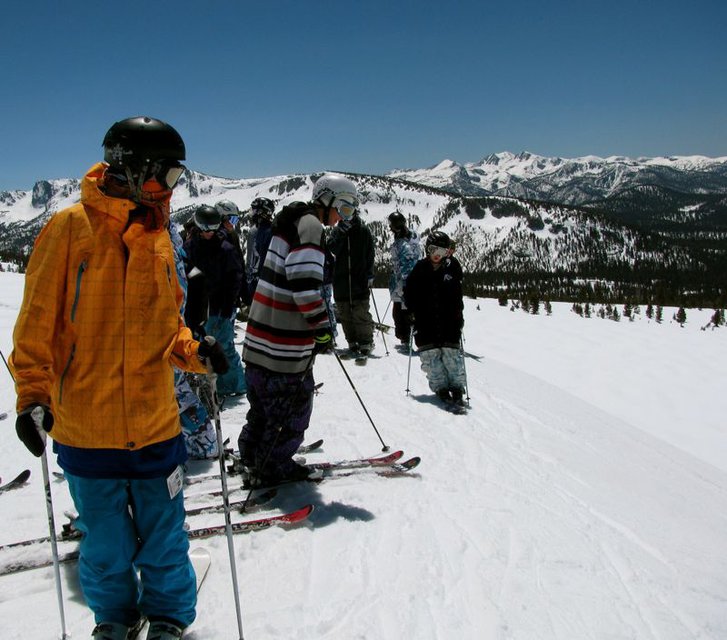 the kids scope the landing...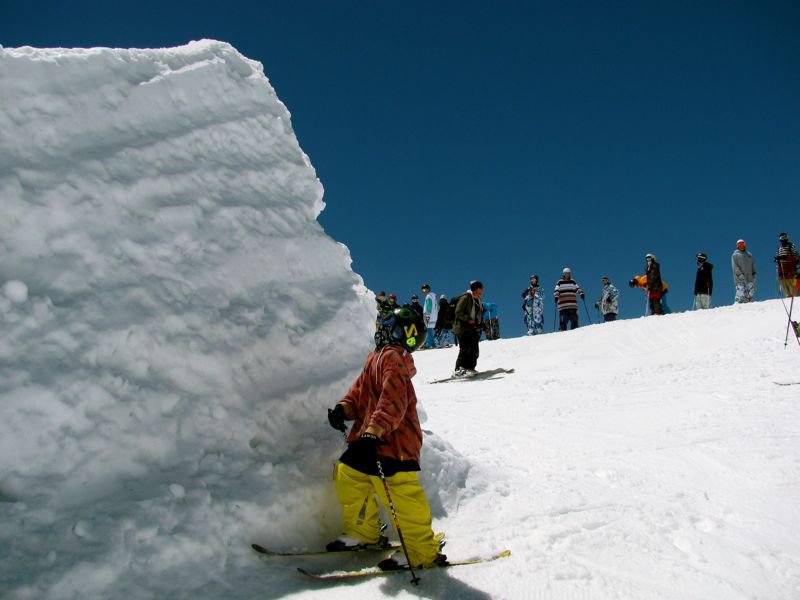 ...while Seamus looks for a spot to mark how tall he is.
After a bit of shaping and mulling about complete with too many snowball fights and laughs to count, Alexis Godbout played guinea pig and roared into the jump first, and he did it switch.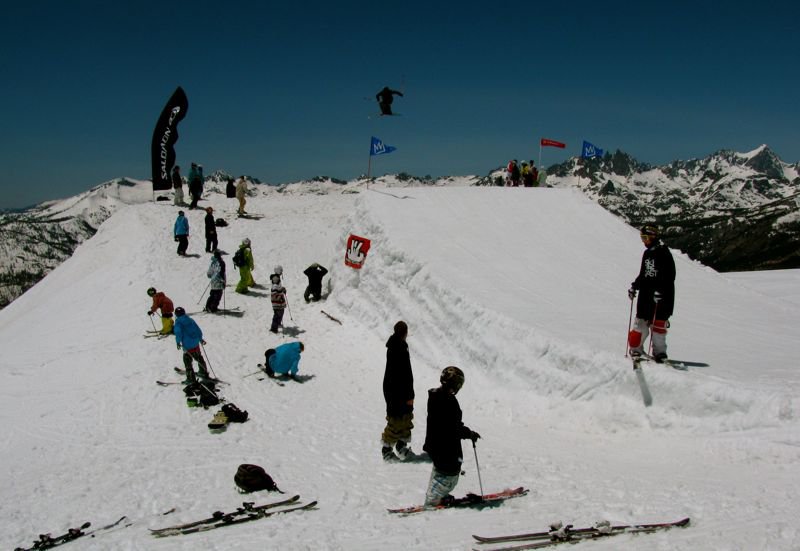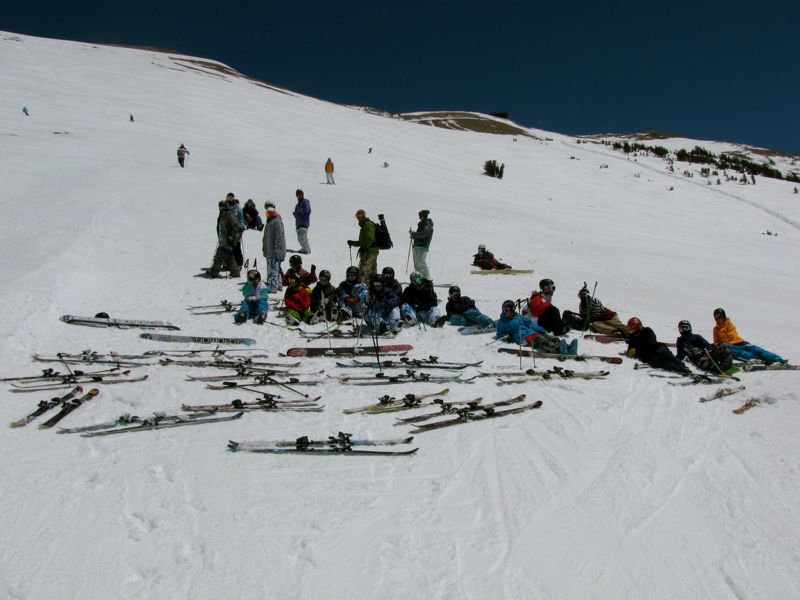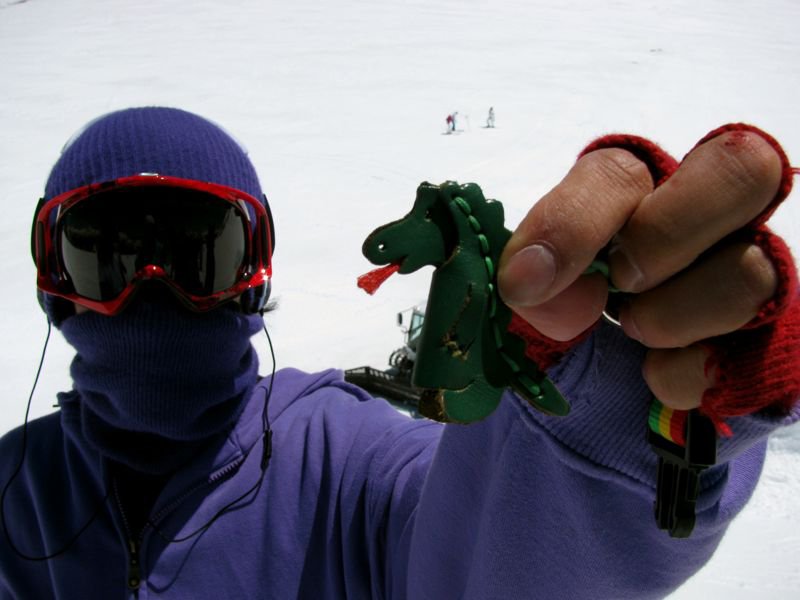 X-Dragon. killing it, as always.
the bloodthirsty media congregate together...(left to right) PBP's Johnny Decesare, Freeskier's Dave Amirault, Stept's Alex Martini and Salomon Freeski TV's Steve Horton.
Shortly thereafter a massive train lead by Tommy Ellingson ensued, with virtually every one of the kids hitting the jump for their first time one after another. After each jump an equally large and entertaining train of a different sort took place, as due to the lack of available snowmobiles (most of which were in use at Snowboard Superpark not too far away), the kids filled up the cat while the rest got towed behind as the made their way back up the in run for their next hit.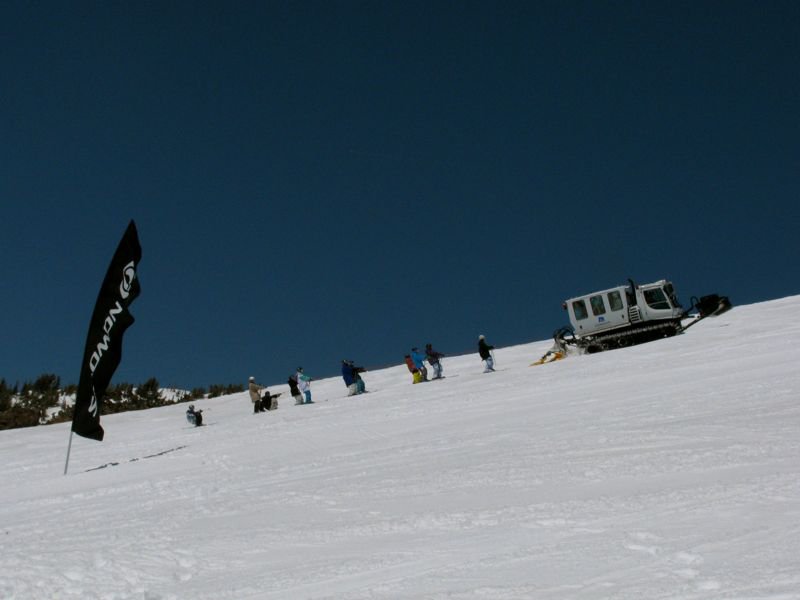 Highlights throughout the day included first and foremost, every single one of the kids throwing down as hard as they possibly could, period. Rodeos, corks, front flips and all sorts of other silliness ensued as the uber stoked kids from locations such as Minnesota and New Hampshire took full advantage of the perfectly sculpted feature which some called the best jump they'd ever hit.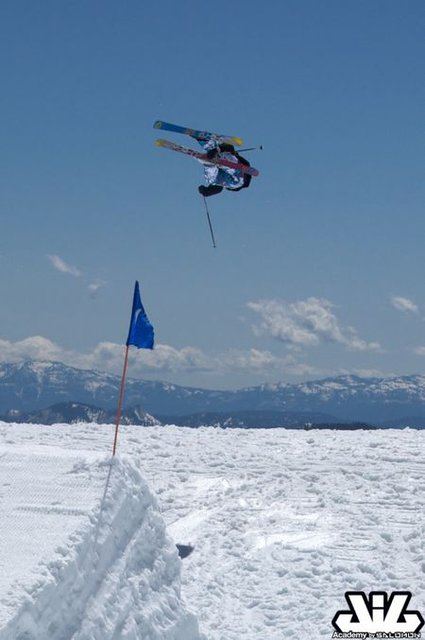 Jamieson Irvine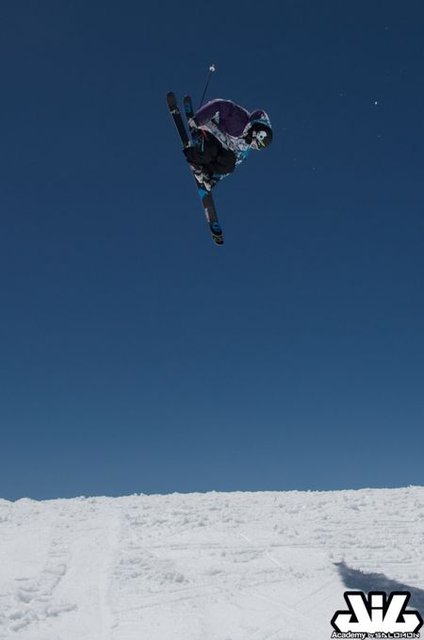 Simon Ericson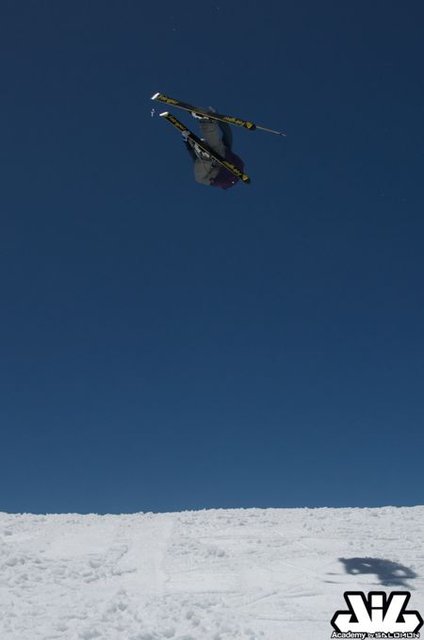 Cody Cirillo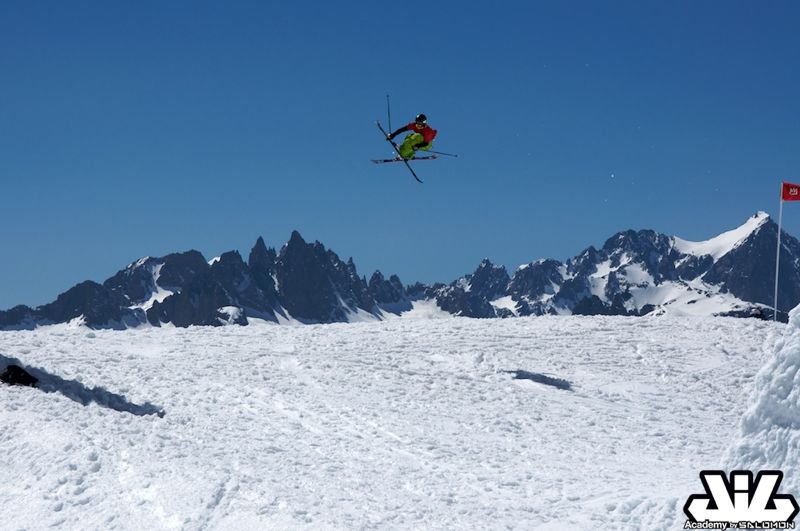 Willie Borm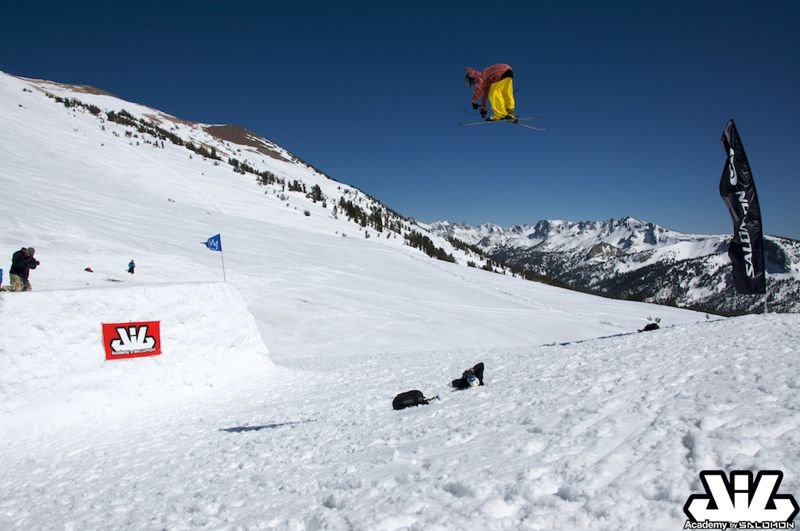 Seamus Flanagan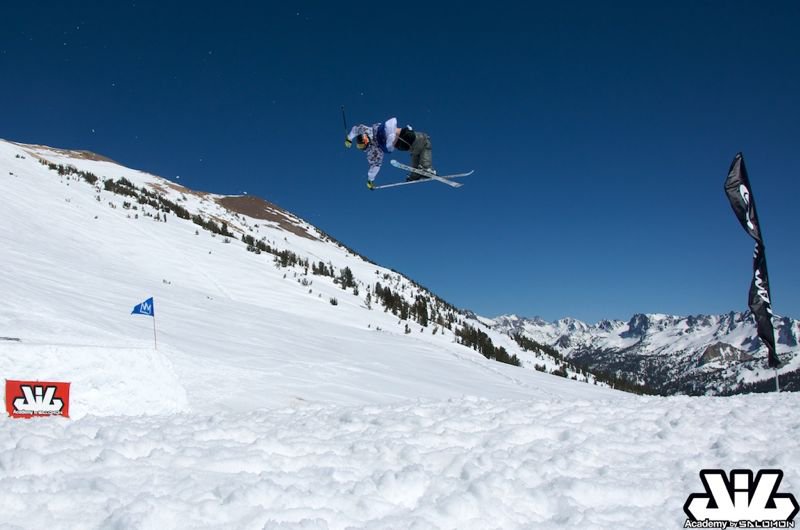 Cody Ling
On the pro side of things Matt Walker threw a rodeo 10 so clean you could call it Mister...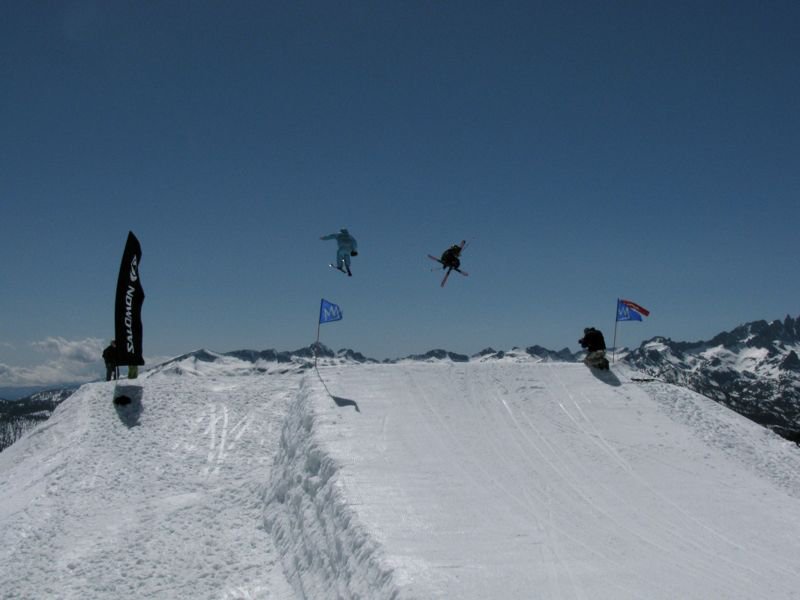 Mike Douglas & Matt Walker
John Symms was busting out many a backflips (of course) and a series of what he later called backflip 180 mutes (with said mute being held from start to finish) but they looked more like some of the sickest underflips I've ever seen...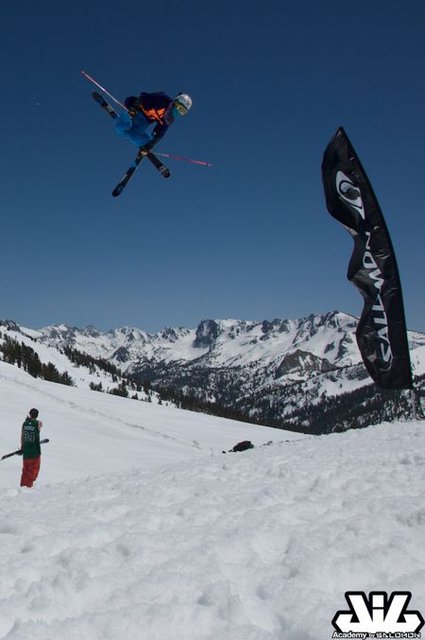 John Symms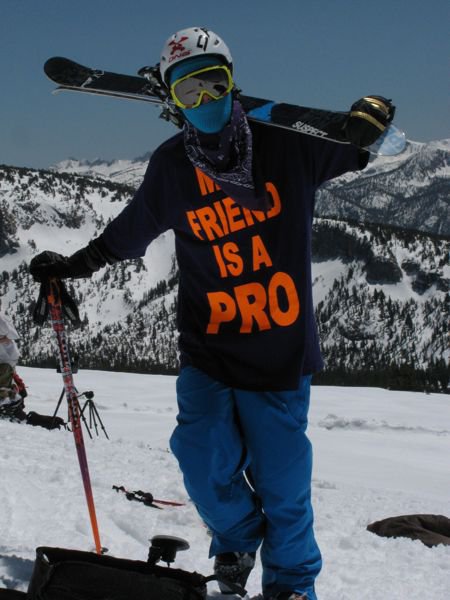 Dane Tudor was doing hand drag cork 5's and all sorts of other creative tricks, Nick Martini continued his year long reign as skiing's new Mr. Consistency, AJ Kempainnen was being buttery smooth as usual, and Henrik Harlaut was dripping style like a UFC's fighter's nose bleed...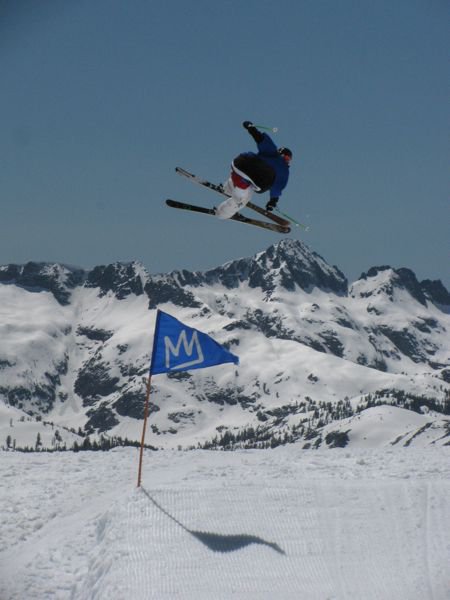 Henrik Harlaut
But amidst all the craziness taking place, the highlight of the day undoubtedly came from Sammy Carlson, who threw down an epic 720 ski tap. Yeah that's right, a 720 ski tap. Seth Warner held up a Suspect (AJ Kempainnen's Suspect to be exact) on the lip of the jump that Sammy tapped again and again and again, spinning more and more each time and even knocking the ski right out of Seth's hands on a few occasions.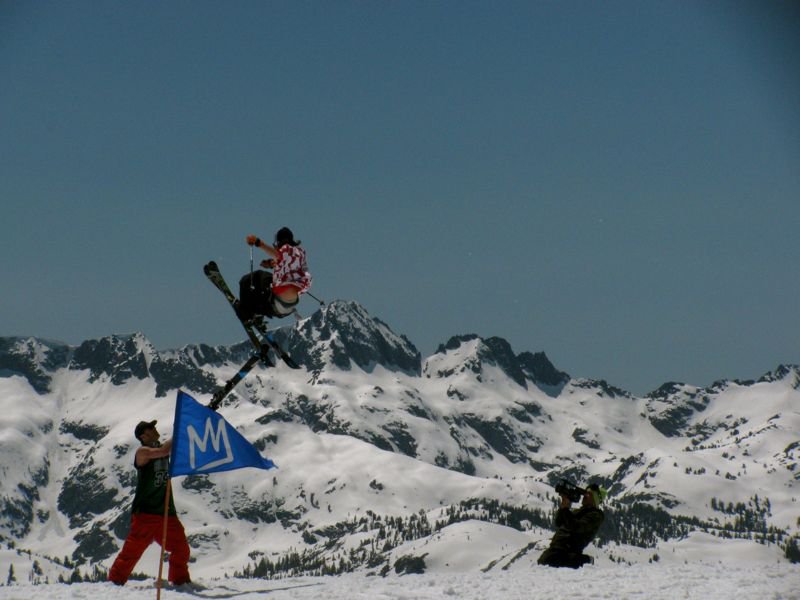 Seth Warner & Sammy Carlson
The session began around Noon and before anyone knew it, it was 5pm. Time really does fly when you're having fun. Everyone got together for the obligatory group shot as Dane Tudor and Matt Walker flatspinned over their heads, and then much to the chagrin of many of the kids, the decision was made to call it day and head down the mountain for a nice barbeque and the highly anticipated awards ceremony.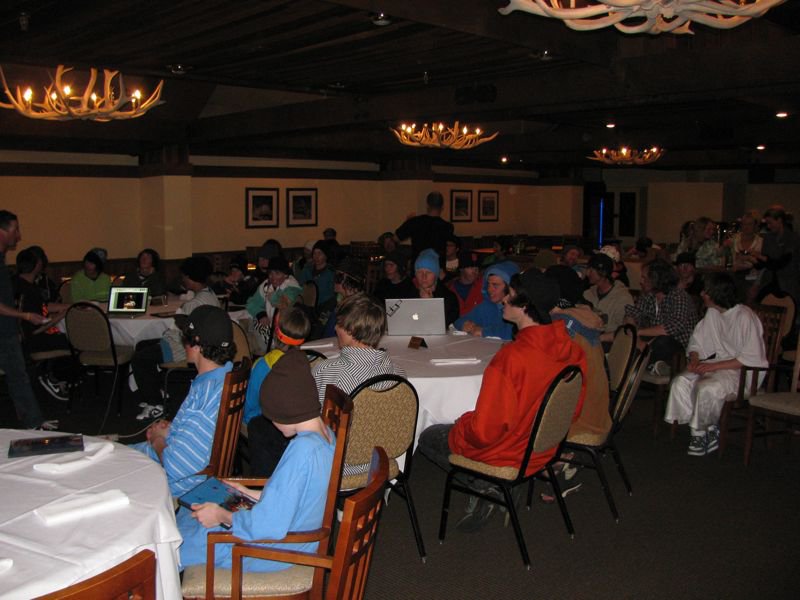 So after a great day, a great last meal and a great live chat here on NS featuring John Symms, Henrik Harlaut and Matt Walker, the always hard working Digi Dave from Freeskier set up the awards ceremony and everyone congregated in the gorgeous restaurant at the Mammoth Mountain Inn to take in the festivities...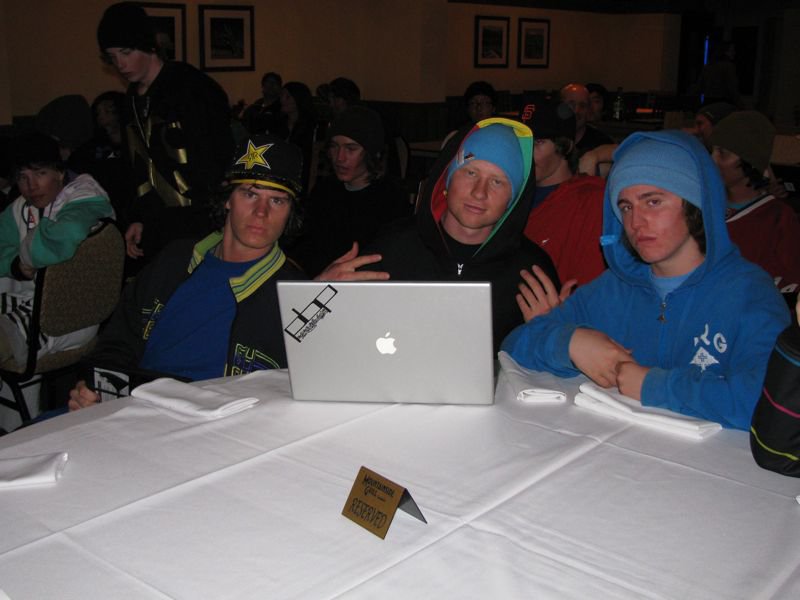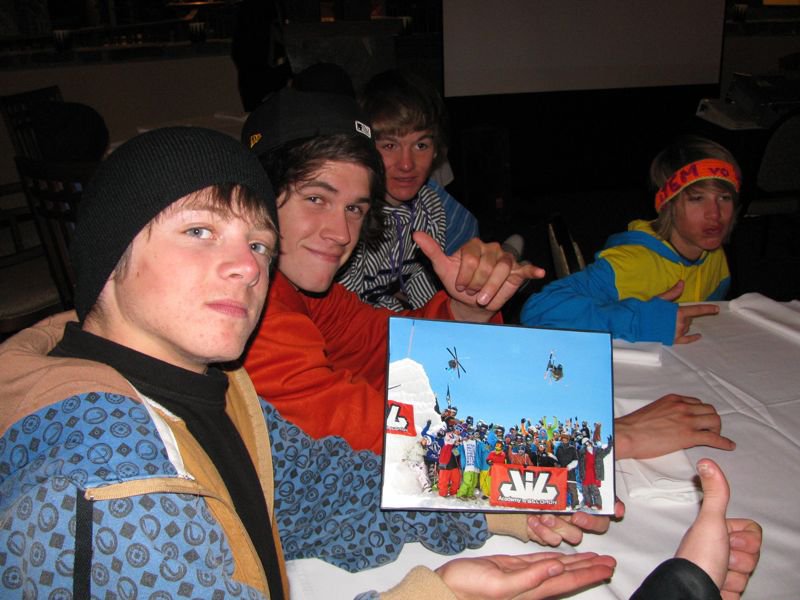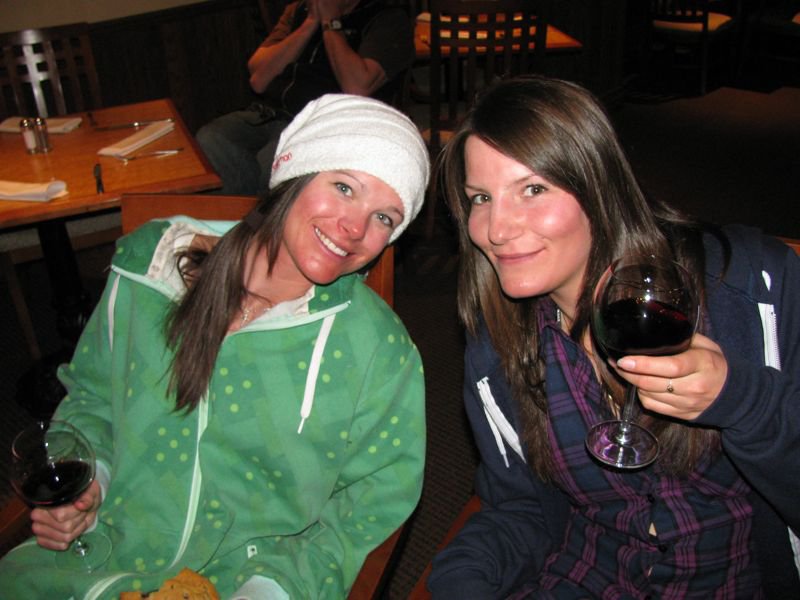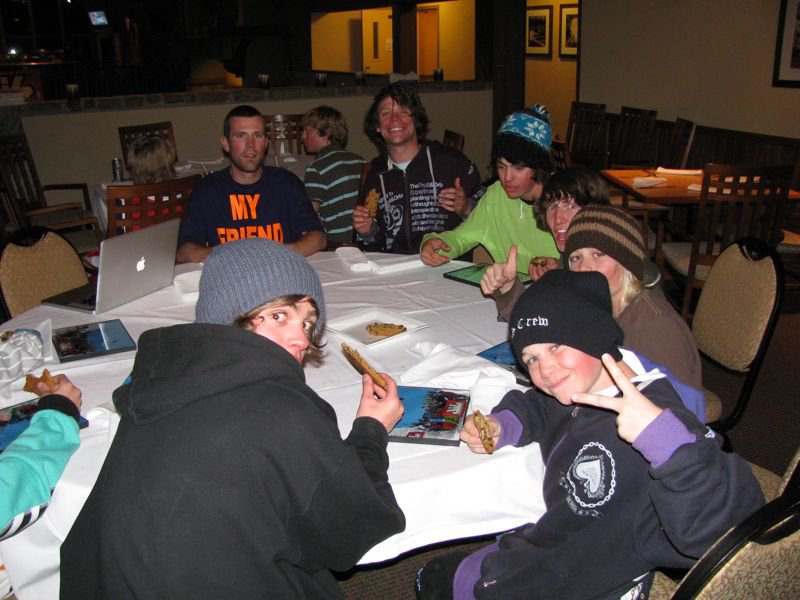 The awards opened with Bruno Bertrand, the head of International Marketing for Salomon, giving a heart felt speech about how impressed he was with everyone and how much fun he had in Mammoth over the course of the week watching everyone throw down. He told the kids in attendance that they are at the forefront of the sport and to keep on shredding and smiling. Bruno closed his speech by announcing that Salomon is committing to another two to three years of Jib Academy, which was naturally met with deafening applause.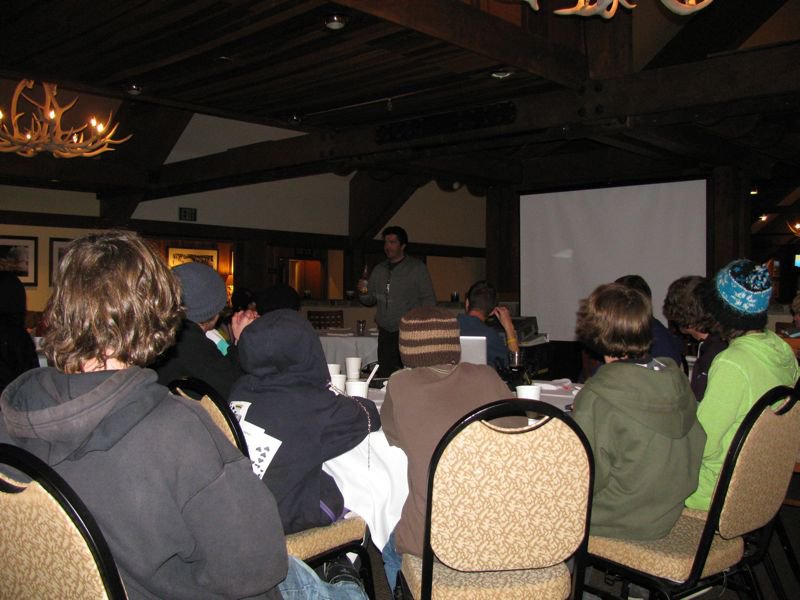 Bruno Bertrand
The beyond awesome and always stoked Tommy Ellingson then manned the front of the room to dish out prizing for the top three. First up was third place, which went to the young man with the most appropriate last name at the whole event, Noah Killen, who received a cheque for $500 to go towards ski travel.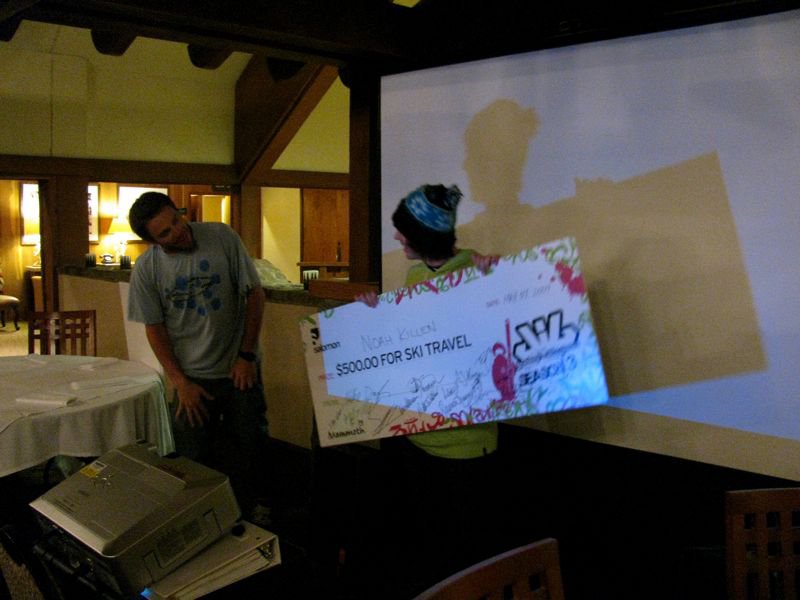 Tommy Ellingson and 3rd place winner, Noah 'killen it' Killen
In second place was Torin Yater-Wallace, who had been crushing it all week and was rewarded for it by picking up a free session at Ellingson's old stomping grounds, Windells.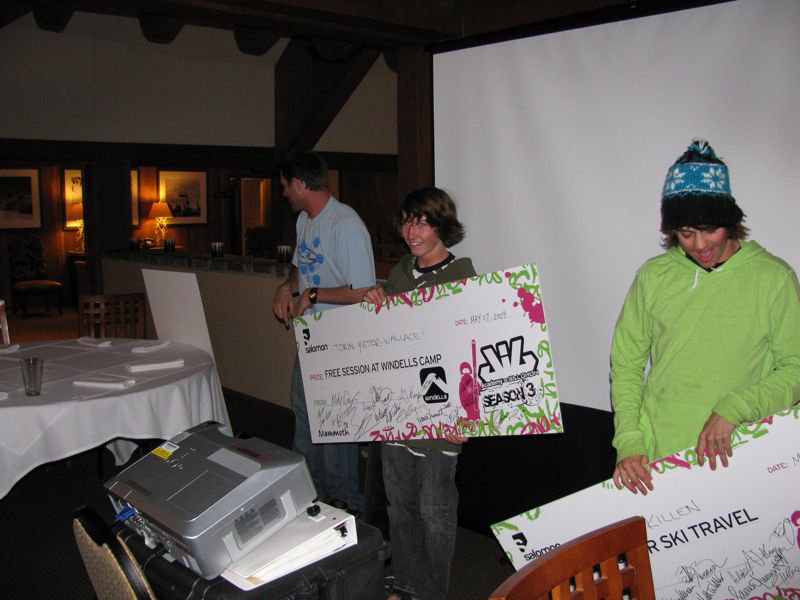 2nd place, Torin Yater-Wallace
Then it was time for the grand poobah, the first place award, which included a one year sponsorship from Salomon, a trip back to Mammoth for next year's Jib Academy Finals, and of course...a pile of Salomon gear. The honor deservingly went to Heni Lo's boy from Sweden, Simon Ericson, who was skiing with such style and intensity all week that some assumed he was a coach as opposed to a Jib Academy contestant.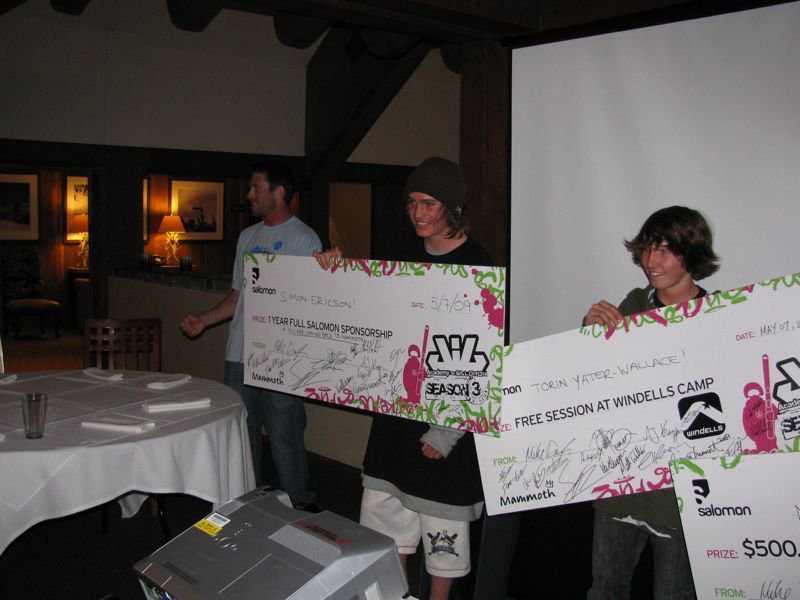 2009 Jib Academy Finals Champion Simon Ericson
Following the awards the driving force behind Jib Academy and the amazing woman who put the whole week in Mammoth together, Jenny Naftulin, the Salomom herself, took the stage to tell everyone just how stoked she was on everything she saw and that this year's Jib Academy Finals were the best one ever. She then dished out some extra prizing included a video camera phone and other swag before calling me up on the stage to give out two brand new NS/4bi9 tall tees to the two skiers I was most impressed with over the course of the week, which were Spencer Milbocker and Jamieson Irvine. Seth Warner then joined the fun and gave out a pair of next year's Suspects to who he thought worked the hardest, which was Cody 'Night Hawk' Cirillo.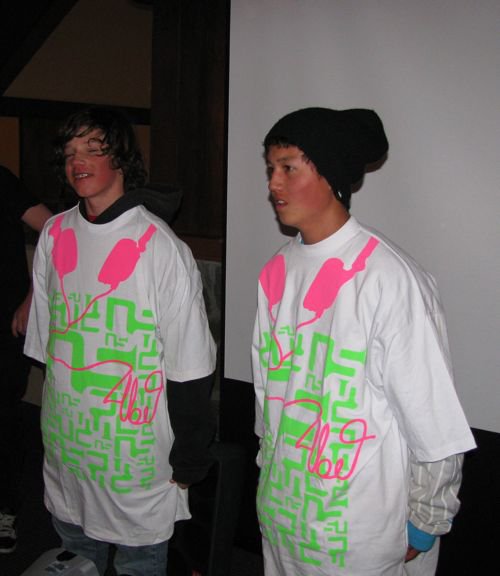 Jamieson Irvine & Spencer Milbocker and their new NS/4bi9 tall tees.
Following the awards Digi Dave cued up an amazing slide show comprised of his, Jenny and Scott Markewitz's photos to music including, among other things, I'm On a Boat and My Friend is a Pro, which was followed by some exclusive and never before seen footage from PBP's upcoming film, Everyday is a Saturday. Digi was awesome and kind enough to hook NS up with some of the amazing photos you've all been gawking over during the past few days, and to check out more of his work and tons more banging photos from the last day, be sure to head over to http://www.freeskier.com.
The kids then piled into their rooms to quickly pack up their gear before continuing the fun and capping off the night with a hilarious limbo competition in the lounge along with other good times that were had by all. After spending the bulk of my winter traveling to exotic locations and high-pressure competitions going to Mammoth for Jib Academy Finals was a perfect way to finish the season, as the event not only embodied what skiing in its purest form is truly all about, it was also the most fun I and virtually everyone else in attendance had all year.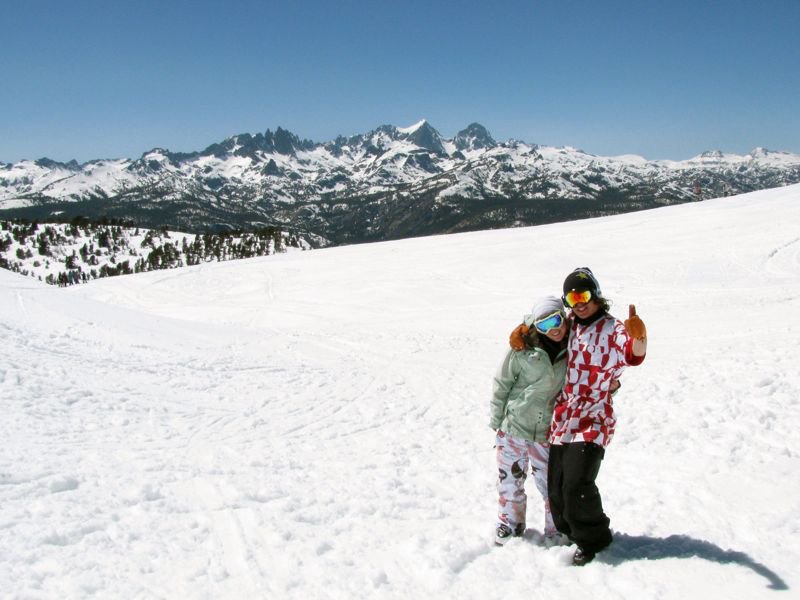 Jenny Naftulin & Sammy Carlson after a job well done.
Special thanks to everyone at Salomon, especially Jenny Naftulin, Tyler Gigg, Tommy Ellingson, Seth Warner, Mike Douglas, Bruno Bertrand and too many others to list, all the guys from PBP, MSP, Powder and Freeskier (especially Digi Dave for being the absolute man), all of the hard working and always smiling Salomon athletes, who brought an immeasurable and unforgettable amount of stoke to the kids, and most importantly, Brendan Wall, Noah Killen, Torin Yater-Wallace, Jonas Hunziker, Jamieson Irvine, Tucker Visser, Antoine Bourassa, Cesar Fabre, Simon Ericson, Vebjorn Svokmo, Felix Usterud, Spencer Milbocker, Seamus Flanagan, Emile Bergeron, Seb Eaves and Cody Cirillo (and anyone else who I forgot) for having the time of their lives and helping us have the time of ours.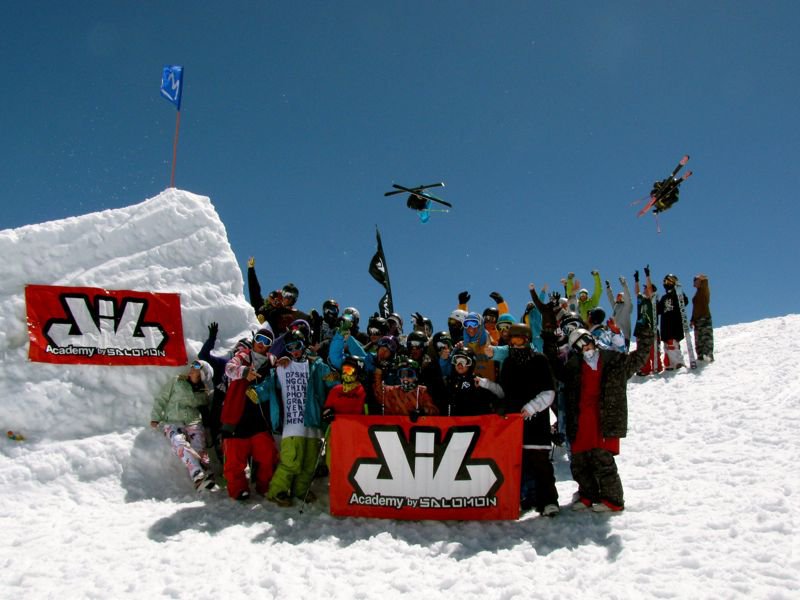 See you next year at the Jib Academies!