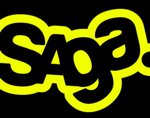 Saga Outerwear, the trail blazing outerwear company we all know and love, has bar none one of the best teams in freeskiing. And over the past three days, they continued to prove that and then some by releasing a trio of killer edits called Volume 4 that showcase just how talented their roster is. Check them out, and let us (and Saga) know what you think in the comments below...
VOLUME 4.1 from Saga outerwear on Vimeo.
 Second half of the season backcountry with the Saga Fam. Riders include: Willie Nelson, Andreas Grønli Disch, Erik Naess, Corbin Clement, Collin Collins, Dylan Natale and Tim Durtschi.
VOLUME 4.2 from Saga outerwear on Vimeo.
Park City Mountain Resort is the other half of the Saga home. On any given day you can find multiple members of the Fam hot lapping the parks. Good times. Riders: Corbin Clement, Andy Partridge, Nicky Keefer and Erica Durtschi.
VOLUME 4.3 from Saga outerwear on Vimeo.
The final edit of the VOLUME 4 series brings you out into the BC of Little Cottonwood Canyon, UT and Mt. Hood, Oregon. Fam included is Wiley Miller, Dylan Natale, Willie Nelson and Tim Durstchi.