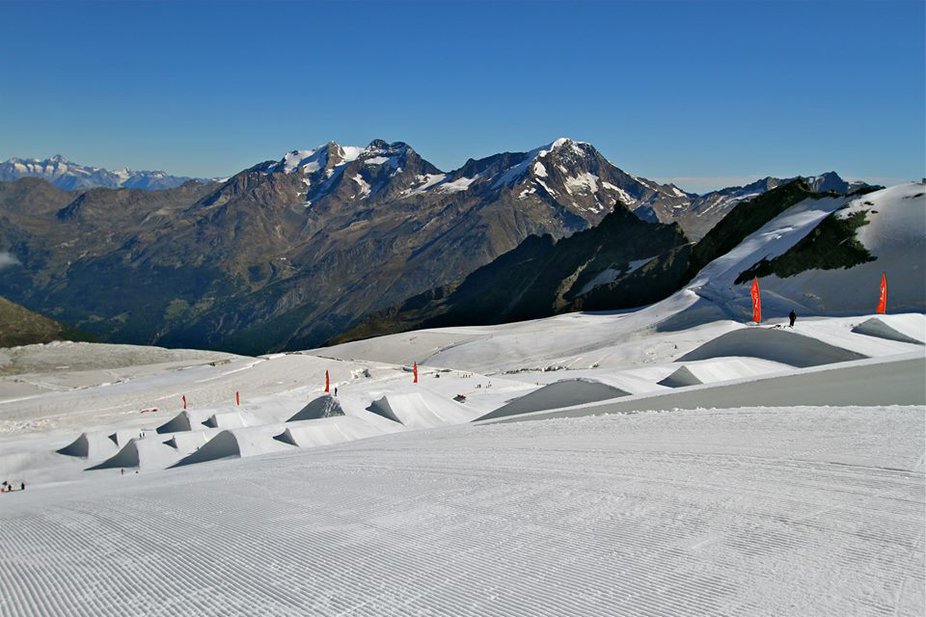 I was out in Saas Fee in early March with the intention of shooting a banger article about what has, for nigh on 20 years been my home resort. According to plan, it dumped for a week but the clouds didn't lift, making shooting pretty much impossible. I was back there again end of season but this time around I lacked camera support. The good news is, that this weekend, 18th-19th of July, the season starts all over again!
And to celebrate there's going to be a two day long comp/shred/party!

If you're in Europe and you aren't there, you're doing it wrong. It's 141Chf for 2 days shred and a night in the village, and for Switzerland, that is a fucking steal. Even if you can't make this weekend, get out there this summer. It's probably the best jump setup in the world at this time of year, possibly even the best park full stop. Typically the summer setup is a 3 big (50/55/65ft) kicker line (bigger in september/october)+ a smaller 4 kicker line, 22ft pipe, 7-8 feature rail line with multiple options and fast T-Bar laps with not much queue.
https://www.newschoolers.com/videos/watch/723318/Saas-fee-Summerpark-2014---OpeningDay
Opening Day last year
It might sound like I'm being paid to sell this, I'm not. For one thing, the Swiss only tend to pay each other. I'm just gutted this year I won't be there on opening day because I'll be in hospital. But I'm going to be out there later in the summer and hopefully I can ride some laps with as many of you as possible. Still hoping to get an NS meetup going sometime in August!
https://www.newschoolers.com/videos/watch/724606/Saas-fee-Summerpark-2014---AugustAugust Last year
For those of you too far away for a last minute trip, give the place some thought for your next winter. These are the details about the place.
Vertical drop: 1800m (5906ft)
Avg base: 2m (7ft)
Pistes: 100km, well maintained
Freeride options: Varied, from mellow to lethal. Take a guide or at least a local, nobody wants to spend 20,000 years frozen solid
Best time for pow: March/April
Parks: 1 + a laughable beginners park
Best time for park: SUMMER
Village: Car free and relatively quiet, though there are plenty of options if you want to kill your liver
Open: July-May (July-October - Glacier Only)
Season Accommodation Starting at 500chf ($540) a month
Beer Price = Get a Mortgage