Words and illustrations produced by: Brandon and Steven Becker
Yoooo…. Whats happenin' guys and of course gals? I hope all of you are doing very swell on this beautiful day, At least beautiful in my neck of the woods… Speaking of beautiful, it's summer time and summer means swimming and swimming means bathing suits….sooo…..I also hope all you guys out there have been able to meet a very nice and attractive lady friend or maybe friends at a beach or something along those lines… That goes the same for all the pretty ladies out there as well…. If not. I know a guy by the name of Brandon that would love to meet you…Anyway I better get busy telling my story before I get distracted by something else. So here it is.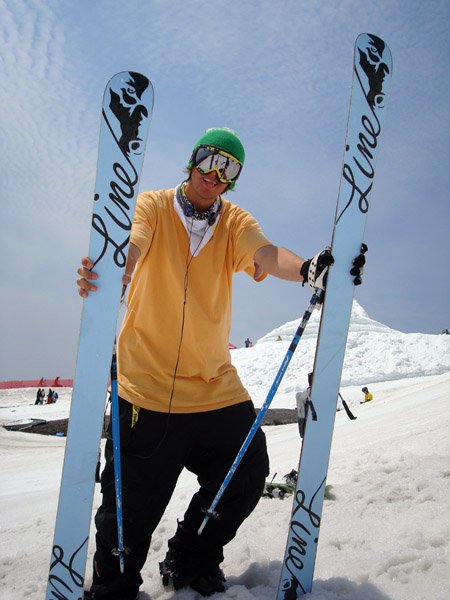 My bro Brandon and I ventured out to Mt. Hood in early June to post up at Windells Camp for the summer. Hood got quite a bit of snow this past winter so that was definitely a plus for this summer. Anyway. Before ever actually getting on snow our summer started with a very nice, relaxed game of golf with the notorious Travis Erdman who is a baler on the golf course. While I was keeping my ball right down the middle of the fairway and regularly shooting birdies and eagles (that's under par for all of you non golfers) you could find my big bro rummaging through the brush like a bear searching for his golf ball. Jk. no. He wasn't that bad. But he did have a slice that could have cut a coconut…naadadaMEAN!.... anyway. Enough about golfing, let's talk about some shredding. And shredding we had a lot of.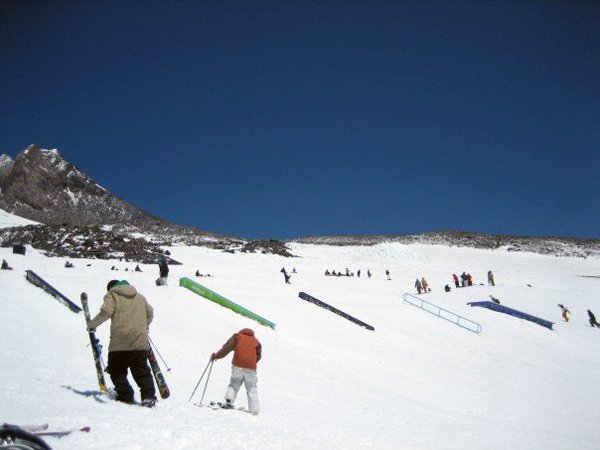 Freshly nourished by camp food, we made our way to the mountain day after day to learn and teach maneuvers that would make wolverines purr. The diggers kept the park fresh as always, and I'm sure if you are reading this you are prolly a newschoolers regular and have been peeping the always fresh Windells updates done by Harkins, a close friend and fellow reporter, so you know all about the dope setups and what not that went down. If you don't, the Windells updates are still available so go check them OUUT!! Aaaaaand…. since the on hill stories have, for the most part, been told, I'll tell you about some of the behind the scenes adventures that you haven't heard about: ike the adventures at Sammy's house. Sammy's house had three prime things that Brandon and my residence did not have to offer. 1) a BB gun 2) a non-assembled ping pong table and 3) a putter and golf balls. Plus many other things including space.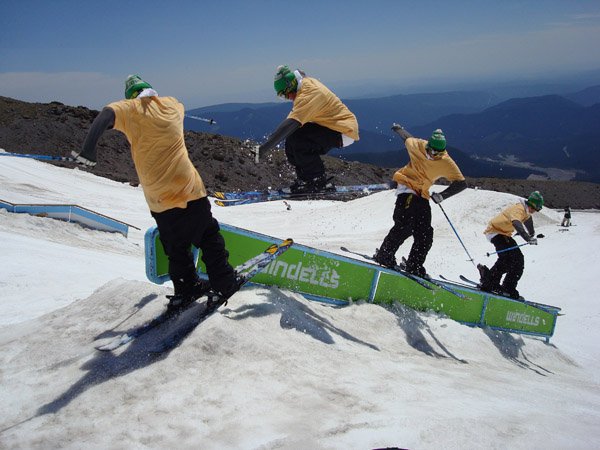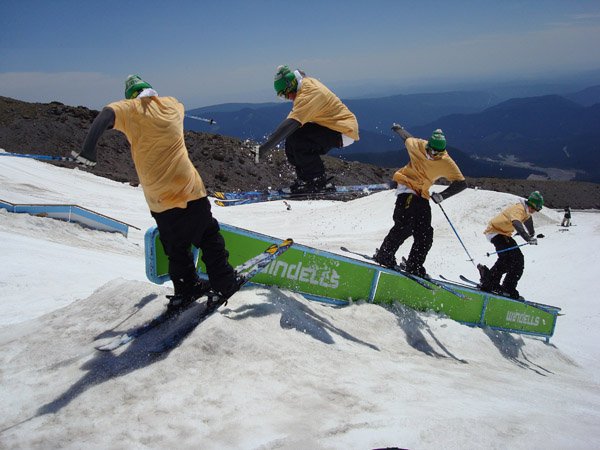 With these combinations every voyage to Sammy's was a fun one. We all perfected our target shooting with the BB gun, eventually being able to hit a hanging coke can IN THE DARK. With the non-assembled ping-pong table we took the paddles and balls and assembled our own ping-pong table on Sam's dining table by placing a bench on it. This game is no joke though. It could even be more fun than ping-pong. We made up a bunch of new rules and all. 2008 Olympics. Here we come!! Finally, with the putter we made our own mini golf course throughout Sam's house, setting up strategic holes in places that were seemingly impossible to get to. Now I know if im ever playing golf and there comes a shot where I need to bank the ball off the wall before the ball tumbles down a flight of stairs and banks off another wall, finally falling into the hole, I know ill make it every time…. Tiger, watch OUT!.......but yeaaah… Sam's house was always a good time.
Other fun adventures were to the river. Tim, Taylor, and many others, as well as I floated a crazy rapid on inner tubes that was nearly unfloatable. Such a sketchy float it sketches me out just thinking about it. Anyway. I'd say on average we were able to stay upright on our tubes about 30 % of the time through this rapid. It is def. a class five in the inner tube league.
When we weren't found doing these fun activities we were usually chillin with Mr. Sean Harkins and Austin Stevens, that man behind Saga Outerwear. These were our neighbors at the Ark (where all the coaches live) and they had a dope pad with a mini movie theatre and such. This was always a fun place to chill and it was guaranteed to be "happenin" if you know what I mean….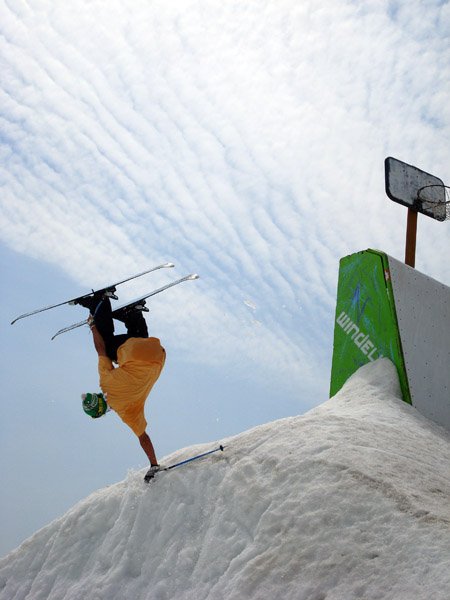 Anyway. at the end of the summer, after the snow was almost gone at hood, Brandon and I ventured back to Idaho to continue our summer adventures. This included a ton of time spent chilling on the lake. We also recently took up a sport called "EXTREME! Tubing" (tubing behind a boat), and we mastered many intense maneuvers. Brandon actually did one of the craziest things I have ever seen…. You see. When a boat goes really fast and turns the inertia from the turn causes the tuber to go REALLY fast and eventually flip. Where then the tuber skips across the water like a rock. Anyway. Brandon figured out a way to actually do a full barrel roll on a tube when it flipped and then ride away clean. I couldn't believe my eyes when this happened. I'm sure it's a move that has never been done in competition…..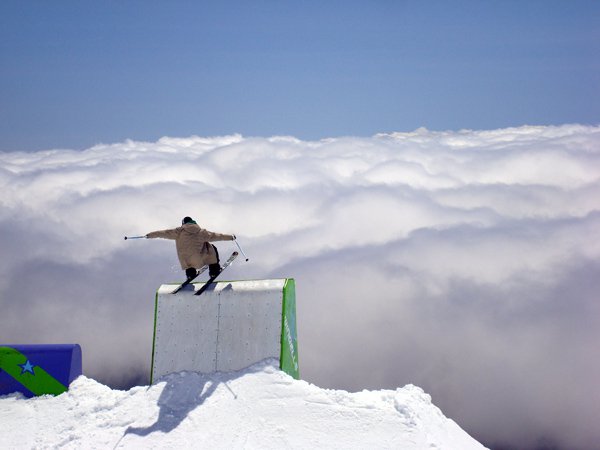 Well, I'd say that is enough for now. Stay tuned to the LINE website to hear more from the Becker bros and to see more videos that will blow your mind. I'd also just like to say for the record the Anthems and Elizabeths are the most fun, durable, and nicest skis you can buy. I had the best time of my life on them this summer. They're sooo sick! I'd highly encourage getting a pair….. NO JOKE!
ONE…
Watch the Video!