"I've said it before and I'll say it again... Argentina is a little secret in this world and is the final frontier. I decided to have knee surgery last October instead of during the summer so I could come to SASS - pretty much sacrificing my own winter here in the US. I can't freaking wait to ski again and I know I won't be at 100% till next year but this summer down at SGT will be the start of a new beginning... Hiking, touring, guiding/coaching, building jumps, and everything else included that I'll get to do with the NS'ers who make it down this summer – so pumped!" - Garrett Russell
SASS Global Travel, the new adventure travel outfit started by members of the former South America Snow Sessions staff, returns to Bariloche, Argentina this summer for SGT Argentina. The 7th season of the industry's biggest backcountry freeride operation starts July 23rd with a big move to new slopeside lodging only 200 yards from the chairlifts at Catedral Alta Patagonia resort. Ski coach Garrett Russell returns from knee surgery to bring his unique brand of nose-buttering backcountry shredding to his second home of Argentina, along with fellow ski coach Michelle Parker and Silverton Mountain guides Skylar Holgate, "Sneaky" Pete Connolly, Brian "Angel 1" Angelone, and Program Director Lucas "El Mas Blanco" Moore. For those looking to gain experience and education in the backcountry, get coaching from an amazing crew on skiing bigger, steeper lines, and have an amazing educational and cultural experience, look no further this summer.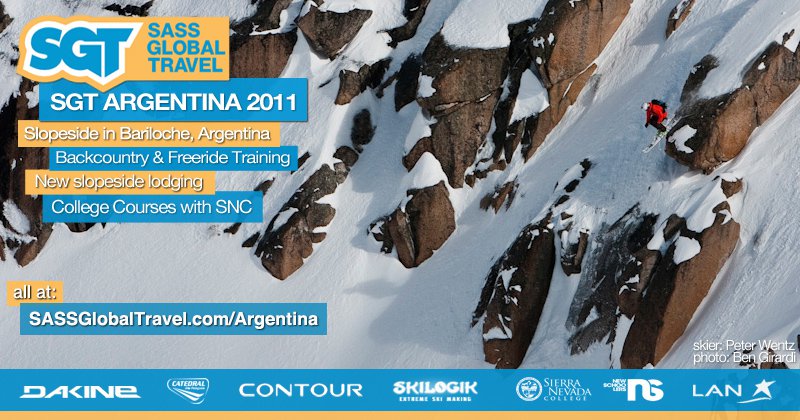 The Backcountry Experience
If last year's videos of the skiers at SASS shredding pow and dropping cliffs didn't get the point across, SGT Argentina is not a glacier camp. It's winter. It's cold. There's a park, but if it's snowing, you'll probably never see it. It dumps snow, sometimes ten feet in a week. All riders are out every single day (lifts run from 9am - 4:30 pm) with avalanche beacons, shovels, and probes hiking off the lifts to lines, building backcountry booters, sending cliffs, shredding trees, or going on multi-day backcountry tours. Counting some of the industry's most experienced backcountry riders as coaches and guides, SGT Argentina is a tremendous opportunity to gain invaluable experience and education in the backcountry as more and more riders look to shred beyond the ropes. If you want to train to be part of the Nimbus crew or try to earn a spot on the Freeskiing World Tour next season, get on the slay train with the SASS Global Travel crew this summer.
 
SGT Argentina 2010 Ski Podcast
College Courses
SGT Argentina is in its third season of offering the College Program with Sierra Nevada College, where any student of any school 16 and older can earn credits in Spanish, snow sports photography and videography, ski business management, and even get their AIARE Level 1 avalanche safety certification. The courses are also available for students who want to take the courses not for credit. SASS Global Travel also offers a variety of internships directly with the company in areas like media and marketing, ski business operations, and photography and filming. Contact info@sassglobaltravel.com for more information about the internship program or hit up sassglobaltravel.com/argentina/sass-college for more info on the College Program.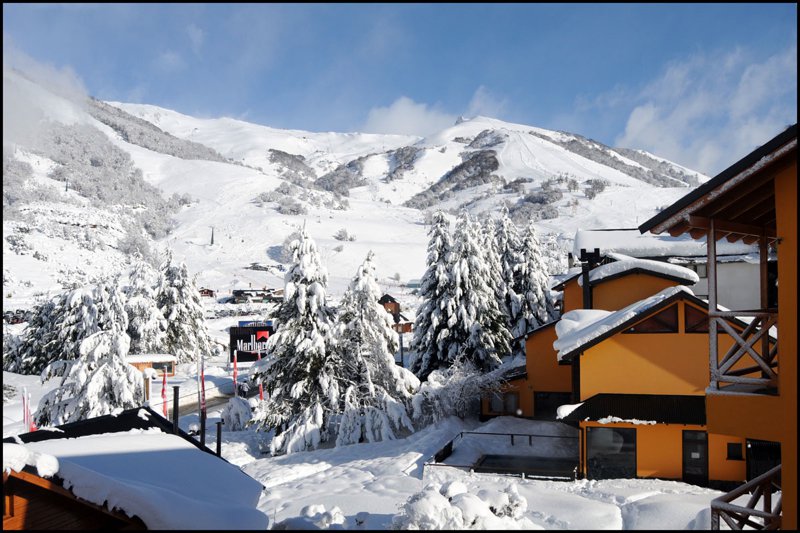 New Lodging for 2011
The biggest news for the program this year is the move to swank slopeside lodging right at the base of Catedral Alta Patagonia, putting riders only 200 yards from the chairlifts with views of the mountains, dedicated classroom space, and their own indoor/outdoor pool for relaxing after shredding pow all day on the hill. This means only a quick walk separates you from your first run in the morning, with a mandatory pit stop at the best snack bar/restaurant in South America, Tage, for café con leche and a jamon y queso con huevos sandwich. Every week riders will also be treated to a full Argentina asado barbeque, with an open food fire grilling up some of the best organic free-range beef you will ever sink your teeth into.
The Cultural Experience
Argentina is a place of beauty, from their dialect of Spanish known as castellano to the gorgeous lakes region around Bariloche. Your SGT Argentina trip will offer experiences like no other with amazing food, wine, and nightlife (for those 18 and over), mate tea breaks, tranquilo lifestyle, the enormous, largely unmanaged terrain at the resort, and the hoards of Argentina and Brazilian tourists waddling around the base in matching neon one-pieces throwing snowballs for the first time. The SGT trip is like none you've ever been on; traveling expands your horizons and opens your mind, and is part of what makes the trip with SASS Global Travel so rewarding.
Session Details
SGT Argentina runs from July 23rd - September 3rd, with college courses offered during the first four sessions and the last two weeks dedicated to adults as well as the Roxy Women's Session.  
Starting at $1995/week, riders will get:
-7 nights of slopeside lodging
-Breakfast, dinner, and post-shred snacks daily
-6 days of shredding, lift tickets, guiding, and coaching
-A backcountry awareness clinic
-An Argentina asado barbeque
-Airport transfers within Bariloche included.  
Discounted airfare from LAN Airlines is also available through SGT, so be sure to ask for quotes.  With Sessions 1 and 2 getting close to selling out, it's time to plan your dream summer trip this August. Hit up sassglobaltravel.com/argentina for a skiing, education, and cultural experience that will change your skiing, and maybe even your life!
 
SGT Argentina 2011 Teaser