Colorado is one of only four states throughout the country to offer a skiing themed license plate. Adorned with the phrase "Ski Country U.S.A," the plates portray an image of two skiers making turns in the state's high country. While they can be seen all throughout Denver, the city is mostly thought of as a jumping-off point for snow sports enthusiasts.
Although world-class skiing and snowboarding lies less than 100 miles from Downtown Denver, there are barriers that prevent residents from partaking in these winter sports. Amongst Front Rangers, the two most commonly cited are cost and travel.
As we all know, skiing is not cheap. Between equipment prices, a lift ticket or season pass, gas, and food, a day on the slopes can easily cost a few hundred dollars for an individual. While there are certainly ways to diminish that figure, I-70's rage inducing traffic patterns are enough to prevent people from venturing into the mountain corridor.
Enter the Ruby Hill Rail Yard, Denver's own urban terrain park. Since 2007, Denver Parks and Recreation has partnered with Winter Park Resort to offer the public a free-to-use terrain park within the city limits. The city provides the space, the mountain provides the rails and design, and volunteers make snow on an acre of land at Ruby Hill and build the park.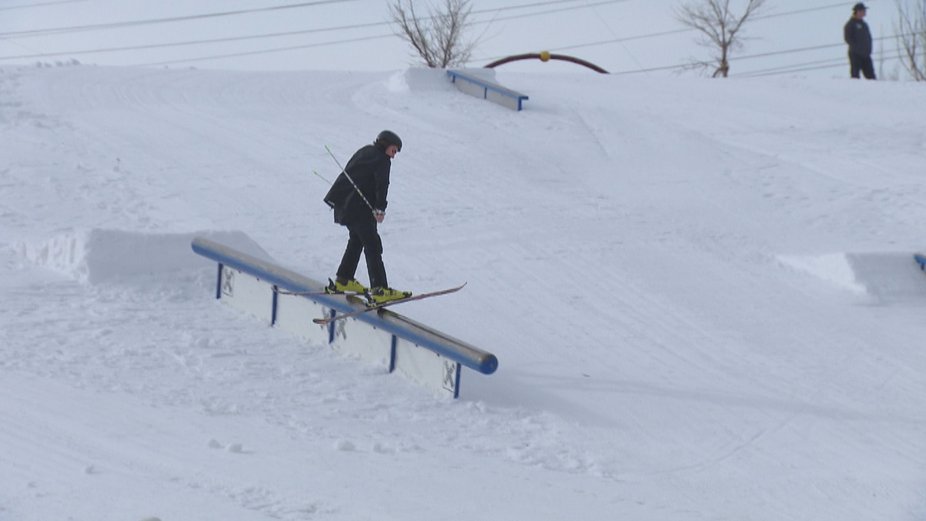 Free down tubes are the best down tubes
After a few sessions at the rail yard, I am thoroughly impressed with Denver's commitment to bringing snowsports closer to the city. The park is open daily, and lights allow you to shred until 9pm. The build quality is extremely high, and is reminiscent of a Midwest terrain park. The only caveat being that you have to hike (which is good for the soul).
Furthermore, there is a strong communal vibe on the hill. I've personally witnessed everything from kids hitting a box for the first time, to some super tech rail tricks from seasoned skiers and snowboarders, to a middle-aged man breaking out his Sled Dogs. It is a very encouraging atmosphere, and enjoyable for anyone that wants to slide down a hill, regardless of skill level.
The blueprint that Denver layed out with the Ruby Hill Rail Yard has had an effect on the snowsports industry as a whole. In collaboration with Silverthorne-based Olympic Gold Medalist Red Gerard, Copper Mountain recently opened "Red's Backyard," a free to use hike-to terrain park located within the mountain's Center Village.
Copper Mountain's parent company Powdr Corp. has also announced plans to construct two additional "Red's Backyard" facilities in Park City, Utah and Killington, Vermont. In an age where a walk-up lift ticket can exceed $200, there is no question that a mountain providing a cost-free alternative is a step towards making snowsports accessible to a broader segment of the population.
However, what separates Ruby Hill Rail Yard from the aforementioned efforts is its accessibility and equity. It was the country's first, and currently the only terrain park located within a major metropolitan area. While it may not be the high alpine terrain that people are accustomed to when discussing skiing in Colorado, it is great to see all kinds of people outside, having fun during the winter months. The park itself serves to knock down many of the barriers that prevent the underprivileged from enjoying a day on the slopes.
In January, rail skiing witnessed a watershed moment when Tom Wallisch hosted the "Steel City Showdown" at Seven Springs Mountain Resort in Somerset County, Pennsylvania. The final round of the event consisted of a field of contestants that ranged from a 16 year-old Jackson Karsteter from Greendale, Indiana, to this year's X-Games Slopestyle Gold Medalist, Colby Stevenson.
Steel City Showdown Recap
https://www.newschoolers.com/videos/watch/955548/Seven-Springs---Steel-City-Showdown
Visually, the Steel City Showdown did not differ much from what the average day at Ruby Hill might look like. Competitors hiked up, and skied down a park build that consisted of a few rails set up across a small slope. While commentating the event, which occurred despite balmy temperatures and consistent rain, Wallisch put it best: "It doesn't really matter what the weather is for rail skiing, it really only matters that you have some snow, you have some rail, and you can start hiking. It's a testament to what rail skiing is within the sport."
While other disciplines of skiing require a lot more equipment, training, and money to enjoy, rail skiing is far more accessible to those that are traditionally barred from enjoying the sport as a whole. Wallisch's event showed that anyone with access to a slope, some snow, and metal to slide down can become a talented skier or snowboarder.
I believe facilities like the Ruby Hill Rail Yard have a bright future within the snowsports industry, and can contribute in providing a solution to the ever-rising cost of getting out on the hill. Furthermore, the city of Denver has created a model that other communities should adopt and run with.
It is great to see resorts like Copper, Killington, and Park City utilizing the idea for their own businesses. Providing a free-to-use facility is commendable, especially when the alternative is a $100+ day ticket. However, I believe applying the Ruby Hill model to communities that are traditionally detached from skiing is the best option. It would be beneficial for both the communities, as well as the ski industry. First and foremost, it would provide these communities with a new space for outdoor recreation. In many areas, it is difficult to get outside during the winter months. These facilities can contribute to fixing this problem, and provide citizens with an opportunity to take up a new hobby.
Secondly, it would serve to further develop the sport, and bring in new participants to an industry that is in decline. Skier visits declined by 11 percent last season, and the number of active skiers fell from 11 million to 8 million between 2018 and 2019. Clearly, the upfront cost associated with going to a resort is not motivating people to take up, or continue to ski. Facilities like Ruby Hill have the potential to bring skiing to a new audience at a much lower cost.