Richard Permin is the new wildcard for the Nissan Freeride de Chamonix-Mont-Blanc!
Richard Permin dropped into his first two stages of the FWT10 and blew people away with his fresh and freestyley approach to steep lines. After hearing his name buzzing around the interwebs in relation to a contract with a major filmer we thought we ought to give him a call to find out what?s up.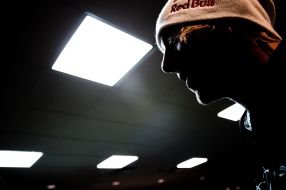 FWT: We heard that Matchstick signed you to a three-year deal. ?Zat true?
Permin: Last winter I started filming with the crew in Tulsequah [heliskiing] with Kaj [Zakrisson], Sverre [Liliequist] and Phil [Meier]. It went well and they invited me back to do a park shoot. I have a couple of good shots in their movie and it looks like they are happy too. So hopefully I?ll be sticking around for awhile but I haven?t signed anything with MSP.
FWT: How do you describe your riding style?
Permin: Maybe two words: new school!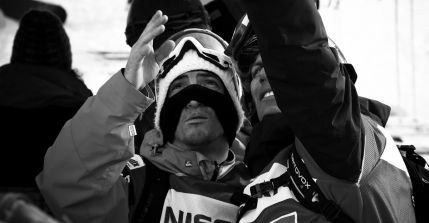 FWT: You're getting compared to Candide Thovex a lot lately. What do you think are the similarities and differences?
Permin: Candide is a legend and we both come from freestyle backgrounds. But Candide is an icon in the ski industry and I have tons of respect for him. I'm just trying to follow my own career path and continue to progress in my own way!
Candide and Rich' discussing lines
FWT: How will you be approaching the FWT11?
Permin: I?ve learned a lot and progressed a lot since I began competing on the FWT. This year I?m going to be more relaxed because it?s not my main objective and I?ll also benefit from my past experience on it! But definitely, I?m stoked to be invited to the Chamonix event and for sure I will try to incorporate some freestyle into my line.
FWT: What videos can we see you in this year?
Permin: I'm in the new Matchstick film, The Way I See It, and the new PVS film, Punch Line. They are both different and both are really good.
FWT: What's next for you?
Permin: This season I really want to focus on my MSP shoots, four web episodes and also a trip with Xavier de Le Rue. And I also want to say a big thanks to the FWT crew.