The terrain park at Revelstoke Mountain Resort lies about a third of the way up the Stoke chair. Every stomp and bail and Jerry yardsale is right there in the public eye. So while your average visitor to the hill is looking for steep turns, not double kinks, they can't help but check out the Revy Parks domain.
It's the topic of much chairlift small talk, and if the weekend warriors (and locals alike) have anything to say about the Revy Parks crew, it's that you've got to respect their dedication. They rake and shovel on sunny days when the left and right curves get carved into the takeoffs of their jumps, and the lips onto their rail features get trenched out. They rake and shovel when it snows eight centimetres overnight, and they do the same when it snows 20 in an afternoon. No days off, no slacking. Seems crazy, but they're dedicated to the craft.
https://www.newschoolers.com/videos/watch/816140/Green-Eggs-and-Ham
Their green Arc'Teryx outerwear (park or not, it's still Revy) sticks out from a ways away. Fluorescent jackets weaving from feature to feature like clockwork. Planks off, head down, shaping. If you holler they'll wave back then say what up next time through the gate. Quick props for good looks in the park: front flips, pole plant takeoffs, new stuff on rails.
Through the first three months of the season, the Revy Parks crew has tweaked and dialed their set up: a Large and XL rail line on skier's left; midsize rails and boxes down the middle; a three-jump line skier's right. Two or three times, they've pushed the knuckles up on the jumps, and they built a hip feature at the top of the park. Mostly though, the features have stayed the same. That is, until now.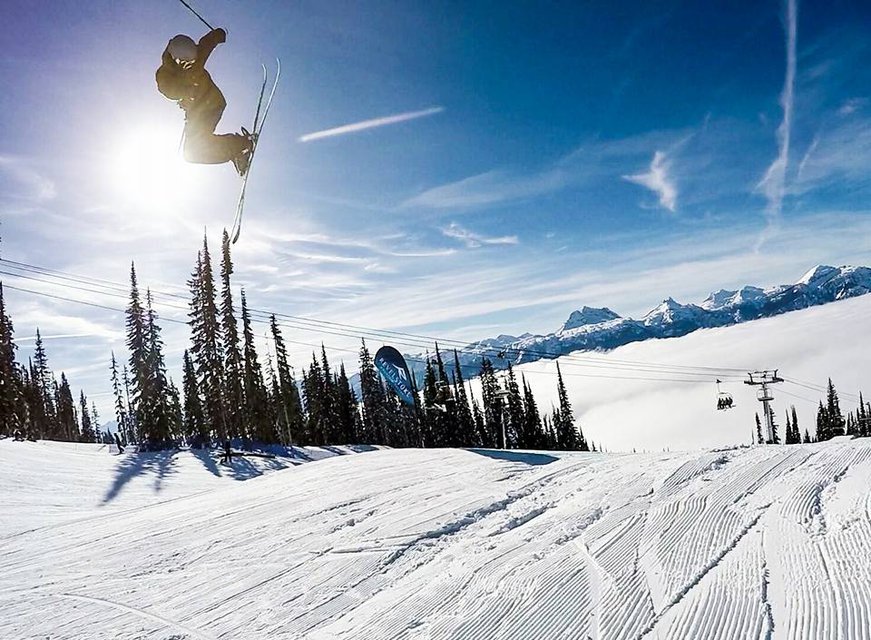 Kevin Frank | Blake John Travers photo
The past two days, the boys in the park have wiped the slate clean. Three snowcats, winching and snarling diesel, were hard at work flattening and reshaping. There's a fourth jump in the works, and the outlines of some interesting new features. This observer is hoping for some funky flavour, so we'll see about that. One thing is for sure: when the rebuild is done, those green jackets will be out from open til close, taking care of the place. You should come down and check it out. In the meantime, we called on Pat Monteith and Matt Zeleny to get their take on the season thus far.
Newschoolers: With the inaugural season for Revy Parks past the halfway mark, how does it feel?
Pat Monteith: Like every season, it's passed in the blink of an eye. This one more than others as what we've been striving to achieve with this park, has been steadily encompassed in torrential snowfalls. Seeing a project like this develop and grow has been a great feeling, and i can only see it getting better as spring days (maybe) and builds (for sure) are on the horizon.
Matt Zeleny: Its an honor to have the opportunity to offer something new for RMR and to continue developing a park scene here in the Kootanys is very rewarding. It feels like the beginning of great things to come!
NS: Funniest thing you've witnessed in the park this year?
PM: An ambitious gentlemen who decided to half commit a backflip and ended 10 feet short of the knuckle, followed by his naked friend casually riding past 10 seconds later.
MZ: Haha it might jeopardize someones job if I told you ! Other than that just joeys on the reg. The knuckle sandwich is our daily lunch special, served with extra zeach sauce. Dad cam from miles away is a classic but big air Daves always take the cake!
Ben Wannamaker | Stuart Medford photo
NS: What kind of response have you gotten from the people in Revy with respect to the park?
PM: 97% has been super positive. Even the older generation who have no interest in it what so ever have come around and given us props, as at the least, it's been entertainment for them watching people huck and hope under the lift. But, as any park builder knows, you can't please everyone, and I'm sure there's still quite a few people in this backcountry based town who are confused with what we're doing.
MZ: For the most part we've received nothing but positive feedback ! Shout outs from the chair, local park rats chillin daily and mini rippers progressing. Sure you get the odd local that feels we sacrificed the best run to do 'nice turns' on, but they just like taking the piss out of the new comers haha. Everyone else has been patiently waiting for a decent terrain Park for years, and we haven't dissapointed. Ps. We still get people come through just to showcase their carves.
https://www.newschoolers.com/videos/watch/817343/Park-on-a-Pow-Day
NS: Ben's been pushing the #revyparks movement. Is it catching on?
PM: Slowly but surely, everyones hunting for hashtags right?
MZ: Yea it started with just us (park crew) tagging #revyparks in all our insta pics because we haven't a name or sponsorship yet. It didn't take long before our friends got involved and now more people are starting to recognize the tag... with no official media outlet it's great to have everyone share their experience with us and the rest of the world !
NS: What's next?
PM: Steady improvement. As this first year goes by we learn what works, and what doesnt, (especially when dealing with 27ft+ of snowfall) so we will strive for a bigger and better park, events, and to add to the ultimate ski resort experience... why would you go anywhere else but here0
MZ: With the overhaul currently happening we're aiming for more snow features like hips, spines, butter box and a whale tail (fingers crossed) and a consistent rail line. Next year I'd like to build wooden features in the skiers right glades and have more creative park features with tubby tube combos, Toblerone, and possibly refurbished street objects such as corrugated pipes and highway dividers. The more the better!