One of the more ingenious products I've come across lately is the Tripad. It's purpose is simple, support a computer on a tripod to make shooting tethered as easy as possible. Shooting tethered is an incredibly useful means of using your computer to control your dSLR camera. It enables you to preview images before they're taken on your computer (think large screen live preview) and to remotely control exposure settings. Shooting tethered is especially useful when shooting in a studio setting.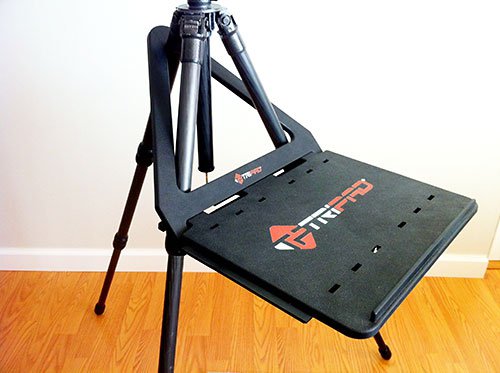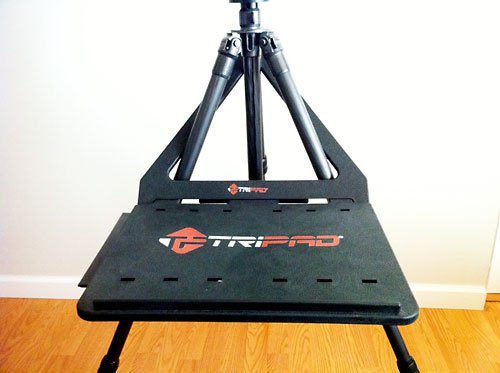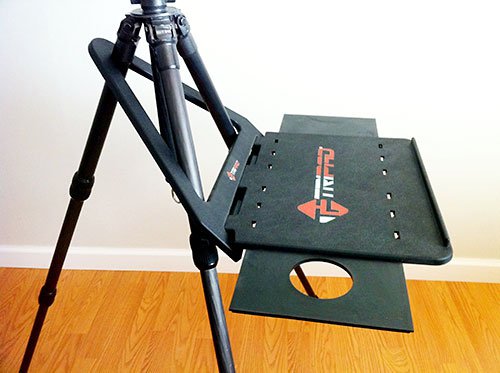 The Tripad is composed of two heavy duty incredibly strong pieces of plastic that snap together. The total weight of the Tripad is 3.5 pounds. When assembled, which takes seconds, the Tripad slips over the top of a tripod to rest on each leg. This provides a very stable platform as long as your tripod is properly set. Even with out a camera on the tripod the Tripad was very stable supporting my 5.5 pound MacBook Pro 17″ laptop with ease. The Tripad could easily support more and as shown on the Tripad blog it can support as much as 50 pounds!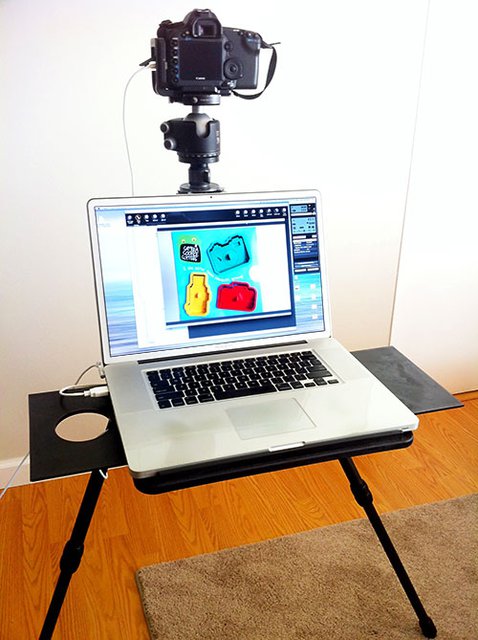 One of the more convenient aspects of the Tripad is that it has two platforms that can extend from the left and right of the base. One has a cut out to hold a cup, but if you're not keen to having your morning coffee next to your computer as you're work you can use it as a planter holder. By and large the side platforms are handy to give you a little extra flexibility whether you want to hold an external hard drive or use an external mouse. While I haven't used them extensively I do like that they're there in case I need them for something critical.
My recent webinar series on Star Trail photography was a perfect time to use the Tripad coming in handy with the video camera setup. The stability provided was invaluable especially when it came to providing a stable platform to keep multiple cords plugged into my laptop. The entire setup was perfect to minimize if not remove the risk of cords or connectors coming lose. Not having to worry about connectors working loose provided much needed peace of mind.
If you're in the market for a nimble solution to work with a tethered camera setup I highly recommend the Tripad. Priced at around the $90 (US) its a solution well worth investing in.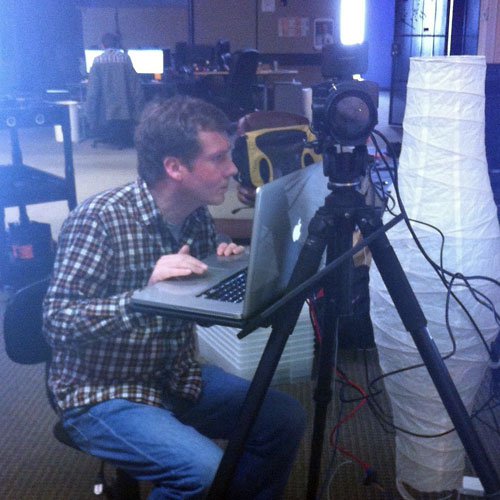 Tripad being used during the filming of my Mastering Star Trail Photography video course, providing much needed stability for our camera setup. Hat tip to Martin Taylor (pictured) for his creative assistance.
Post originally from: Digital Photography Tips.
Check out our more Photography Tips at Photography Tips for Beginners, Portrait Photography Tips and Wedding Photography Tips.
Review: Tripad