For Christmas this year, I received socks and underwear.  And I LOVE them.  My favourite of all would definitely have to be my Icebreaker ski socks.  Merino wool is an amazing material, and Icebreaker is doing it right!  One thing I like about Icebreaker is the "Baaa" code that comes on all of their products.  You can type this code in on their website to find out what farm the sheep that grew the wool for your Icebreaker product came from.
Because I ski everyday, I go through a lot of ski socks and I know what works best for me - Icebreaker Midweight ski socks!  I can wear these rig units skiing, hiking, adventuring multiple days in a row without them smelling.  They're miracle socks and I reccomend them to everyone.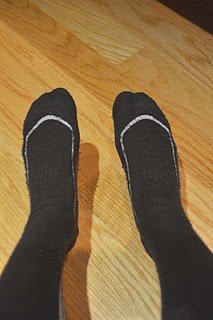 PS - I'm in no way affiliated with Icebreaker, but I would love to be.