Words & photos by Kyle Meyr
I was going to begin this article by saying that we woke up to just another day in Narvik, but I re-thought that opening line and realized how warped my idea of an ordinary day had become up here. Under the assumption that the day after what was the most impressive demonstration of skiing I've ever seen would be "just another day", I lugged myself out of bed at the moment I heard that familiar wake up call of Eivind pounding on doors. It wasn't a particularly early morning, but after the beating these guys put themselves through up here, it was a tough one nonetheless and we were all feeling it. Trudging to the kitchen to make some breakfast, something peeking in from outside the window jolted us awake in a way Eivind only wishes he could manage. It was the sun, standing alone without its white and fluffy companions. That was when I realized that the day was going to be far from ordinary.
And so it was. The riders were definitely struggling to gather their equipment, but something amazing happens when they finally find the strength to gear up. It seems that just as a superhero awakes when he slips into his tights and cape, so do these skiers when they slip into baggy coats and ski pants. The promise of beautiful weather, a perfect jump and this setting beautiful enough to make Chuck Norris shed a tear had everyone ready and raring to get the first hits of the day going. Trick after trick, the riders were putting in a great day's work and earning every cent they're paid and more. As the day went on, they only grew more confident in the jump and this assimilation only made the sunset shoot that much more spectacular. Every rider was stomping tricks from big spins that blur the line between technicality and style to slow spins with style unmatched by any I've ever seen before. Each of these riders has an incredibly unique style and being able to see them all ride together has been such an amazing experience, but soon it was going to end.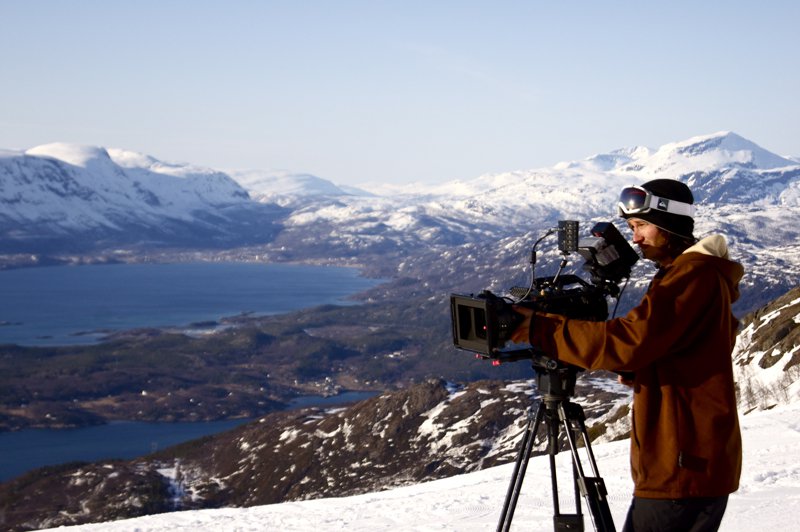 Matt from Process Films.
The next (and final) day of riding went much the same as the previous. Everyone was beat from a week of early mornings and late nights so things were slow to get going, but eventually the sun and scenery gave everyone a much-needed boost of energy. With this fatigue of the past week of riding looming over the riders, tricks were kept to slower spins but there was no lack of perfection and style. With Eivind standing nearby with the RED camera in hand, everyone was keen to impress, which tired out my jaw from having to pick itself off the ground constantly. Eventually, the sun began its descent into its brief moment of hiding behind the jagged skyline and the riders turned on the afterburners for another amazing sunset shoot. With the perfect light that Narvik had been blessed with during the latter half of the trip working its hardest to keep us satisfied, the setting was looking as beautiful as ever. Riders were landing trick after trick, redefining perfection, in a race against the sun. With smiles on everyone's faces, we headed back down the mountain for the last time.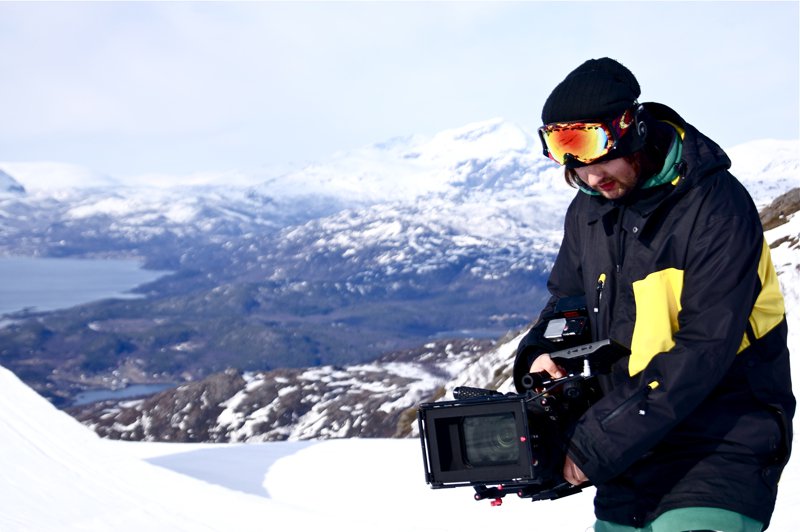 Chaoz Productions' Eivind Aurstad wields the RED camera...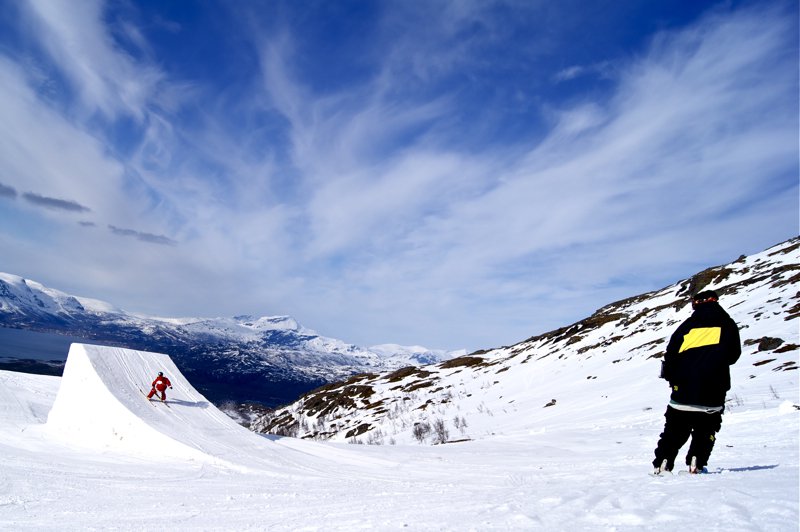 ...and uses it to get some amazing shots.
It was a bittersweet moment leaving the town we had called home for the past week, but everyone was excited to head home and finally get a decent shower and a good night's sleep. After high fives and farewells at the airport, we parted ways until next time.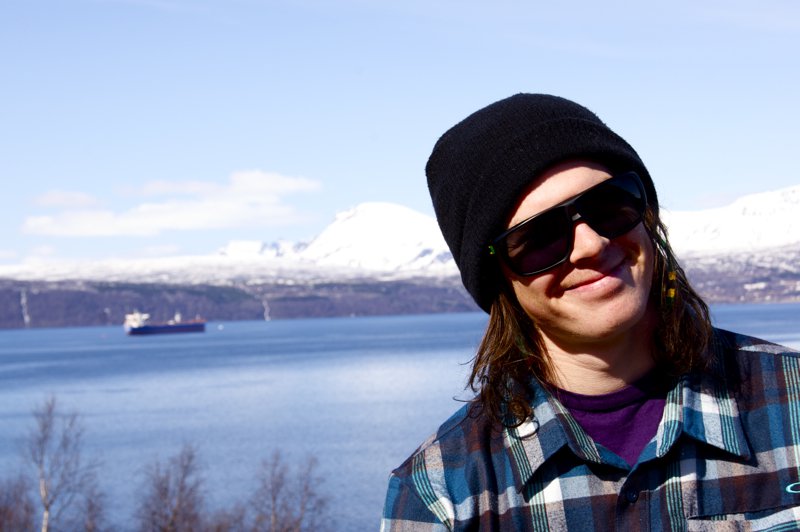 Kim Boberg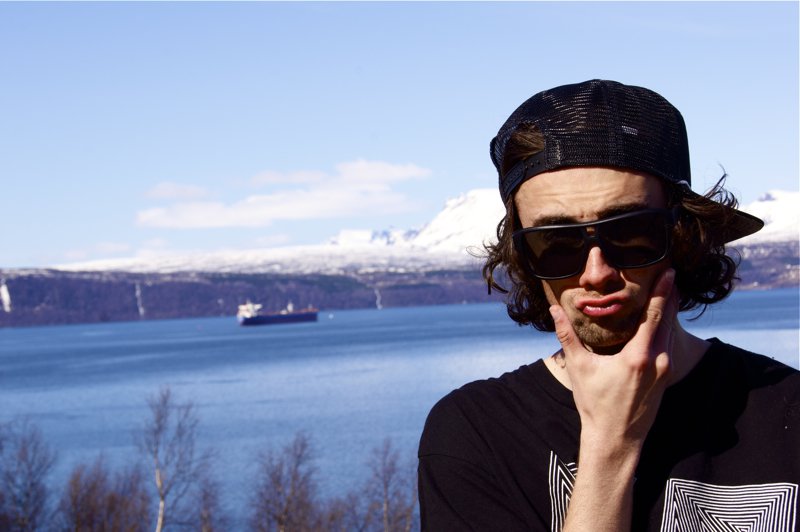 Lasse Nyhaugen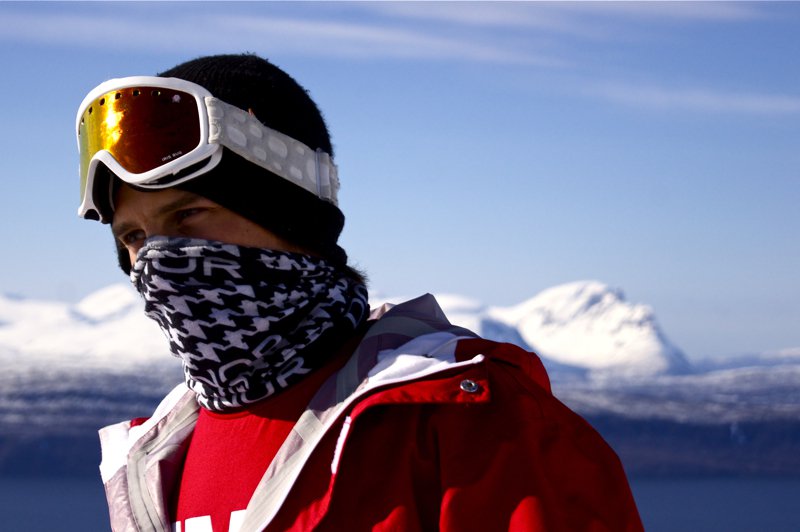 Gaute Silseth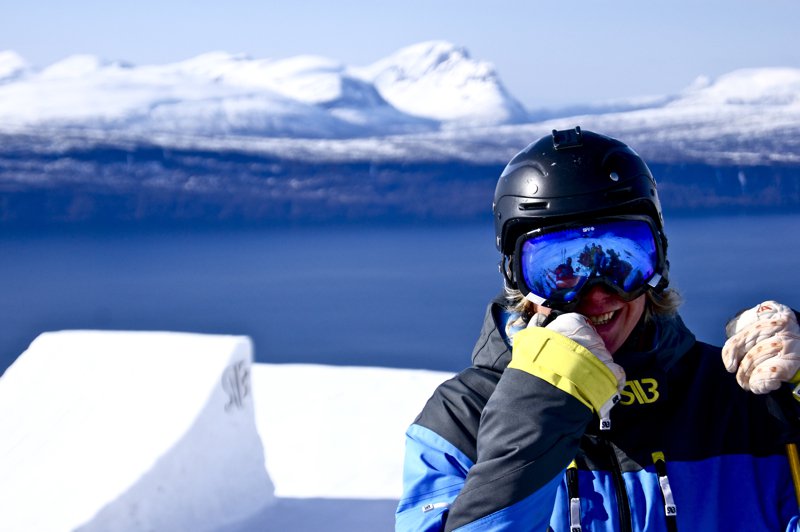 Thomas Dølplads
However, the most significant moment of the trip for me was yet to come. It wasn't on the mountain while watching the amazing level of athleticism Chaoz Productions exudes, nor was it at the cabin during the nights after that I had my revelation. It was while I was laying face down on a tray table in front of me trying to sleep away the airplane ride home that I realized the baton had officially been passed in the ski industry. Way back when the backs of skis were first being bent upwards there was a short list of recognizable names of riders who progressed the sport with every extra 180, second of hang time or grab thrown into competition runs and videos. This was a time when progression was the name of the game and the newest tricks gave the riders their names. Having skied since these times, I've been privileged to see them change and it wasn't until that moment on the airplane that I had been able to define that change.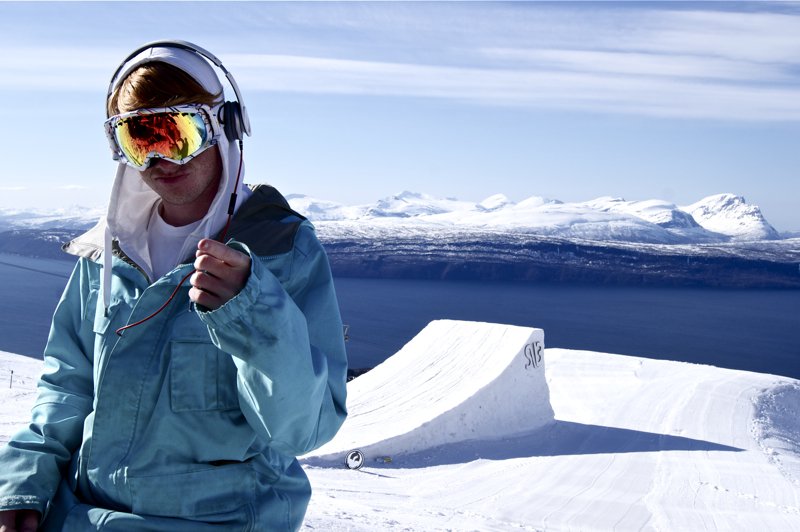 Gaute grabbed my camera and used me to get a shot of his own in the article. Photo: Gaute Silseth
Skiing has evolved into more than just the latest bangers and names on the covers of movies, it has become an outlet for which to exude our personalities and enjoy those of other skiers. It has gone from the newest tricks defining the riders to the riders defining the newest tricks so gradually that I didn't even notice until that moment on the plane. I am in no way claiming that style never was a factor back in the day, but it is more of a driving force behind our sport now than ever. We keep up with our favorite riders these days for more reasons than just the amount of spins they can complete between the lip of the jump and the knuckle of the landing or types of rails they can slide backwards or forwards. These days, our sport is driven by a blend of personality and ability. Never have I seen a more impressive example of that than Chaoz Productions.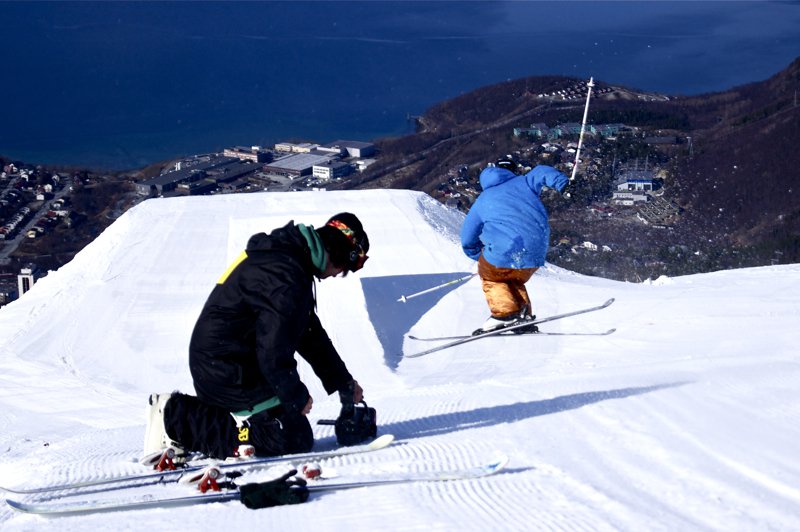 Eivind scoring in-run shots of Lasse...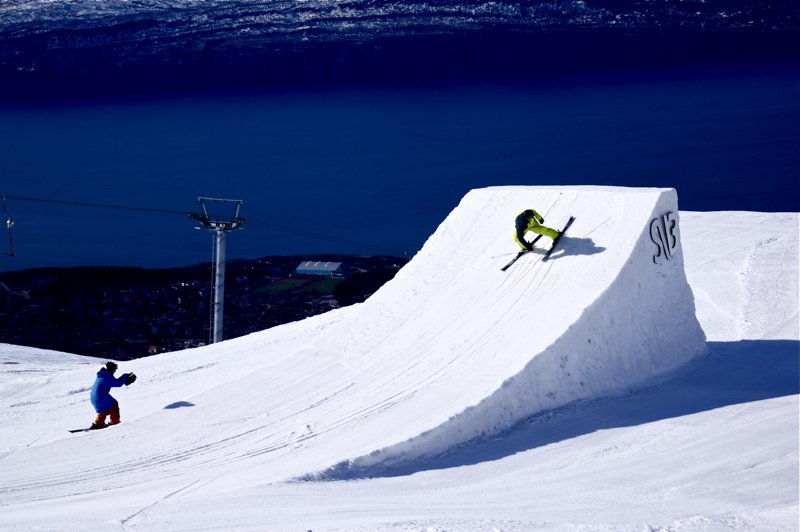 ...while Kim Boberg gives follow cams a try.
These are the skiers who wake up at 8 o'clock in the morning and ski until sunset (10 o'clock at night in the case of this Narvik trip), then do it all over again the next day with unmatched enthusiasm. Their personalities drive their style and we admire them for this individuality. Each rider evinces a little bit of themselves through their tricks, which is why we can't help but relate to those skiers we admire the most. Chaoz Productions hosts the range of variants and spares none. However, the riders are just the beginning. Armed with a camera, Eivind Aurstad deserves an immense amount of appreciation for being the glue that brings the whole production together.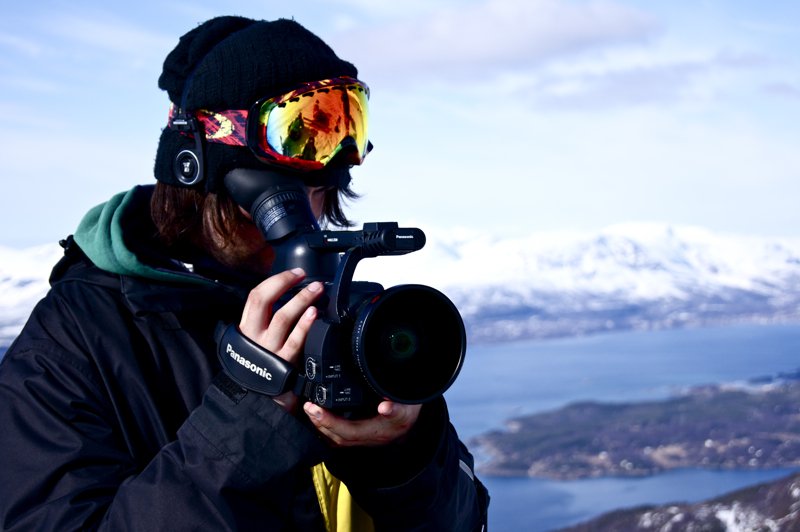 Eivind Aurstad
With such an incredible combination of talents, Chaoz Productions is not only an amazing production company; they are one of the frontrunners of this revelation in the ski industry. The older guys may have birthed the sport of freeskiing, but it's people like Chaoz Productions who are evolving it from just a list of tricks to a lifestyle that emanates through this passion we all share.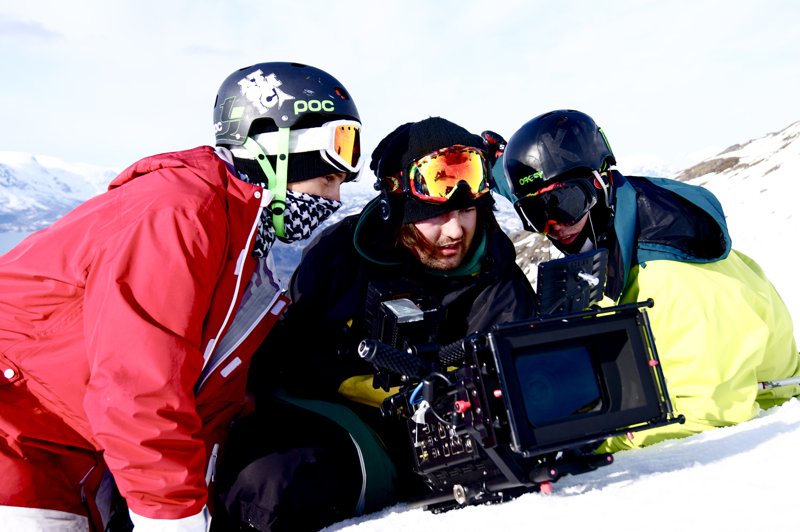 Gaute, Eivind and Kim review some shots on the RED camera.
I've said it before and I'll say it again, Chaoz Productions is a growing force in the ski industry, but it would be a shame to merely take my word for it. Check them out for yourself at http://www.chaozproductions.com and keep an eye out for their newest movie, which will be released this Fall.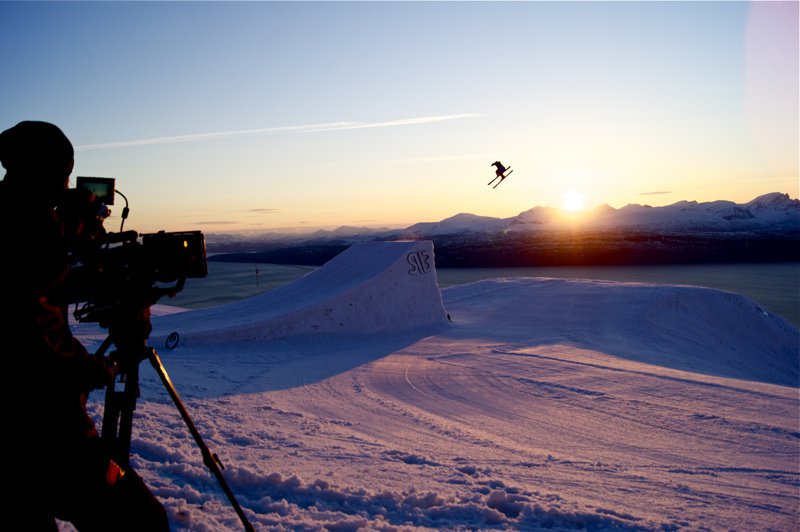 A HUGE thanks to Process Films and SB Sportswear (http://www.sbsportswear.no) for making this trip possible!