The Relentless Freeze Festival brought a little taste of
winter to the UK skiers last weekend. While the rest of the world is getting
scattered snow flurries, London was faking it by resurrecting, for the fifth
year running, the scaffolding and importing the world's best skiers to dazzle
English crowds with a taste of what could be. Hundreds came to watch, dozens to
help and a handful to impress. Freeze was on.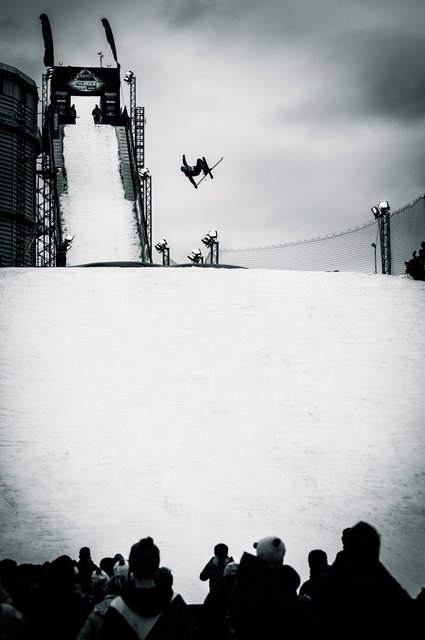 Paddy Graham takes first in the Battle of Britain
Rain, wind, heavy clouds, and gratuitous amounts of alcohol,
London was ready. The riders? Not so much… Concerns about the jump overshadowed
the tricks to come and nerves set it. When asked before the competition, Henrik
Harlaut was quick to dismiss rumors of his recently defining trick, the nose butter
double cork, but ended the quick interview with a reminder and foreshadowing of
the bravado to come. He simply reassured me that the flat lip, short landing
and high winds stand no chance against the momentum of the riders' ability once
things get heated. Oh, and how right he was…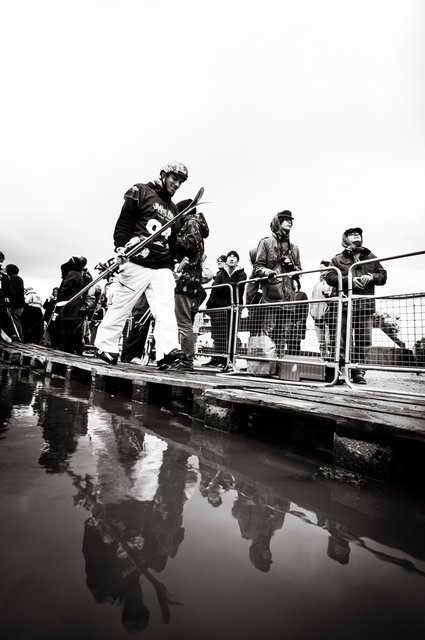 Rain welcomes the riders to London
The semi-finals saw head-to-head battles between the greats
of the ski industry that I couldn't have dreamt of. Henrik's predictions came
true as his first offering to the crowd was a massive nose butter double cork
10 trumping Elias Ambuehl only to be bettered by his own nose butter double
cork 12 in the next round. Vincent Gagnier threw down arguably the craziest
trick of the night, a double cork 12 with a double genie grab to knock out
Jossi Wells and secure himself a spot in the finals.
In all, the semi-finals went like
this:
Henrik beats Elias with a nose butter double cork 12
Vincent beats Jossi with a double cork 12 double genie grab
Gus beats McRae with a double rodeo 9 japan
Mikkel beats Bene with a double cork 10 mute
Kai beats Paddy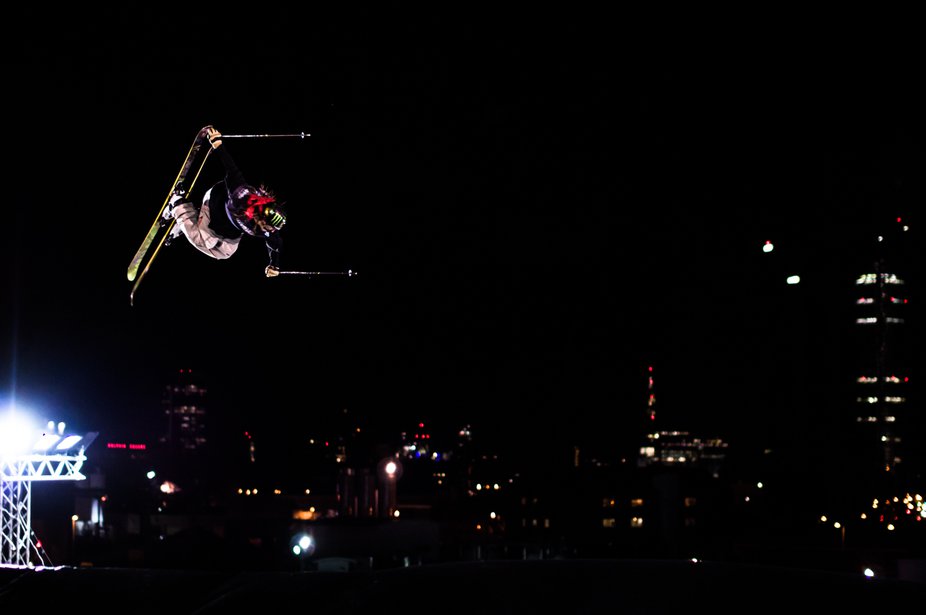 Henrik boosts over the London skyline
So the scene was set for the finals. Vincent Gagnier would
drop in first followed by Henrik Harlaut, Mikkel Jøraandstad, Kai Mahler and
Gus Kenworthy. Each would get three runs but only two counted. One would be
judged by style and the other technical. The stage was set and the finals went
like this:
1st Henrik Harlaut Jump
1: Cork 9 tail (fall)
Jump 2: Nose
butter double cork 10
Jump 3: Cork
9 tail
Score: 179.00
2nd Gus Kenworthy Jump
1: Switch cork 5 genie grab
Jump
2: Switch double 9 japan
Jump
3: Switch double 10 tail
Score: 175.00
3rd Kai Mahler Jump
1: Rodeo 5 (fall)
Jump
2: Double 10 mute
Jump
3: Switch cork 5 genie grab
Score: 148.00
4th Mikkel Jøraandstad Jump
1: Cork 5 tail
Jump
2: Double 10 mute
Jump
3: Double 10 double mute
Score: 136.00
5th Vincent Gagnier Jump
1: Rodeo 5 genie grab
Jump
2: Rodeo 9 double genie grab (fall)
Jump
3: 12 double genie grab (fall)
Score: 115.00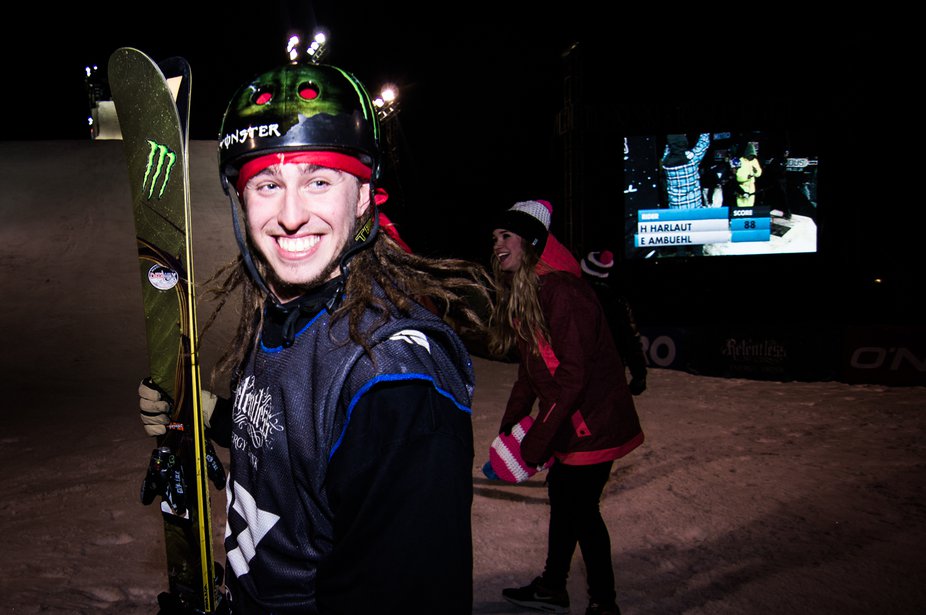 Henrik puts down an 88 on his style hit
Henrik's nose butter doubles remain unbeatable and left him
5,000 Pounds richer. Satisfied and exhausted, the riders and crowd left the
ramp to party the night away to DJ Shadow and Grandmaster Flash, but there was
more to come in the style competition the next day.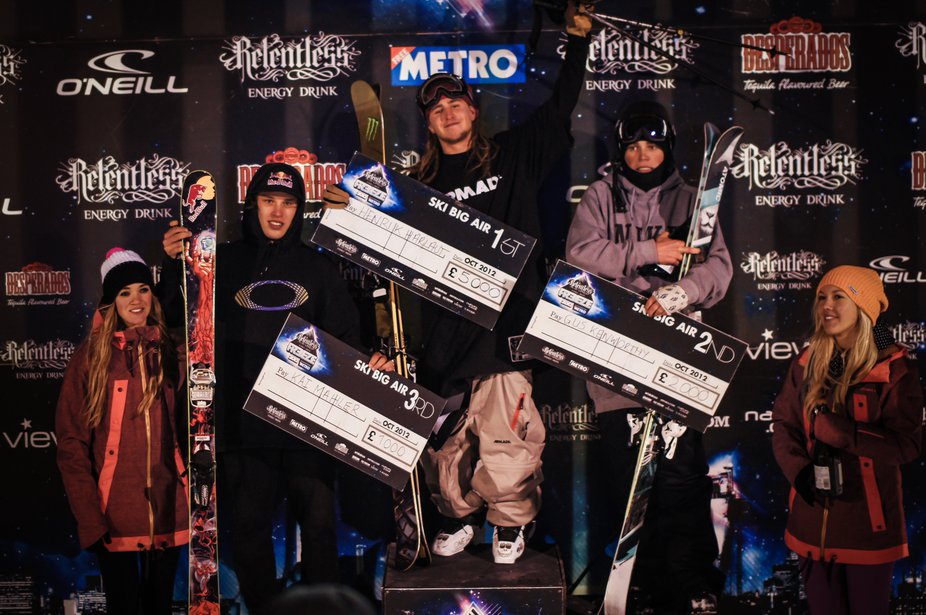 Henrik takes first, Gus second and Kai third. Gus... Haha
This was Gus's redemption. With a flawless switch cork 5
genie grab, Gus Kenworthy trumped Henrik Harlaut and McRae Williams to walk
away with a… surfboard.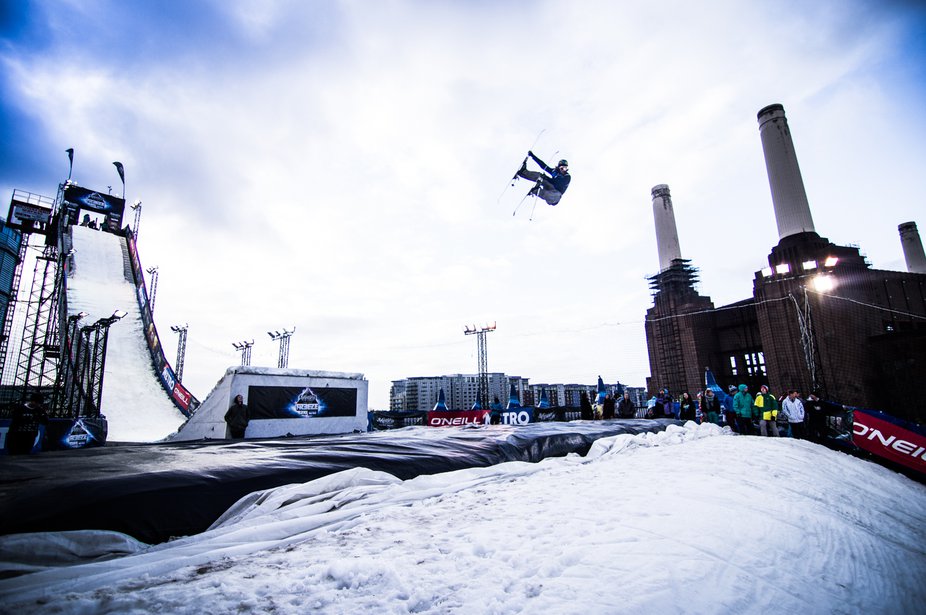 McRae styles out a trucker 5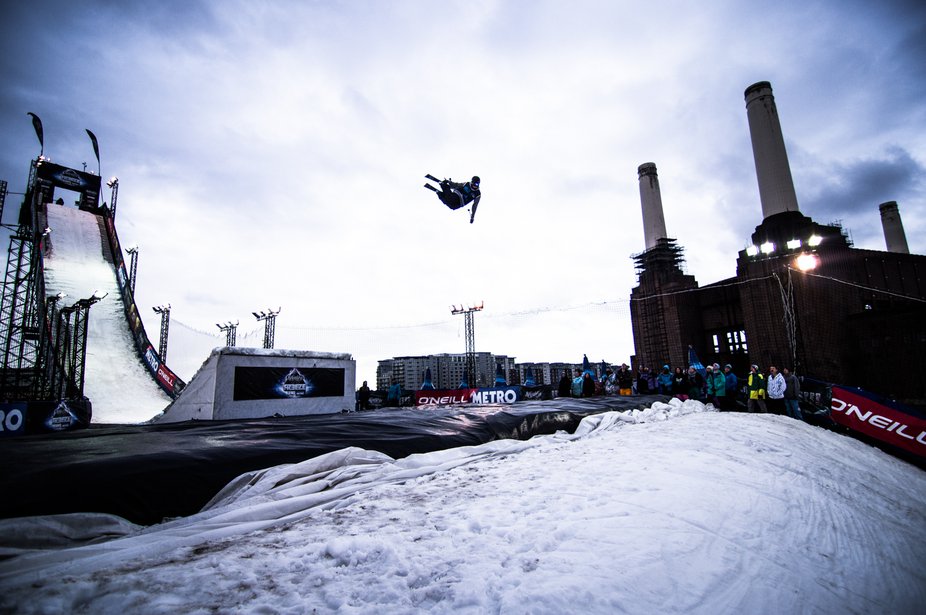 Gus warms up to take the style competition
Public Enemy rounded out the night with a concert like I've
never seen before and Freeze was over. Riders went home with mixed emotions,
but the crowd couldn't be more satisfied. If you were not there this year, you
owe it to yourself to come next year for what is sure to be yet another
unforgettable Relentless Freeze Festival!