Relentless Energy Drink Freeze has announced a new direction for the event with the creation of an Invitational Snowboard Event, Freeze Snowboard Big Air. Snowboarding at Freeze will now allow an unrestricted field to the UK's only international snowboard event, will follow the same format as the ski event, Freeze Ski Big Air, and will invite the world's biggest names in the discipline.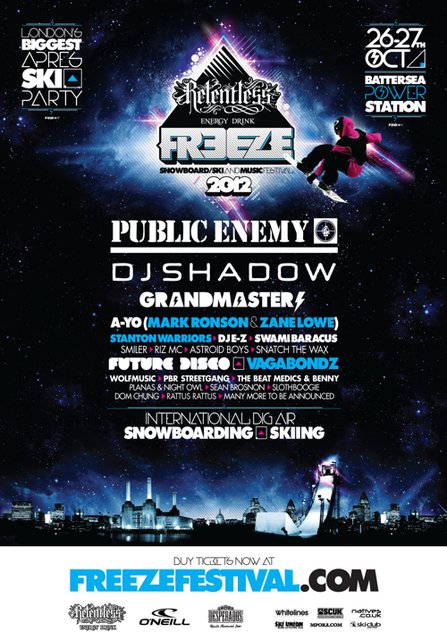 Athletes already confirmed for snowboard include Halldor and Eiki Helgason, Air & Style Winner Marko Grilc, Norway's Gjermund Braaten, and the UK's Jamie Nicholls.  For rider lists, check out http://www.freezefestival.com, and another new factor will be the grand stand seating available for the hardcore sports fans that will be in attendance.
The ski event will host AFP Tour Champion Gus Kenworthy, Freeze champions Jossi Wells and Jacob Wester, style master Henrik Harlaut, and the UK 's X Games medalist James 'Woodsy' Woods. For a full rider list, check out http://www.freezefestival.com.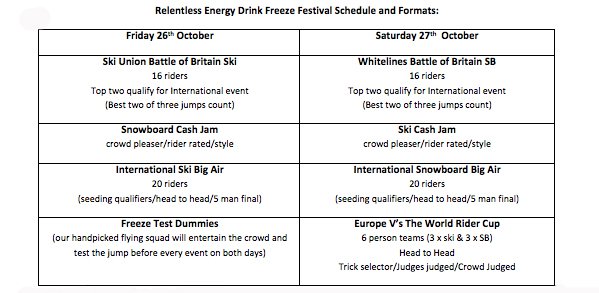 Freeze will also introduce best trick events in both snowboard and ski this year, and the classic Europe vs The World Rider Cup will return.
For more information on the Relentless Energy Drink Freeze Festival, visit http://www.freezefestival.com.