Following the Successful Long Beach Summer Skateboard Competition, the Reimagined Dew Tour is Coming Back to Breckenridge for its 10 Year Anniversary
August 30, 2016 (CARLSBAD, Calif.)-- Mountain Dew® and TEN: The Enthusiast Network announced today that the Dew Tour will be returning to Breckenridge, Colorado with a newly revamped winter ski and snowboard competition on December 8 - 11. The second stop of this year's Dew Tour brings a reimagined vision of action sports competition to the resort and town with world-class winter athletes competing in both men's and women's individual competitions and a new team challenge. The competition will take place on progressive new slopestyle and pipe courses built by renowned Snow Park Technologies (SPT), with support from Breckenridge Ski Resort.
The partnership between Mountain Dew® and TEN: The Enthusiast Network plans to bring the same authenticity, creativity and energy to the winter event as it did to the successful summer skateboarding event this past July in Long Beach, which broke numerous previous event records, including attendance, digital and broadcast viewership and more. "We are thrilled to bring our new vision of Dew Tour back to Breckenridge as it has a strong history there and we look forward to working with the local community and resort to make it great," said Adam Cozens, Vice President and GM of Dew Tour. "Although in a familiar location, this is a new event. We saw in Long Beach that our new team challenge and dynamic four-part course breathed new life into skateboarding while displaying its diversity, and we are planning to bring that same freshness to our winter event."
"Breckenridge Ski Resort and the community are excited to have the Winter Dew Tour back in Breck where it all began ten years ago," said Jesse Keaveny, Marketing Director at Breckenridge Ski Resort. "Breck has a rich history of hosting premier action sports events and we look forward to bringing this reimagined event to life for a worldwide audience.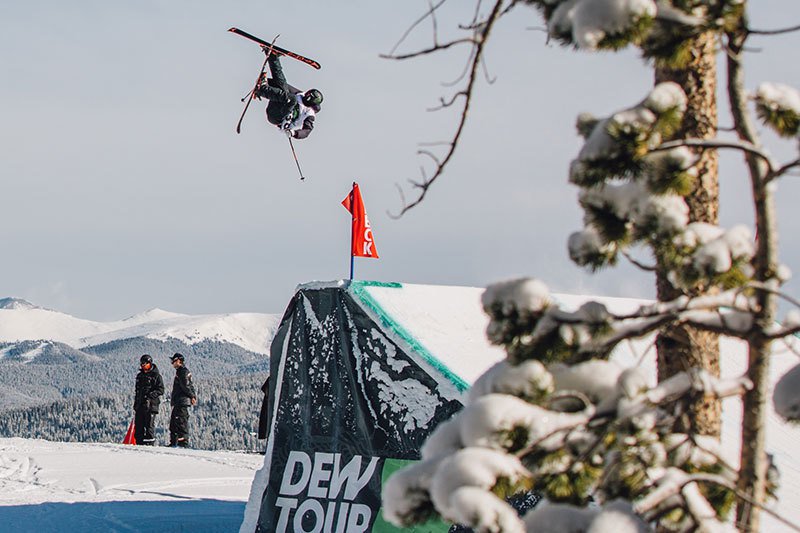 The top ski and snowboard athletes in the world will be taking over Breckenridge Ski Resort's famed Freeway Terrain Park to put the new courses to the test in both individual slopestyle and pipe competitions as well as compete alongside brand teammates in the new team challenge. Mountain Dew snowboarder and multi-year Dew Tour champion Danny Davis is confirmed to compete while skier and recent back-to-back Dew Tour champion, Gus Kenworthy, is returning to defend his freeski slopestyle title.
"Mountain Dew is excited to continue to evolve and improve upon the Dew Tour as it is our signature action sports event," said Greg Lyons VP of Marketing, Mountain Dew. "On the heels of the most recent successes coming out of the new summer skate event in Long Beach, we are really looking forward to carrying on the vigor into the winter sports, and returning back to Breckenridge, where the event has graciously been held since 2007."
In addition to the competition, the four-day event will feature a fully integrated Dew Tour Experience - a winter celebration and intersection of music, action sports culture and technology. TEN: The Enthusiast Network is also thrilled to announce that it's popular winter sports awards shows, the TRANSWORLD SNOWBOARDING Riders Poll Awards and POWDER Awards, will be part of the Dew Tour weekend this year for the first time.
More details on Dew Tour's winter event in Breckenridge will be revealed over the coming months. Stay tuned at DewTour.com and on Facebook, Twitter, Instagram, Snapchat and YouTube @DewTour. NBC will continue as Dew Tour's broadcast partner with the Winter Dew Tour airing two specials on December 17 and December 24, 2016.