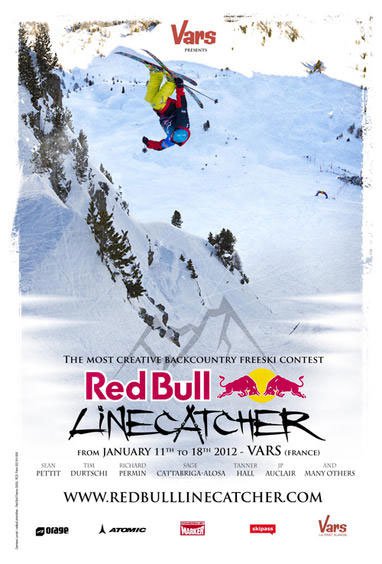 It's back again, for its fourth edition, Red Bull Linecatcher is going to be hitting Vars – La Forêt Blanche on January 11th – 18th 2012. Not only does it return but it's also in a different format.
In previous years, there would be rookie skiers that would qualify for the final phase of the event. That has been scrapped and this year's competition will pit 20 invited skiers against each other. It'll still be focussing on a mix of freeride and freestyle as the riders have to scale 500 metres of mountain to get the best line for their run. Each match up will be voted by four international judges with the final score comprised of the two best descents of each rider,
The list of invited riders are:
Richard Permin
?Sage Cattabriga-Alosa
?Kye Petersen?
JP Auclair
?Chris Booth
?Parker White
?Mathieu Imbert
?Dane Tudor?
Eliel Hindert
?Tim Durtschi
?George Pengelly?
Josh Bibby?
Fabien Maierhoffer
Fabio Studer?
Tobi Reindl?
Tanner Rainville?
Rory Bushfield
?Dana Flahr?
Sam Favret?
Nicolas Vuignier
Red Bull Linecatcher
Related posts:Red Bull Linecatcher 2012 Back again for the fourth year, the Red Bull Linecatcher...
Red Bull Linecatcher Day 1 Day 1 of the Red Bull's LineCatcher event in Vars,...
Red Bull Linecatcher 2009 The Red Bull Linecatcher event in La Plagne (03/03/2009), is...