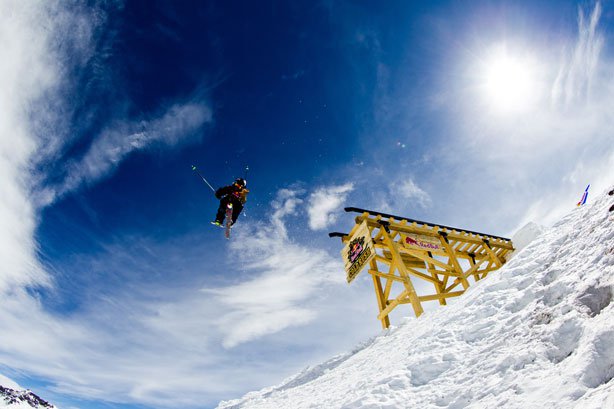 Wiley Miller exits the raildroad track rail at Red Bull Cold Rush in Silverton, CO, USA, on 6 March 2012.
Photo: Erik Seo/Red Bull Content Pool
After some heavy competition from other riders the winners of the Red Bull Cold Rush 2012 have been picked and they were none other than Dane Tudor and Rachael Burks. They won the Best Men's and Best Women's Overall titles respectively. Taking up the other spots on the podium were Pep Fujas in second and Sage Cattabriga-Alosa for the men and Jackie Paaso (2nd) and Michelle Parker (3rd) for the women.
Tudor launched a quick air off a rock as he charged through the Hourglass section of the mountain before launching a 25ft rock chute on the BIg Mountain Day. For the Slopestyle day he didn't hold back either! He started with a tailgrab off the Mine Cart rail, a 720 and switch 540 off the castle jump to round off the competition with a convincing score.
?I?m just super stoked. Everyone out here just kills it, so to be on top at Red Bull Cold Rush is just awesome. I?m really hyped as I?m heading up to Alaska this week so carrying this win up there is gonna make it a great time,? said Tudor following his win. Tudor added, ?I said this to someone the other day. A lot of events are panel judged, and a lot of times you?re like ?this person shouldn?t have gotten this score or this person should have got that score?, so when I heard we?re judging ourselves I was hyped as the athletes we want there are making the decisions.?
Rachael Burks was similar to Dane Tudor in the finals as she outclassed the rest of the field with her Big Mountain run. Huge drops followed by even bigger drops impressed the judges, followed by the most ridiculous backflip off the castle jump in the slopestyle. One of the biggest you'll see for a while!
?It?s the biggest honor and I?m so stoked that I don?t really have words. I?ve never been on a number one podium but to be on the podium at Red Bull Cold Rush is the biggest deal in the whole world and I?m just elated.?
Overall Results:
Men
1. Dane Tudor ? 92.50
2. Pep Fujas ? 88.58
3. Sage Cattabriga-Alosa ? 85.92
4. Dash Longe ? 84.00
5. Andy Mahre ? 83.33
6. Logan Pehota ? 81.25
7. Fabio Studer ? 80.83
8. Wiley Miller ? 79.50
9. Tim Durtschi ? 77.58
10. Sean Pettit ? 73.58
11. Dave Treadway ? 73.25
12. Collin Collins ? 72.42
13. Leo Ahrens ? 67.92
14. Josh Bibby ? 60.83
15 = Callum Pettit ? DNF
15 = Richard Permin ? DNF
15 = Tobias Tritscher – DNF
15 = Kye Petersen – DNF
Women's:
1. Rachael Burks – 95.83
2. Jackie Paaso – 91.75
3. Michelle Parker – 90.58
4. Lexi Dupont – 89.42
5. Anna Segal – 89.17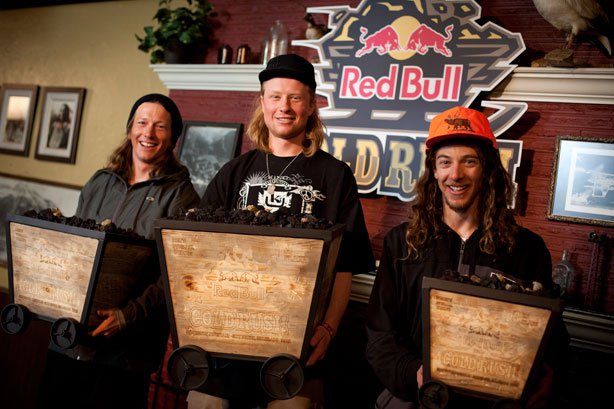 Pep Fujas, Dane Tudor and Sage Cattabriga-Alosa pose on the podium at Red Bull Cold Rush in Silverton, CO, USA, on March 07, 2012
Photo: Christian Pondella/Red Bull Content Pool
Related posts:Red Bull Cold Rush post event trailer check out this foorage from 2009′s inaugral Red Bull Cold...
Red Bull Cold Rush 2010: Day 1 Heli Blog A recap of Day 1 as seen from the heli....
Red Bull Linecatcher 2012 Back again for the fourth year, the Red Bull Linecatcher...