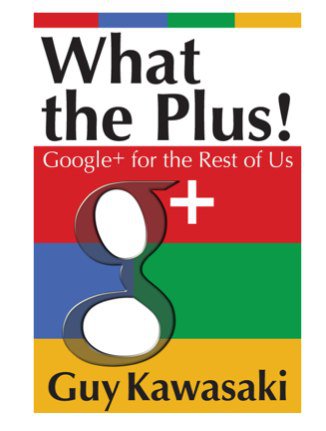 —-
Update: just a reminder that Guy Kawasaki is on chasejarvisLIVE tomorrow, Wednesday March 21. Details are here….
——-
The jury is out. For some it's the best thing ever. For others it's just another social media tool that clutters the horizon, and for others still it hasn't lived up to the hype that Google may have hoped. But NYTimes best-selling author Guy Kawasaki tells us why we're wrong in his new ebook What the Plus? Google+ for the Rest of Us.
For just $3 on ipad or kindle — less than the price of a grande latte — it'll be the best $3 you've spent in ages simply because you'll realize – perhaps ahead of your friends and family – that Google+ is quietly and quickly growing right under your nose. It's an insanely good platform for sharing images and videos embed directly into the page. The quality of the comments is through the roof relative to Facebook + Youtube and…it's not going away. Google are integrating it deeply into ever corner of their platform. And as Twitter, Facebook, and yes, Google+ race to out-feature each other, each of these platforms stand to win big in different ways.
It's these reasons above – plus an epiphany followed by a few late night brow beatings laced with wisdom that I received from Guy – that I'm posting here at my G+ page every day. (Circle me if you dare).
Now, whether you're a G+ fanboy or a doubter…or in the event you've been living under a rock and missed this post, you'll already know that Guy Kawasaki is coming to chasejarvis LIVE tomorrow (Wednesday, March 21st!! – Details here). I'm talking LIVE with Guy about a bunch of stuff, but you can bet your undies that we'll be taking any/all questions you might have via Twitter, or –hell yes– Google+. So ditch the latte this morning and grab a copy of his ebook here so you're all read-up, and join in the conversation tomorrow at http://www.chasejarvis.com/live at 10am Seattle time, 1pm NYC time, and 17:00 London time. [Google calendar reminder here.]