Words: Brandon Ascher
Photos: Patrick Melvin
Video: Bradon Ascher & Patrick Melvin
There is no better setting for a rail contest than a brutally cold night at an east coast mountain with a stacked list of hungry skiers. This past Saturday Killington hosted the fifth annual Rails 2 Riches contest. One of the largest events on the east coast and certainly one of the more notable rail contests in the nation, the event continues to draw amazing talent and sets the current standard of rail skills. An early season contest on a challenging set up with a huge cash purse has always been the formula, and Killington is dedicated to the cause as all $15,000 (distributed over four categories) is provided by the resort with no other outside sponsorships. Registration is extremely limited; half of the competitors are invited while the others wait for a specified online entry, and this year it closed in six minutes. The date was set for December 5th but an early nor'easter forced the contest back a week. Due to the unexpected schedule change, many registered competitors had travel conflicts but Killington stepped in and compensated for any inconvenience. 41 male skiers and nine female skiers were officially registered.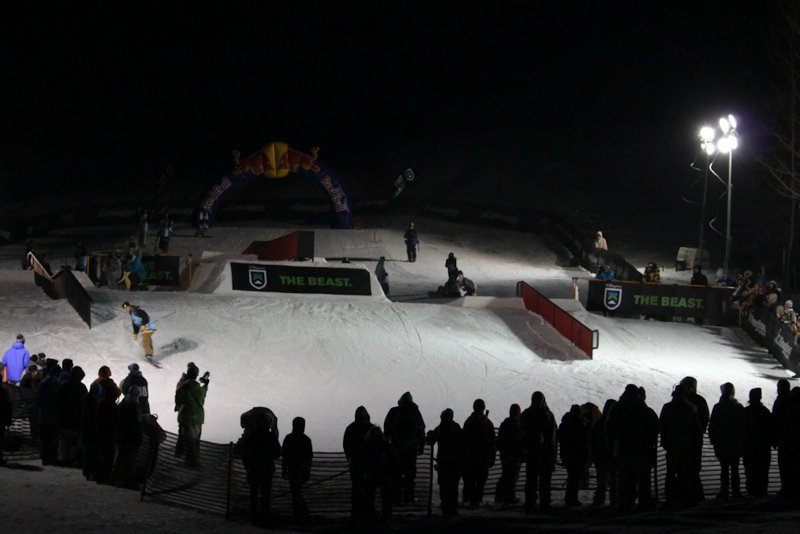 Rails 2 Riches 2009
The set up was impressive and very well maintained by the Killington park crew. A burly down flat down on the right, an up box-gap-flat box with a gap to the landing was the main feature down the middle (also with lip options on the side to the flat box), and a true street down rail with a "dink" on the end held down the left side. After some criticism in the past for poor ski judging, Killington designated two ski judges this year to ensure accuracy. Judges scored skiers on their overall performance from qualifiers to finals, and a $100 best trick would be given out every 10 minutes in the finals. From the start of qualifiers it was clear that rail skiing has far surpassed anyone's previous expectations. The level of skiing and the creativity on each of the features exploded for the hour-long qualifier until the field was narrowed down to 10.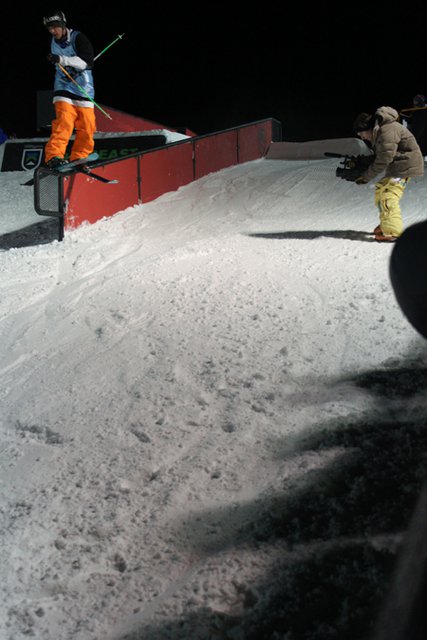 Will Wesson
Ian Compton, Nick Lyons, Ben Smith, Dom Laporte, Eliot DeLeo, Will Wesson, Evan Williams, LJ Strenio, Sean Jordan and Pat Cowan made the cut. As the lights went up and the temperatures dipped, the competition just kept heating up, with every skier proving they deserved to be there. Nick Lyons had the craziest nose butters on the down rail, Pat Cowan (who 450'ed literally to the dink on the down rail in qualifiers) owned the main box feature, as well as being the first to 450 disaster the down flat down, and receiving $100. Evan Williams is officially one of the smoothest rail skiers around; you almost didn't even realize what he was putting down, just making everything look effortless. Dominic Laporte was easily the most technical, blowing anyone's mind who was watching the down rail. Switch 270 lip, 450 pretzels. Switch 270 on back 630 out, and Dom was also the first to disaster the DFD with a monstrous switch lip. As a result, it was hard to tell which trick earned him $100, because they were all insane. The dark horse of the contest was definitely Eliot DeLeo who killed the center box feature with big spins off, and some really original style. He could've made just about $3000 if he got a dollar every time someone said "Who the f***k is that kid?" Definitely a name you might want to check for in the near future.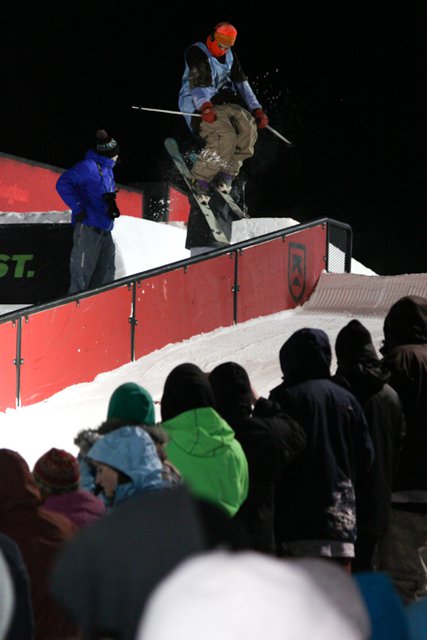 Eliot DeLeo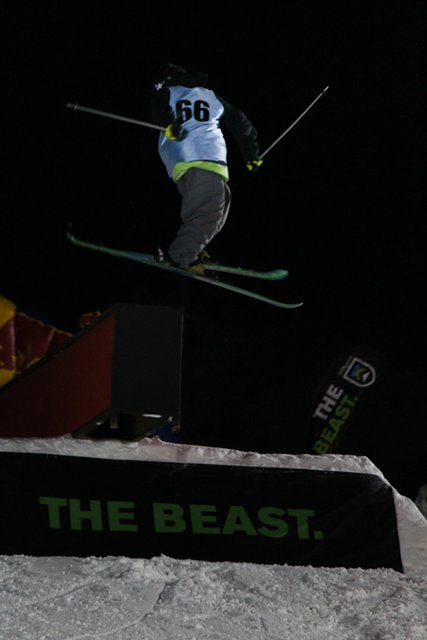 Sean Jordan
Sean Jordan is just nasty, he destroyed all day, got really creative with the lip options on the box feature, and threw down a back 630 out on the down rail. Sean earned $200 for winning two of the 10-minute best trick awards, but ran into some problems keeping both skis on during the finals. Sometimes you have to wonder if Will Wesson actually has to try. 360 switch ups, ridiculous switch spins onto the down rail and all the originality you 'd expect earned him $750 for third place, and an extra $100 for one of the best tricks. Compton was on all day doing solid technical tricks well into finals. It was evident he would podium very early in the day, also throwing in some sick tail/nose taps off the center box. He left with $1500 in his pocket for second place. To name all the tricks LJ Strenio did on Saturday night would almost bore you. Once qualifiers began it was clear LJ was out to defend last year's title, as he was all over the set up, running back up after every hit, landing a trick on one side, quickly stomping something on the other and before you could process it all he was already clicking back in at the top, getting twice as many runs in as all the other competitors. He was first to 270 disaster the DFD, followed immediately by a 450 disaster on his next run. Insane back 630, crazy one footer (through the dink!), 360 switch ups, shifties off the center box and every spin in, switch up, spin out variation you could think of on the down rail. LJ earned every cent of the three grand, and deserved to be R2R champion for the second year in a row.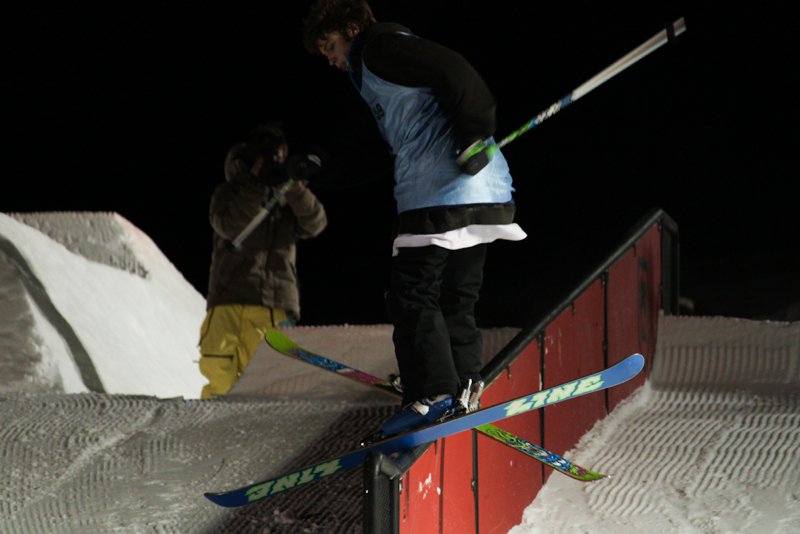 Ian Compton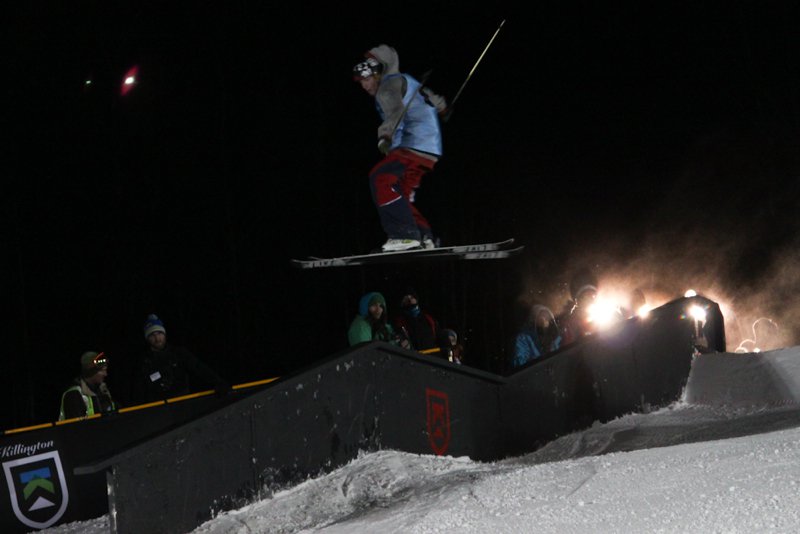 LJ Strenio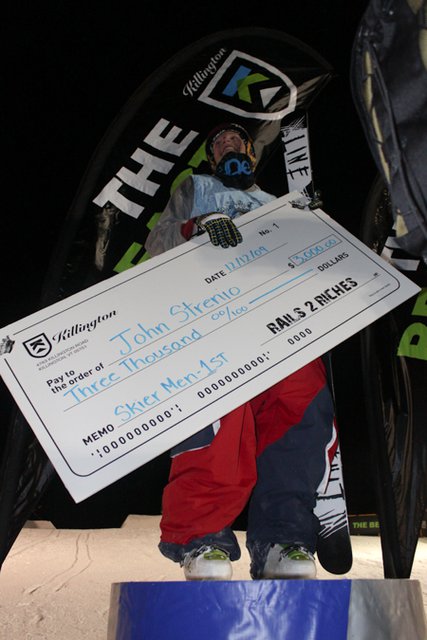 The ladies battled the cold as well and in the end Devon Logan took $250 for third place, Julia Marino took home second place and $500 for her all around performance, despite getting injured early on in the finals, but it was Jen Crichton linking runs back to back to back, showing her versatility on all three features, who would earn the $1000. You'll have to ask her what she wanted to spend the money on, because from what she told me…it could've been a wild night.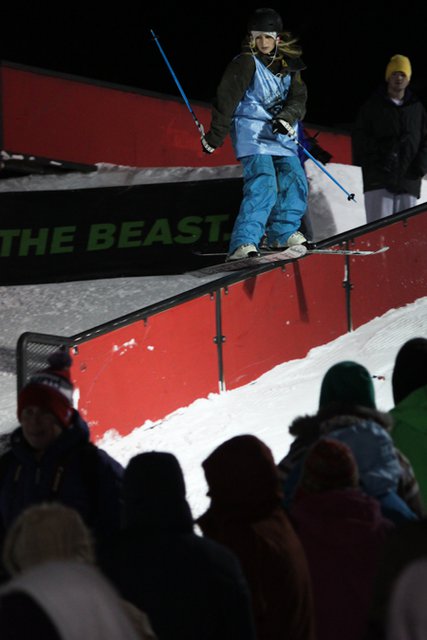 Kristie Adonizio
Rail skiing continues to move forward. Every year the so called "limit" becomes more obsolete and tricks thought to be impossible are quickly made reality. The names found on the 2009 R2R roster are some of the most creative and skilled in this part of our sport. This contest was exciting and full of so many different styles and different tricks. Rails 2 Riches was again justified this year as a staple in ski contests. And with three friends on the podium at a familiar mountain, with perfect east coast weather, it really couldn't have been a more classic night.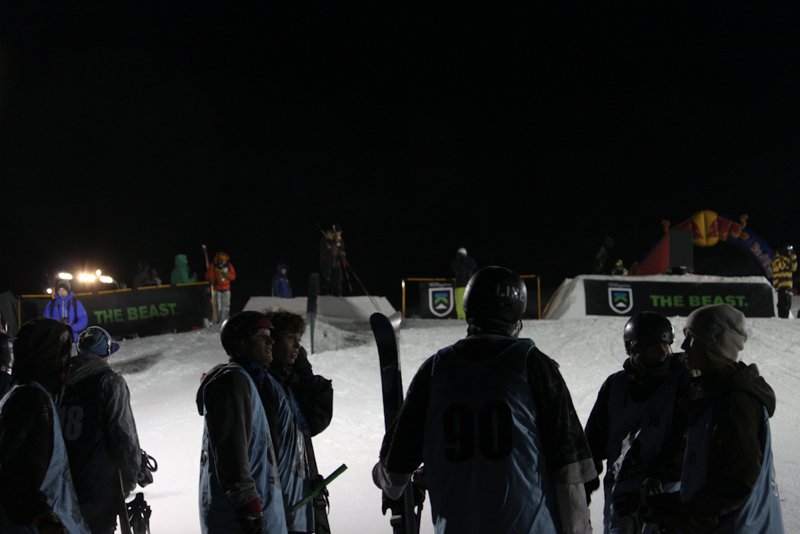 Huge thanks to Killington for continuing a great event with a sick set up and accommodating everyone, in particular to Tess Hobbs for all her help and hospitality (http://www.killington.com).