Every year skiers and snowboarders from all around make the trip to Killington, Vermont for the East Coast's biggest rail jam. This past weekend was no different. Rails 2 Riches, now in its 11th year, is the highlight of the early season on the East Coast. The weekend is like no other and the competition itself carries a very special vibe to it. This year, Newschoolers upped the ante by hosting a gathering in the reason terrain park. Here's what went down over the course of the weekend.
It alls started when our crew met up and got settled in to our condo on Friday evening, and then headed over to the Level 1 premier to catch the last bit of Small World. There we linked up with Khai Krepala and Sandy Boville, had some laughs, appreciated the craziness that went down in the movie, and hung out while the pros threw out some swag to the kids who attended the premier. After the product tosses concluded, the athletes had a poster signing while the rest of the Newschoolers crew got together, making new friends and catching up with old ones. We soon piled into the shuttle and headed back to the condo, in tandem with the Tabarnak pack who dropped in to knock back some brews and get stoked on the fact that we were all skiing the next day.
Saturday morning was a bit of a mess to say the least. Doug had to do a promo for the local television station about the meet up and R2R, so while he did that, the rest of the crew hung out and gathered their ski gear and worked through the hangover haze to head to the mountain to meet up with all the local NS'ers and do what we all came here to do, ski!
Before qualifiers, the morning was spent mobbing through the Reason Terrain Park, kids were absolutely shredding. Most people were still getting their ski legs back but it took all but a few laps before we saw some gnarly tricks go down in the park.
Nicky Hartmann, the new NS intern and dope skier on the come up absolutely tore that park apart. Here's an insta-edit I filmed of him throughout the day.
https://www.instagram.com/p/-7rx_9gSy2/?taken-by=newschoolersdotcom
When it was time for the event to start, the athletes who were shredding made their way down for practice and the rest of the squad followed behind them. After watching practice for a bit, the crew broke for lunch and then the madness commenced.
The set up for R2R this year was absolutely insane.
Some of the big names you've come to expect at R2R were absent this year, for example no LJ or Kutcher. But there were plenty of big names about, Khai Krepala and Dale Talkington among them, as well as some young guns who fully deserved their spot among some of the top skiers in the game. Everybody was having fun and trying some whacky stuff on this year's set up. There were smiles and good vibes all around. Who could blame them? The sun was shining, the temps were warm and the setup was clean as hell.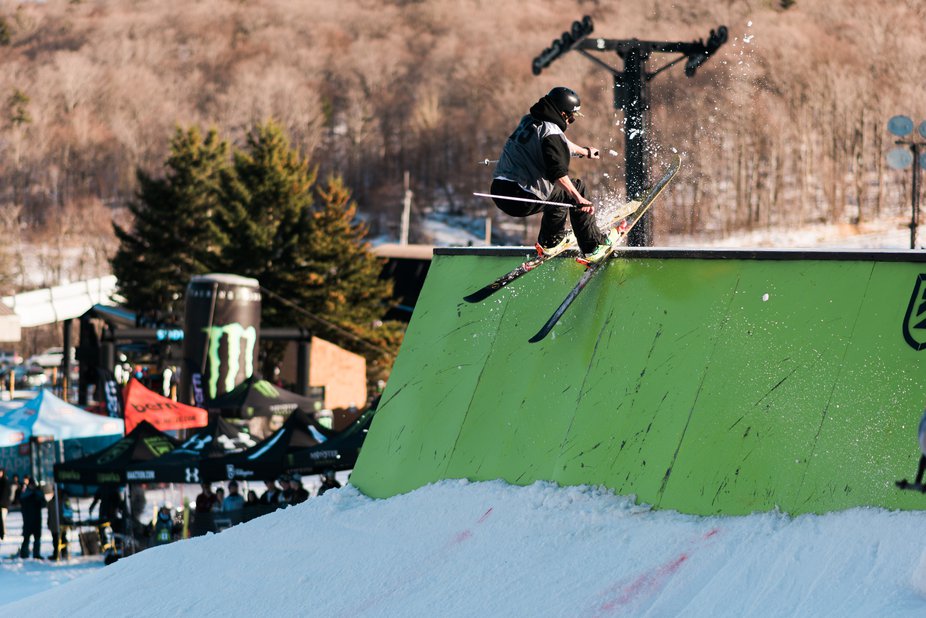 Skier: Khai Krepela // Photo: Aaron Lu
Skier: Hugo Pelletier // Photo: Aaron Lu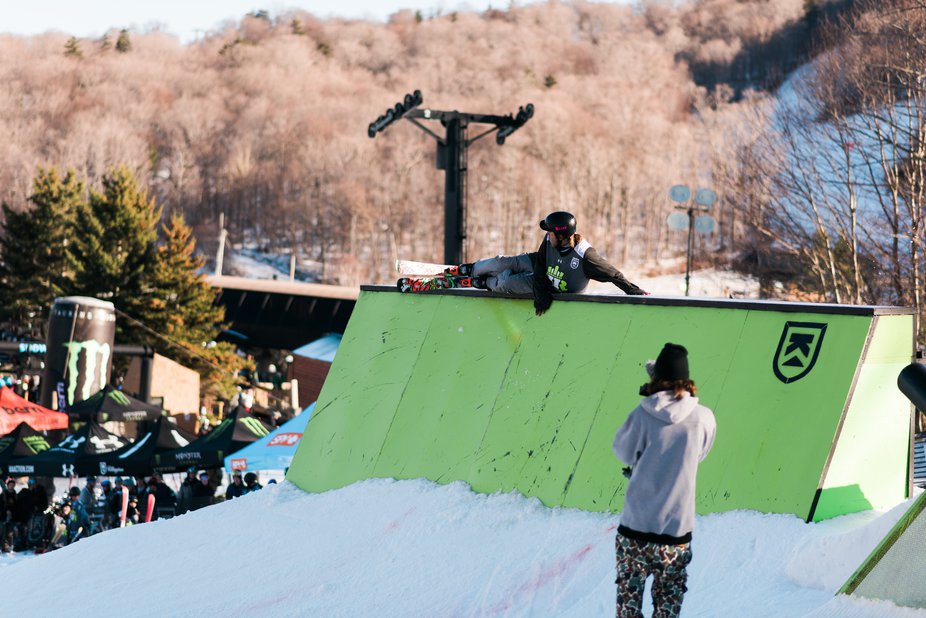 Skier: Kevin Merchant // Photo: Aaron Lu
After qualies ended, the 'official' NS gathering was ON. We had a metric fuck ton of product and it was a task giving it all away, so thanks to our sponsors for that. We all met back up in Reason and shit went down. Doug had his megaphone and once we picked a feature to host a little rail jam and gathered everybody around it, all we needed was a trick to get the ball rolling. Doug looked over and asked for a trick, I shouted the only trick in the world, LIP ON BLIND 2. The first 6 or 7 skiers who dropped laced the trick perfectly and we needed to find something a little harder to call before we ran out of product. Tall T Dan would be mighty proud.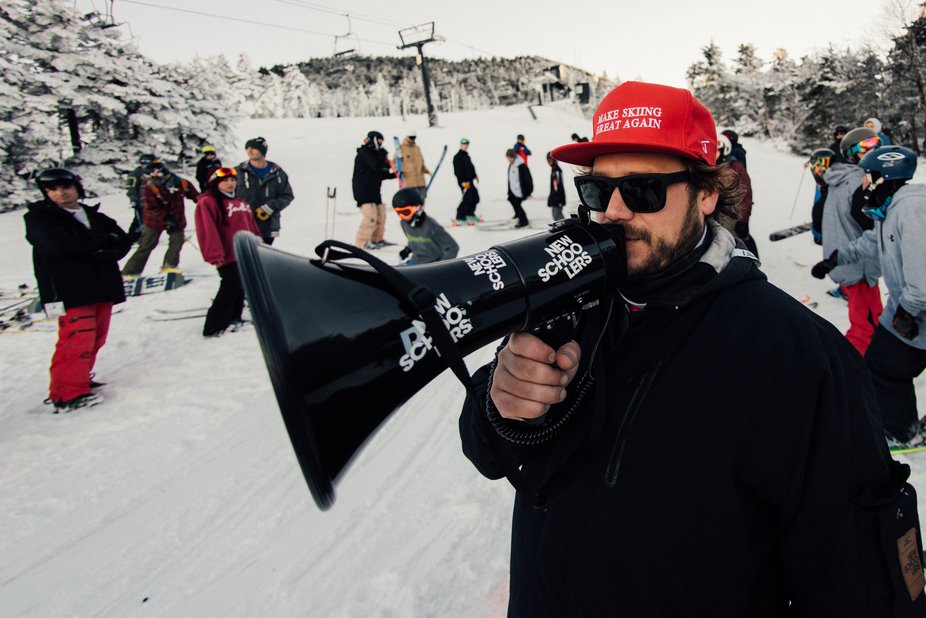 Personality: Doug Bishop // Photo: Aaron Lu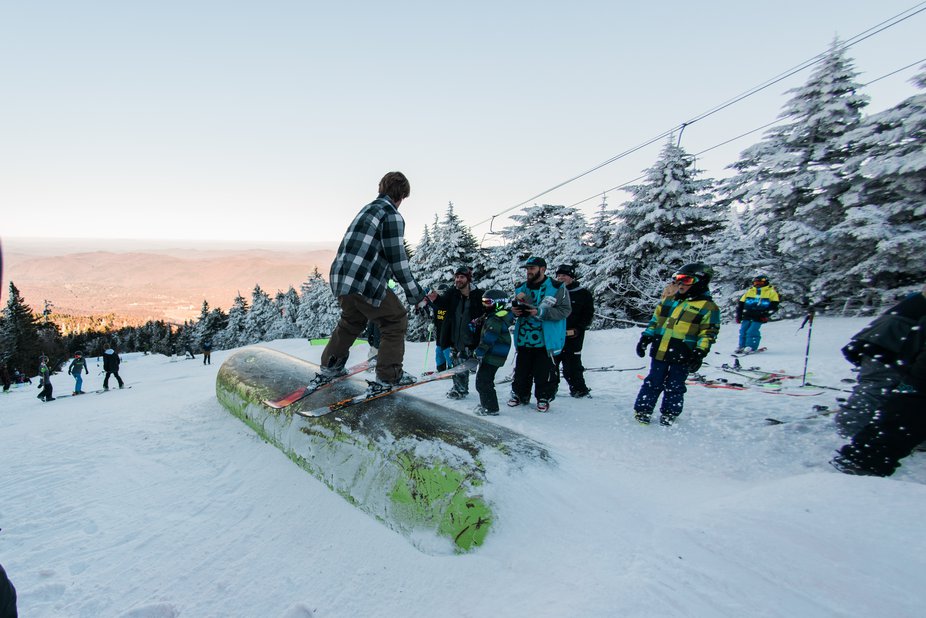 Skier: Dude who came away with an Outdoor Tech Big Turtle Shell, Pret helmet, and a bunch of other stuff // Photo: Aaron Lu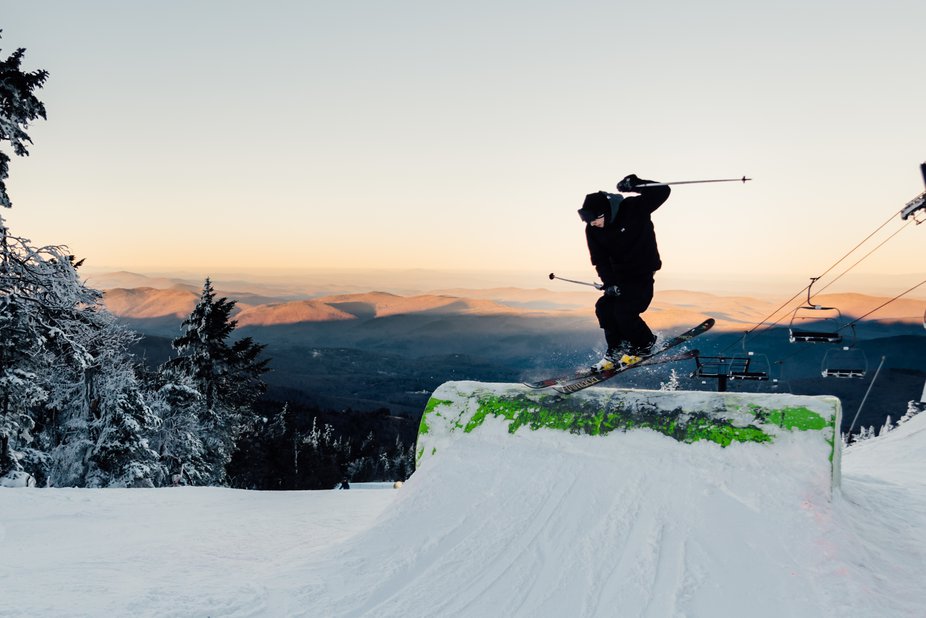 Skier: Nicky Hartmann (New NS Intern) // Photo: Aaron Lu
After about an hour of trick calling, the majority of the swag we brought had been dished out to the skiers who threw down. There were just a few more prizes left, including the gem, a brand new pair of Level 1 x J collab skis. To win them, you had to be the fastest on the hill. A foot race to the bottom of reason and back up. A daunting task for a lot of skiers but the lucky, and near dead, guy who made it back to doug first won the skis. With the event in the bag, we were all stoked on an epic day of skiing and lapped till the lifts stopped.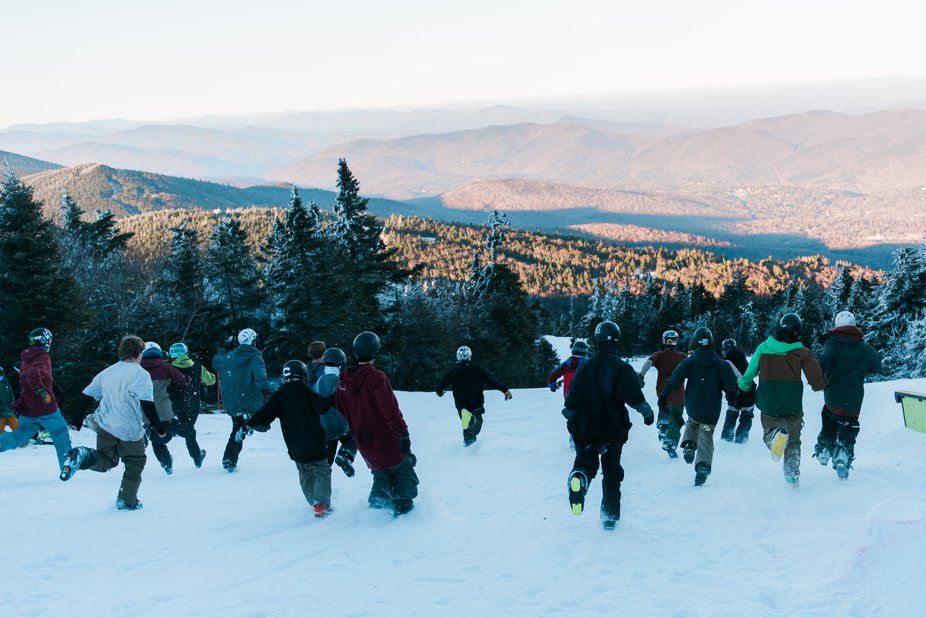 Kids doing the first leg of the race // Photo: Aaron Lu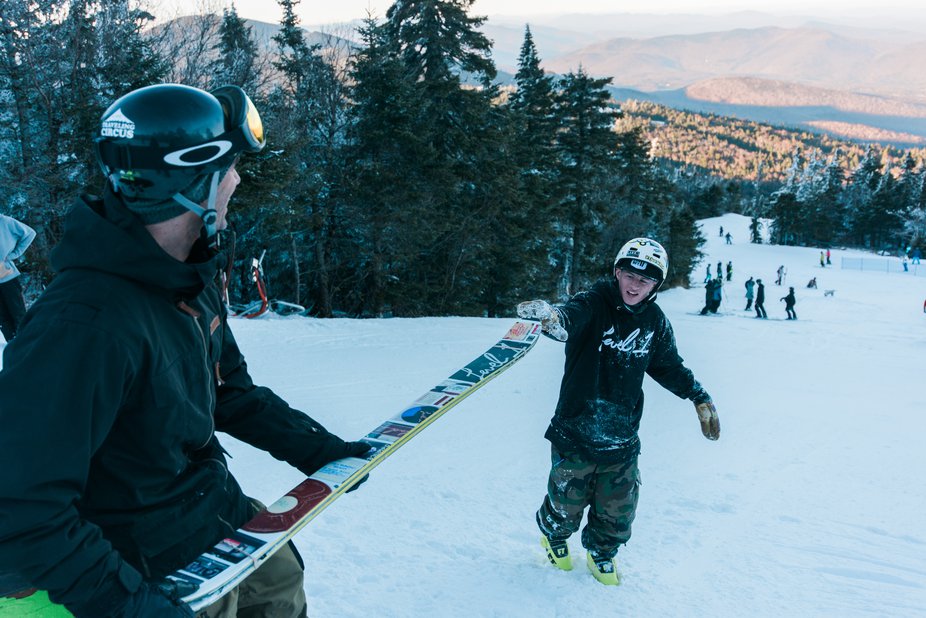 Only One Kid left standing // Photo: Aaron Lu
Next up was Finals, which wasted no time before popping off this year. With a crowd almost 3 times as large as last year the stoke was at an all time high. I witnessed some of the gnarliest tricks I have ever seen. There were lots of new faces in finals and it's cool to see that.
Sawyer Sellingham was lacing some unique tricks on the wall ride feature. Mike Brewer, the young gun who made it to finals in his first R2R appearance, made his presence known by popping some of the cleanest disasters of the night. I think he summed up the night perfectly in this quote I got from him after the contest.
"It was pretty intimidating skiing with some of the best in the game. The atmosphere was dope though a lot of really stoked kids. This was my first r2r and I had a great time. Big ups to Killington and of course my boy Franchino bringing home the bread"
In the end though, only three can make the podium which this year had a completely new look. After a consistent day and one of the most insane tricks I have ever witnessed, Emile Bergeron slid his way into 3rd place as well as winning best trick with a mind melting 3swap pole jam to wall ride transfer. Dale Talkington, one of the best rail skiers in the game spun, swapped and stomped his way into 2nd place. But at the end of the day Christian Franchino stood on top of the podium in first place. Frank had the entire house going crazy for him all night and kept his composure lacing one insane trick after after another with ease, a worthy winner.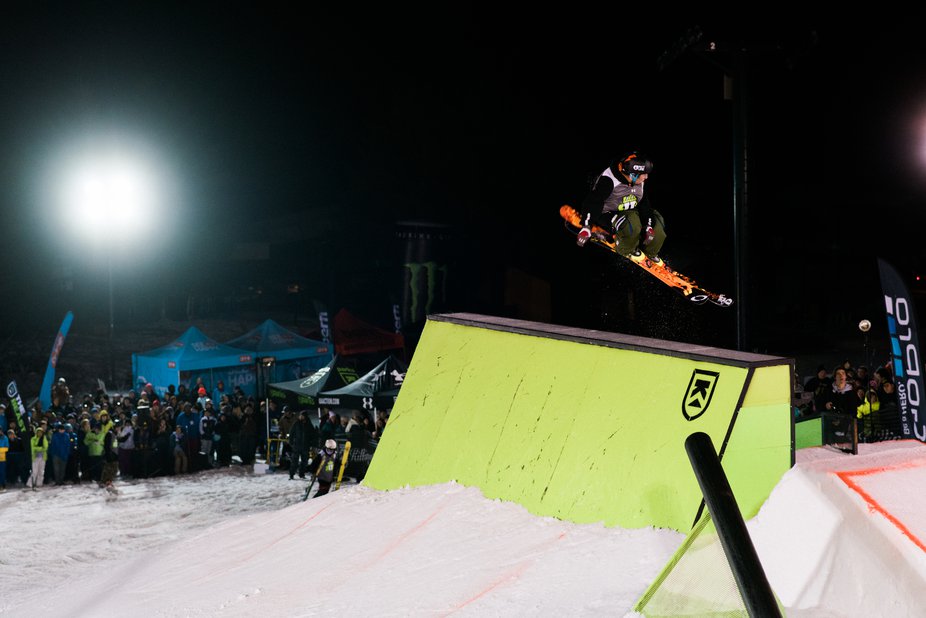 Skier: Emile Bergeron // Photo: Aaron Lu
It wasn't just the men who laid it down this year, the women came into this competition swinging, hard. The entire day the girls were killing it. In finals it was Miranda Holson who came in 3rd with consistent rail tricks the entire day. Personally, I was rooting for her to win it all.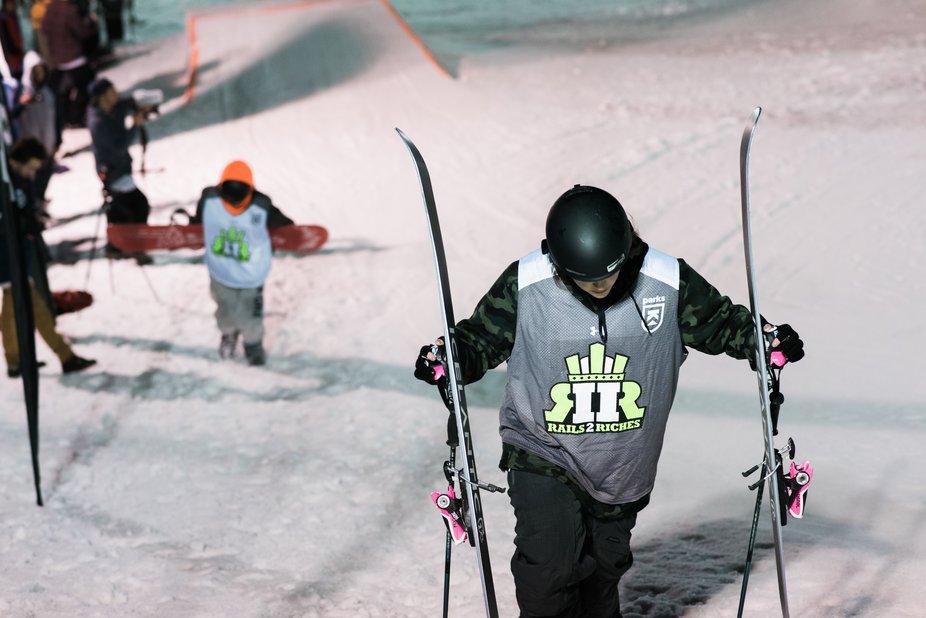 Skier: Miranda Holson // Photo: Aaron Lu
In 2nd place it was Brooke Potter, the rail goddess from Breckenridge, Colorado. She killed it the entire night. Lacing technical rail combinations one after another, it was no surprise she made it on the podium Saturday night. And Taylor Lundquist came out on top snagging first place as well as stomping a 270 on to 270 out, winning best trick for the ladies that night.
In all, the weekend was an absolute blast. A huge thank you goes out to Mike Garceau and the rest of the staff at Killington for making it happen. Big ups to everybody who came out this weekend, I can't wait for next year and all the gatherings still to happen this season.
If you really want to see what went down this weekend, here's the latest episode of On The Road With Mr Bishop.
https://www.newschoolers.com/videos/watch/799378/On-The-Road-With-Mr-Bishop-R2R?c=11
Now, if you just read this and are now thinking to yourself, man..that looked like a blast, I should have gone, I want to leave you with this:
One year ago, almost to the day, I packed up my ski stuff and loaded it into a white Jeep with 3 people I barely knew. These people, who were strangers to me then, are some of my closest friends now. The destination was Killington Vermont, Rails 2 Riches. On that trip last year, I met some people that would change how I viewed NS and the way I look at skiing all together.
Just one year on, things were a bit different though. I wasn't the same wide eyed kid who had just made the trip up to VT on a last minute plan with some NS'ers who lived near me. I was on the other side of the spectrum, I was the one seeing kids getting stoked om being able to have a conversation with their favorite pros. I was the one handing out stickers and throwing swag out to kids who stepped up and nailed a trick to win a sick prize, talking to pros like I've known them my entire life. A lot has happened in the last year and I couldn't be more grateful. Newschoolers is a special thing. This website brings people together from all around the world to enjoy the same silly thing. Being around that many like minded and equally passionate people opened up my mind on skiing, and life in general so much. This website can do so much for you. I want people to see that and take a chance to make the trip to wherever we are. You will have the best day on snow of your season and create memories and friendships that will last a lifetime.
There is another NS meetup in Loon the last weekend of February, get there.