If you haven't already, read Chubz's recap of R2R 2014 here.
I was going to try and tell you about Rails to Riches, but don't take it from me. I was going to talk about meeting up with Newschoolers, and shredding through the rain and snow and clouds on a classic east coast day, but don't take it from me. I was going to tell you how stoked we were to be able to hang out with some regular folks and geek out on how fun it is to shred laps with your friends. Or how sweet it is to watch Tall T Dan go lip-on blind 2 in person. It's beautiful, for the record. I was going to talk about this guy Josh, down from NY, who sidled up at some point at the party and confessed: Dude this, like this is up there with the best weekends. Ever. But don't take it from me; take it from the people who were there. Or better yet, see it for yourself.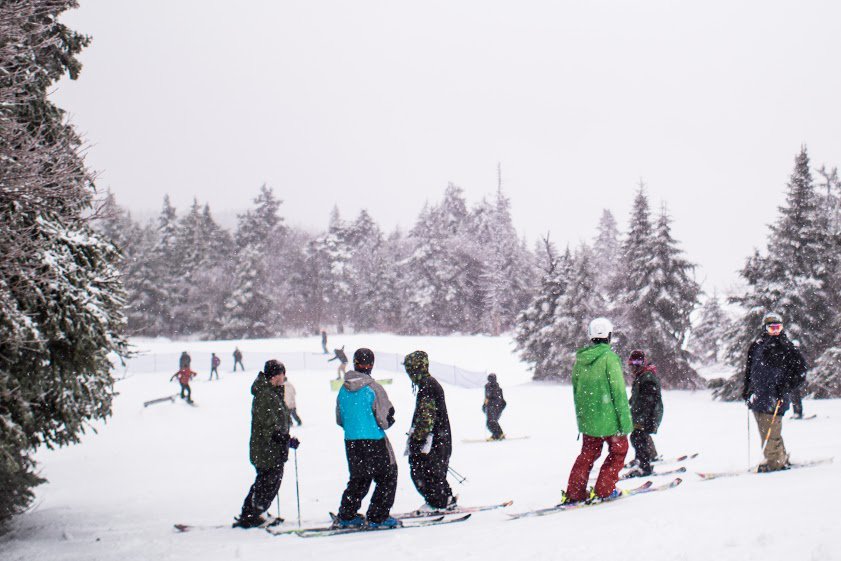 The crew. Photo: Aaron Lu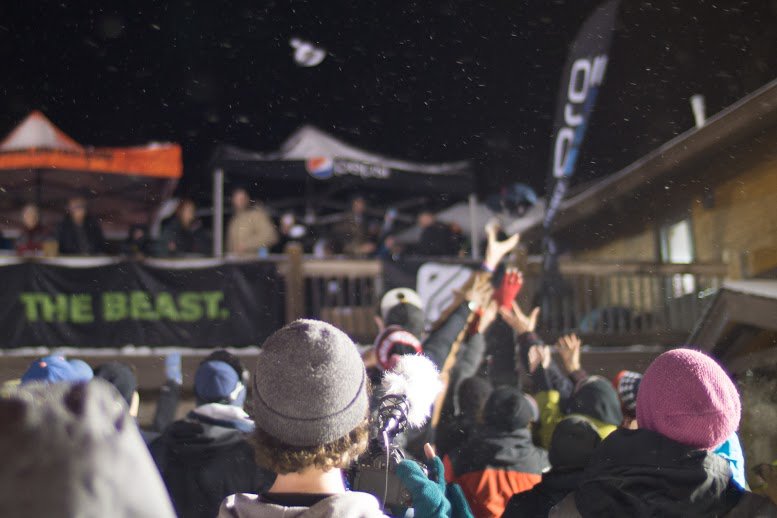 Product toss as a staple of any self-respecting event. Photo: Aaron Lu
Of course there's more to the story.
For example, the story doesn't begin and end with Casey, the wide eyed kid who hung out on Saturday night. Casey, who turned and looked at me, braces dominating his broad grin and said, I'm seventeen. I'm seventeen, he then repeated, this time to Hugo Pelletier and raised his glass to cheers. I saw him do this at least a dozen times, regardless of how recently he'd raised his glass or to whom. But that's not where the story begins or ends. I can say the same for Pete, who single-handedly kept the beer flowing and who also found time to pass out on the couch in the middle of everything before coming to and partying out the rest of the night. The same Pete who had enough cash for the cab to get our dumb Canadian asses home.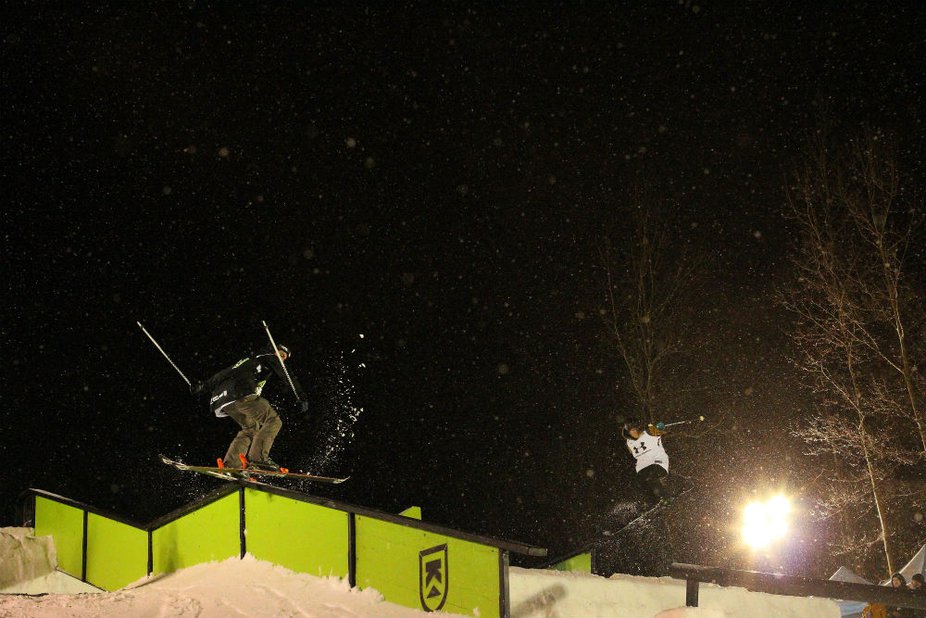 Khai slides the DFD while Sandy gaps from flat to down. Photo: Travis Towsley.
But of course there's more to the story.
Rails to Riches, now in its tenth year showed once again that it's the premier rail competition on the east coast. Sandy Boville of Barrie, ON quietly and consistently tricked his way into first place. A humble kid, Sandy was all smiles after the competition. He said he'll use the money for a surf trip. Khai Krepela worked his way to second place while LJ Strenio placed third for the second year in a row.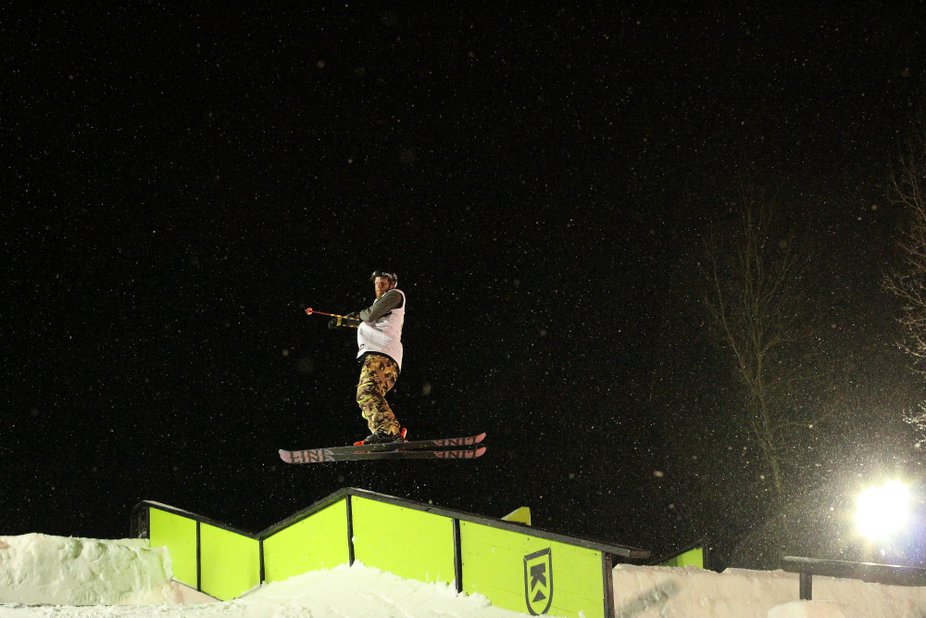 LJ mid 3-swap. Photo: Travis Towsley.
The talk before the competition put Dom Laporte as the favourite, but his tricks were cleaner in qualifiers than finals. Competing is fickle like that. The same could be said for Emile Bergeron and JF Houle, who spent qualifiers trying to get butter-270s and -450s onto the double kink. JF, who was competing in his first rail jam since 2010, couldn't stick the trick before time ran out. In competitions, consistency vs. one-off tricks is a balancing act.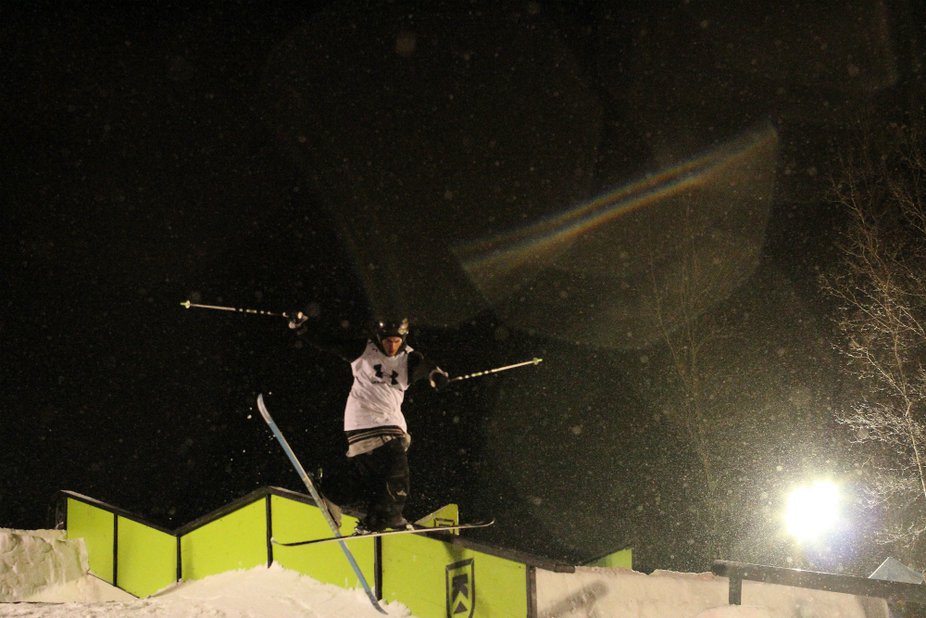 Dom getting creative on the DFD. Photo: Travis Towsley
After the competition the night melted into obscurity. There were plenty of shot skis, JWenz ordered five pizzas on Bishop's credit card, and Dan personally stitched the arsenic logo onto a hat I bought from him during his impromptu sales event. We almost got on a bus headed for Champlain College, and Aaron tells me I passed out mid-sentence talking to Chubz.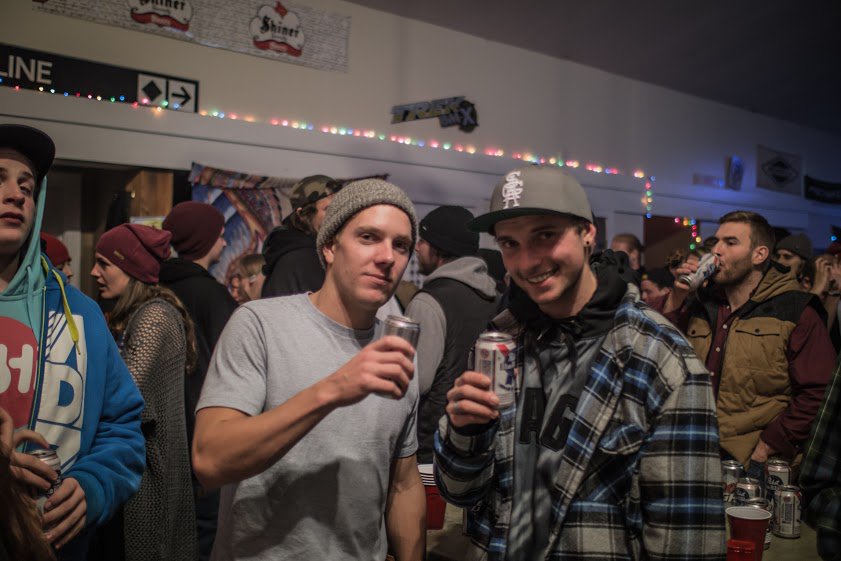 Sandy Boville and Max Morello holding it down for Ontario. Chubz holding it down for being drunk. P: Aaron Lu
It was great, but don't take it from me. There's an NS gathering at Loon in January. You might think about coming to that.