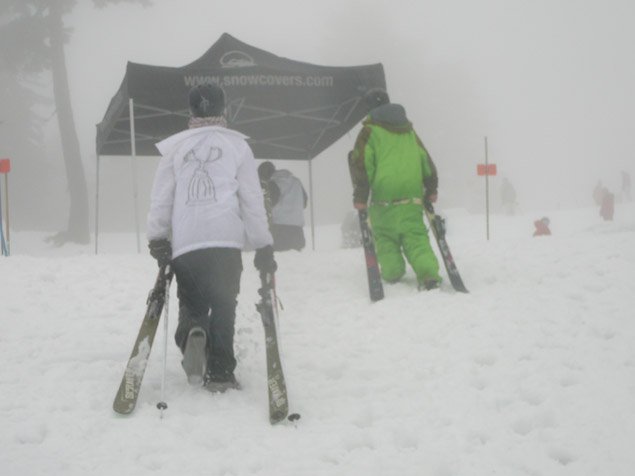 Tom Mackay and Pete Hunter, wishing their outwear was waterproof.Words and photos: Simon Lavoie"When it rains, it pours." Rail Wars II: Return of the Jibber ("the other, other movie-themed contest"), was held under bright blue skies on March 10th, 2007 at Mount Seymour, in sunny North Vancouver, BC. Everything went well, everyone stayed dry, Mt. Seymour's gigantic, ridiculous rail park saw more one footers and cariboos than a Charles Gagnier run at Winter X, and the sun showered us with its glorious rays all day.Yeah…right. Long known in the skiing community as "the city you fly into when you're going to Whistler," Vancouver is home to more than an international airport, sushi places, and the strip club that ended Ben Affleck's relationship with Jennifer Lopez. Believe it or not, skiers live and ski in Vancouver, and there are three local hills to choose from, all within a 25-minute drive of the downtown core. Once in a while, there are skiing related events that bring together a small but growing community of riders from all over the Lower Mainland for what usually turns out to be legendary fun. Unless, of course, it rains. It isn't easy to avoid the curse that seems to plague sequels, and the morning didn't make things look promising. Greeting us at Seymour's parking lot was zero-visibility fog and a light drizzle of rain. Most of the SnowCovers staff soldiered on and took charge of setting tents, banners, and the PA for the event, and I took the relatively cushy job of helping run registration, seeing as how I seemed to know most of the kids coming out. I didn't have time to congratulate myself on my decision before the lights flickered, died, and didn't come back on. What I didn't know was that the lifts had also stopped running, and that the rail jam participants were essentially the only people left on the mountain. Could the dreaded sequel curse already be rearing its ugly head this early? Not really, as our debit/credit machine was still working despite the power outage. I took it as a sign, and much like a general leading his troops into battle, I marched out to Mt. Seymour's Young Guns park with a couple of stragglers in tow. Practice, it seemed, was still underway despite Mother Nature whizzing all over us. With conditions not getting any better, and the rain getting worse, we decided to cut practice short and get going with the contest. Approximately 18 guys spread out over 3 age categories, and 2 girls in their own category, were sent out in what amounted to a free-for-all jam session on Mt. Seymour's urban inspired rails and boxes. With snow conditions being soft, slushy, and slow, speed became an issue, jumps started deteriorating, and so most obstacles were ditched in favour of an urban-style downrail, a flat down, and a raised flat box that ended up seeing a lot of action. No 6 foot high rails here, we wanted tech, we wanted everyone to be able to try their hardest tricks, and that's what we got. With three cameras documenting the event, one would assume that some good photos had been taken. Rain, it seems, destroyed those as well. Still, some photos made it back to my computer, so here's a semi-random selection of semi-random Rail Wars II photos: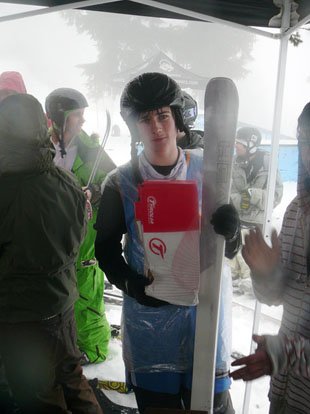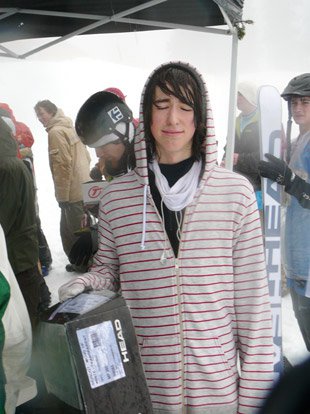 Liam worked it hard for his free Head.
Another victim of SAD... won't new Head boots cheer you up?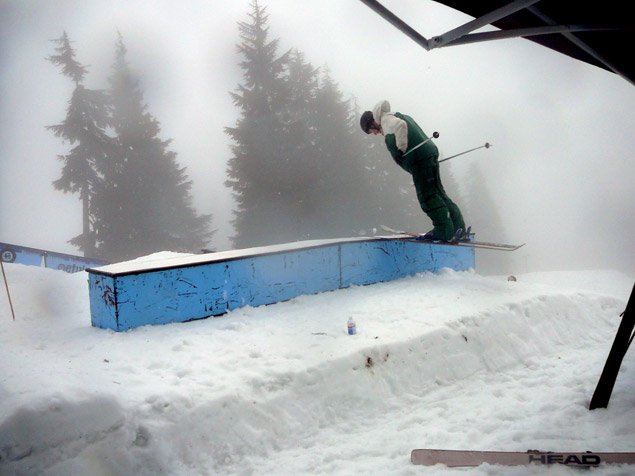 Sean MacLean pokes his nose into the clouds.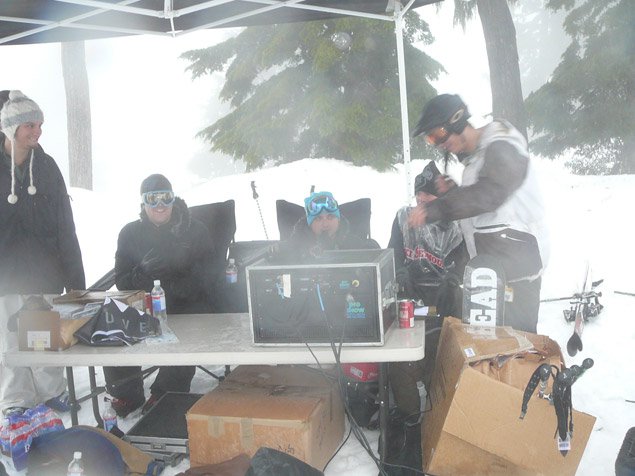 No, Schmuck doesn't EVER shut up.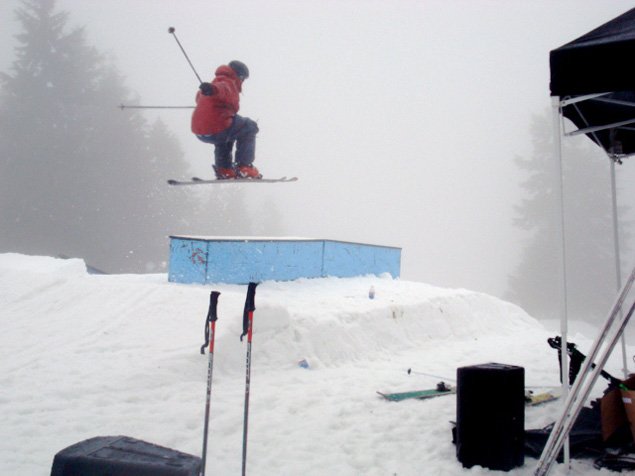 Switch zero 50-50, OMG! When everyone got too soaked to keep going, we gave away Orage outerwear and softgoods to the top 3, Head skis and Tyrolia bindings to the winners of the 19-25 and 14-18 categories, and Head Mojo boots/free "pimp your boots" works package (courtesy of SnowCovers) to the winner of the rider-judged Best Trick/popularity contest. Once the formalities were over and done with, and everyone was truly soaked, we all went up to the Rock Chute for a well deserved beverage of choice in dry conditions, and to check out the Rock Chute's hot bartender. And to end the day on a high note, SnowCovers announced that the $10 entry fee collected from each rider would be sent to Stand Strong Again as a little donation to a very worthy cause.Winners:Best Trick: Tom McKay. Tom slayed all stock spins on/off within the first 10 minutes of the jam, and then forgot he was on skis when he started nollieing onto, pressing, and danishing out of the urban-style down rail. Nollie back-tail two-sev out anyone?Pete Hunter once again won the 19-25 age category. Consistency, spins on, spins off, and that neon green XL Oakley 1 piece helped his cause.14-18 was hard to judge, but in the end Liam ended up winning it all, thanks in part to style, and in part, again, to consistency. Solid riding by everyone in the category made it hard for him too.Dean was the only guy in the 13-under category, but he found a way to compete against himself and deserved his first place prize.On the girl's side of things, Erica Hunter (yes, Pete's sister) disastered the flat down, slid everything she could find, and that was enough to win the girls side of things. Her only competition, Danielle the snowboard instructor on rental skis, couldn't keep up and had to settle for second.Some shoutouts:- Everyone at SnowCovers, particularly Brad, Jackie, Christine, Kim, Jim, Jay, and Fabien, for working hard for weeks prior to the event, helping set it up, donating a significant portion of the prizes, and not complaining about rain too much.- Susan Brandson @ Orage, for the wonderful and very much appreciated outerwear, fleeces, and assorted softgoods prizing.- Andy Martin @ Head-Tyrolia, for being BC's rep of the year, and hooking up winners with Madtrix Mojo skis, as well as matching Tyrolia bindings, some soft goods, and I (heart) Head skate decks. Big ups!- Mount Seymour's amazing staff, especially Andy Boniface, Matt and his terrain park crew, and Chris from Guest Relations, for helping us out before/during/after the event, and putting together a spectacular, urban-influenced course for the rain to ruin. And the cute Rock Chute bartender, and not telling me that the Becks I ordered was a non-alcoholic beer until AFTER I tipped her far too much money.- Salomon, for the Adrenaline Hunters DVDs and XL size T-Shirts.- Schmuck, for brightening up the day with his MC skills and amusing anecdotes. When you're done with skiing, there's a career in broadcasting out there for you buddy!- John Burke, for being John Burke.- Craig MacLean, Brad @ SnowCovers, and Ema Saku for taking wonderful shots despite the sub-par, rainy conditions, and loving every second of it.- Mother Nature for pissing all over us. Thanks bitch!- The crew of North Shore/Lower Mainland skiers who made it up for Rail Wars, whether it be to ski, help out, or sit around and drink. You guys are why we do this stuff.- B N B. If you don't know, now you know.