About a month ago, our friends at Dalbello Ski Boots launched the Rage For Snow Contest right here on Newschoolers, where they asked you to upload a video no longer than one minutes that showcased your 'Rage For Snow' via rocking out on an air guitar, homemade guitar or real guitar to your favorite heavy metal song. Originality and creativity were encouraged, rocker attire was strongly suggested, and song choice was key.
During the first round, 13 rockers uploaded their entries for their chance to win the Grand Prize: a Custom Dalbello IL Moro T Gibson Les Paul Guitar, a pair of Dalbello boots, and a Dalbello hoodie, while 2nd and 3rd place would take home a pair of Dalbello boots and a hoodie. Following the first round, we asked you, the Newschoolers community, to narrow it down to the top 5, at which point members of the Dalbello staff along with Dalbello team rider Sean Pettit and Newschoolers' Jeff Schmuck picked the winner.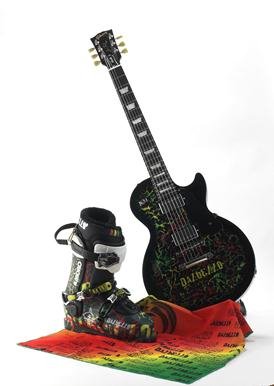 The Grand Prize!
The results are now in, so here's a look at the very deserving winner of Dalbello's Rage For Snow Contest...
http://www.newschoolers.com/watch/584008.0/Death-season-is-Pain-for-Pleausure-mp4
Congratulations to username Oldmember...you've won yourself a Custom Dalbello IL Moro T Gibson Les Paul Guitar, a pair of Dalbello boots and a Dalbello hoodie for your hard rocking, kick ass and pyrotechnic-filled entry, Autumn Is Pain For Pleasure!
On behalf of everyone at Dalbello, Newschoolers and Sean Pettit, congratulations to the winner, and thanks to everyone who participated in this contest!