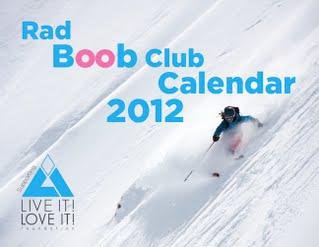 Rad Boob Club is a group of female skiers who support the Live It! Love It! Foundation. A new non-profit organistion that promotes the progression of adapted sport and improves the quality of life for the physically challenged by reconnecting them with sport, adventure and the outdoors.
Last year the Rad Boob Club raised over $10,000 for Rethink Breast Cancer last year and are looking to do the same this year with their great calender filled with female freeskiers shredding the mountain including Faction Rider Martha Burley.
They are currently on a tour of the mountains with the calenders so go and buy an awesome calender and support the Live It! Love It! foundation.
Today they are in, Lake Louise then..
31st: Kicking Horse and 4th in Fernie.