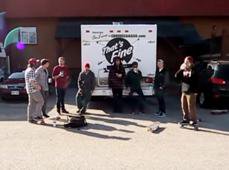 When Voleurz hit the road to promote this years movie: That's Fine, 9 guys shared the tight and unlikely fresh space of an RV as they travelled across the beautiful Candian countryside. Searching our sweet Skate spots and partying hard to spread the love of That's Fine. featuring Faction rider Simon D'Artois.
Enjoy this edit from their time on the road:
#RVLife from Voleurz on Vimeo.