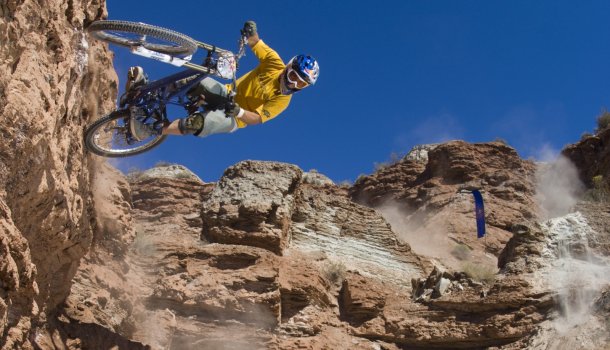 Ian Hylands photo
Red Bull Rampage returns in October for a sixth installment of mountain biking brutality in the unforgiving Utah terrain. Before the bone crunching comes some number crunching, Lucky Numbers-style! posted at redbull.com
2001…
Launched in 2001 and held annually through until 2004, Red Bull Rampage last took place in 2008 but is back again taking place this coming October in some of the hardest, most brutal terrain known to man. Bringing the creative, unrestricted ethos of freeride mountain biking to the contest arena while staying true to the sport's core ideals, Red Bull Rampage will be held in its traditional terrain near Zion National Park in Virgin, Utah.
40…
The total number of competitors. 25 competitors will be given two judged runs, and the top 10 best scores from the two runs will move on to the Super Final which will be staged on Sunday, October 3. The top 15 riders from 2008 receive an automatic invitation to the Super Final.
1500…
That?s the distance in feet between the start gate and the finish line. The riders are free to choose whichever line they dare between those two points…
5…
Kyle Strait is one of the few riders who has entered all five Rampage events; he was only 14 when he entered the inaugural event in 2001.
10/31/04…
Halloween ? the day on which the final of the Red Bull Rampage 2004 was held. To mark the occasion, the previous year's winner, Cedric Gracia, dressed up as Captain America for his final run. Unfortunately, he crashed out of the competition, with the overall win going to the aforementioned Strait.
37.2682, -113.174…
For the more precise readers among you, this is the latitude and longitude of the contest venue in Zion National Park.
http://www.redbullusa.com/rampage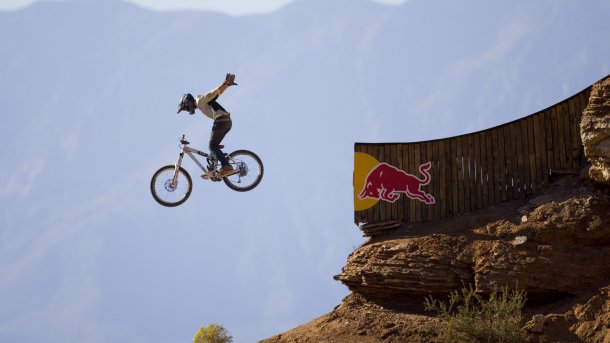 John Gibson photo