Author: Jason Mousseau | Photo: Rocky Maloney
 
 
Dale has kept himself pretty busy this summer filming his first full part with 4bi9, coaching at Windells and spending time with the CoreUpt team in Tignes. Read on for the quick Q&A we did with him -
Dale Talkington Summer Edit from Sam Erickson on Vimeo.
 
Name: Dale Talkington
Age: 19
Years Riding: 14
Hometown: Weston Vermont
Now Hangin?: Salt Lake City, Utah
Accomplices: Tim Mchesney, Sean Jordan, Clayton Vila, Connor Sullan, Craigson Carey
Sponsors: Coreupt Skis, Electric Visual, Orage, Philpark, Bern
Off-Snow: Skateboarding, photography, hiking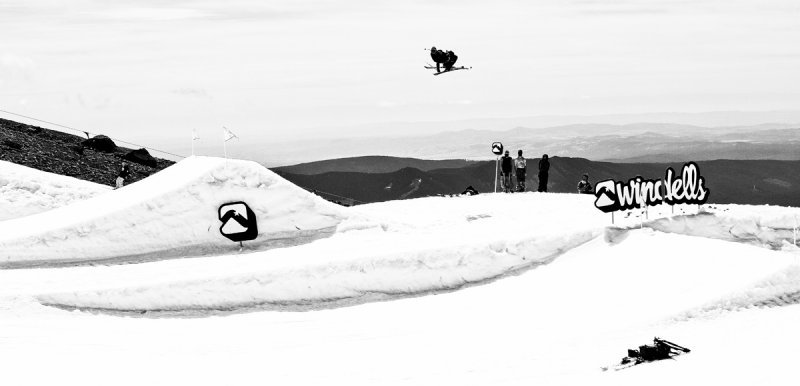 Rocky Maloney Photo
Hey Dale, how?s it going? What did you get up to this summer?
It?s going good, I spent three weeks up at Mt.Hood Oregon riding Windells – it was definitely one of my best summers yet! I left August 1st to go to France for a week in Tinges with CoreUpt.
What did you do while you were out there?
It was a team building week for CoreUpt, got to ski a few days up on the glacier, did some promotional work for next years line and a various other random activities. Had such a great week!
 
When were you approached about riding for CoreUpt?
At the beginning of last year. I was approached by the team manager Pierre and it seemed like a great opportunity for me so I decided to sign with them.
How does everyone get along on the team?
Such a great group of people! Everyone gets along really well, even though the language barrier is tough to overcome sometimes. So stoked to be on the team and I think it will be a great next few years for CoreUpt.
Sounds like a good time, what did you get up to last season?
Did a lot of traveling and competing all over the North American and Europe. Also filmed a full segment with 4bi9 media, so look out for their new movie Beggin for Change, coming out this fall.
Is this your first full segment?
Yes it is! I'm pretty stoked on my segment this year and I definitely filmed a lot more this year so hopefully everyone is pumped on it.
Dale and Andrew Holson hangin' in the Mall of America. 4bi9 photo.
What film are you really looking forward to this year?
Stept Productions new movie Weight.
What would you say was the highlight of your winter?
The highlight of my winter was the Phil Park Invitational which was held in a little country above Spain called Andorra. This was one the sickest slopestyle course that I have ever skied. The competition format was very laid back taking the stress and nerves away.
What are your goals for next season?
Qualify for Dew tour, compete at a lot of events, film a full segment and travel as much as possible.
Any big trips or film plans in the making?
Yeah next year I'm going to try and be in Europe for a month.
Where would you go on a dream trip?
Australia! I?ve always wanted to go there.
See you at IF3?
I?ll definitely be there this year!
Kratom Life from 4BI9 Media on Vimeo.
Role Model: Tanner Hall, Liam Downey, Candide Thovex
Favourite Ski Segment: Travis Heed – Wicked
Chair lifts or Stair Steps: Stair Steps
Tight or baggy pants: Baggy
Favorite Quote: « Life is all about risks and it requires you to jump. Don't be a person who has to look back and wonder what they would have or could have had. No one lives forever. »
Last Purchase: A chocolate chip muffin and Arizona ice tea
Travel Essential: Laptop, Ipod, wallet, passport
Top 5 songs: Cold Feeling-Pretty Lights, Circus-Sound-tribe Sector nine, Killa bees- Wutang, Blowing Money Fast- Rick Ross
Rocky Maloney Photo